Last Updated on by Wanda
Thinking about doing the Camino in winter? Here's what you need to know, including popular routes to take, essential supplies to pack, and how to dress for the weather.
Why do the Camino in Winter?
Doing the Camino in winter has a lot of advantages. For one, the busy season starts in May and ends in October, so it's a lot less crowded as soon as November rolls around. This means more peace, quieter paths, and an experience closer to the original pilgrimage made all those centuries ago. And since soul-searching is such an important part of any pilgrimage, a little isolation can go a long way!
Another advantage? It's much easier for weary travellers to relax when they put their feet up at the end of a long day. Fewer guests mean more time devoted to YOU. Bear in mind, Catholics take Christmas very seriously and it's not uncommon for accommodations – especially hostels – to close between 24 December and 7 January.
What's the Weather like on the Camino between October and February?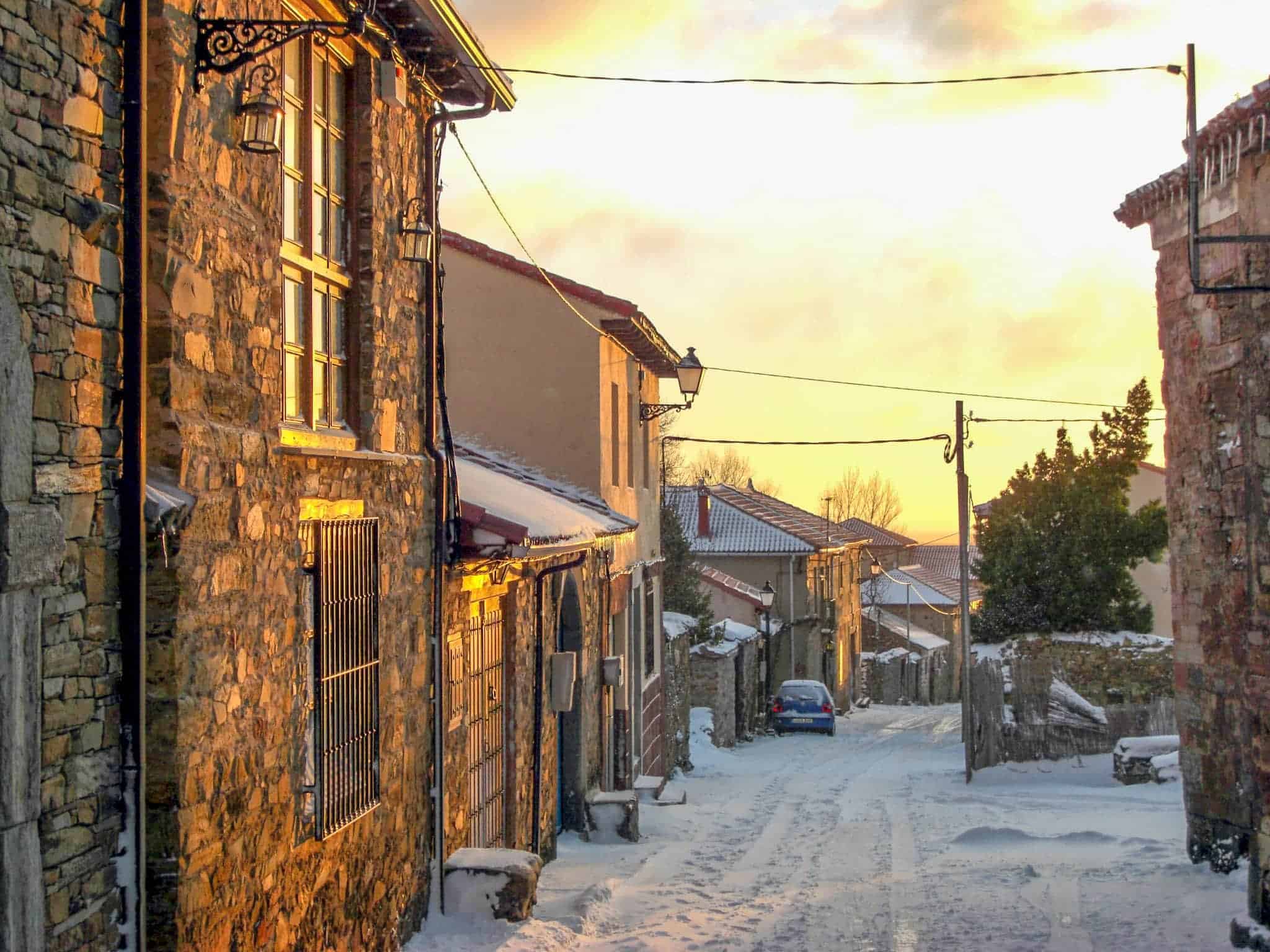 Naturally, many pilgrims first concern when considering the Camino in winter is the weather. This really depends on the route you decide to take, but those looking to escape the snow should probably avoid mountainous areas such as the Pyrenees. In areas including Spain and Portugal expect temperatures to range between 5 – 15°C come December and sunshine to last around six hours a day. France and Spain are at their wettest in November but less in the surrounding months.
How cold is cold? Well, this varies person-to-person, but when temperatures reach around 0 ºC or 32 ºF and water starts to freeze, we can all agree it's cold! This means you'll need three to four layers to make sure your body keeps warm. You may even be tempted to bring even more clothes for added snugness as you set out in the morning, but remember that your body heat builds up and soon you'll be too hot. Just remember to add and take away layers as you respond to changing temperatures around you.
Winter Sun Camino Holiday
Escape the cold, the noise and crowds of the busy city by going on an winter break on the Camino de Santiago.
Best Winter Breaks – From €430
Camino Portugues and Camino Frances in Winter
Certain routes along the Way are more popular than others during the winter months, including the Camino Portugues and Camino Frances.
Camino Portugues
Once summer gives way to autumn, temperatures begin dropping on the largely coastal Camino Portugues, but not by much. Generally, in September the temperature averages at around 25 ºC or 77 ºF, and in October and November they drop to around 20 ºC or 68 ºF. Coinciding with the temperature drop is the rise in rainy days in the area. Changing from autumn to winter then, it can get as low as 14 ºC or 57 ºF, and once February comes around, your rain gear will certainly be put to good use.
Camino Portugues Coastal
The Camino Portuguese Coastal route is typically in the low teens in degrees Celsius over the winter months, which is still a good temperature for walking. Be prepared with some rain gear, and you can enjoy the solitude whilst accompanied by wonderful scenery along the coast.
Camino Portugues From Tui to Santiago
This route is the inland traditional route and like the coastal route enjoys pleasant temperatures even in the winter for walking. Again, it is a quiet route to walk but one where the towns will provide a warm welcome on the coldest of days.
Camino Frances
Like on The Camino Portugues, temperatures along the Camino Frances start to cool off as autumn takes hold. Starting out at around 23 ºC or 73 ºF in September, it drops to 18 ºC or 64 ºF in October, and then 13 ºC or 55 ºF in November. Chances of rain increase along the route, too. In Sarria, and other areas in Galicia, for example, there are more rainy than sunny days predicted. This is actually quite typical throughout northern Spain at this time, and temperatures averaging around 9 ºC or 48 ºF aren't uncommon.
Via de la Plata in Winter
The first section of the Via de la Plata (Seville to Monasterio) is a good option for the winter as it is in the south of Spain so you are looking at warmer weather than in the north of Spain so a great section to escape to and experience some winter sun.
From December to February, the weather is mild: the average daily temperature is around 10/11 °C (50/52 °F) and there are many sunny days.
What should I Pack for the Camino in Winter?
Quality beats quantity when it comes to the Camino. You won't need a lot of clothes, but the ones you take should be top-notch.
Base Layers: Layers are extremely important at this time of year. Synthetic or merino wool anti-bacterial keeps moisture away from the skin. Fabric weaving and thickness vary so choose based on the temperatures you expect to encounter. Budget-wise, something between €30 – €60 should do.
Fleece: Synthetic materials can act as great insulation to keep the body warm, while still allowing moisture to evaporate. You probably have a fleece already, but make sure it's synthetic since not only will cotton or wool get and stay damp longer, but the wind will be cutting right through them. Prices ranging between €30 – €50 should be enough, with more complex materials hiking up the price.
T-Shirt: Again, opt for synthetic tees to keep as warm and dry as possible. These can act as a light extra layer over a base layer, and are also helpful for identifying team or group members travelling together.
Jacket: If you're going for layers, adding a down jacket or windbreaker is an essential purchase. They're not cheap though, ranging between €80 – €400, and the choice is enormous, which can make the decision even tougher. Best to ask advice directly from an outdoor clothing store, while a good all-rounder would be a 3 in 1 jacket combining waterproof, fleece and mid layer.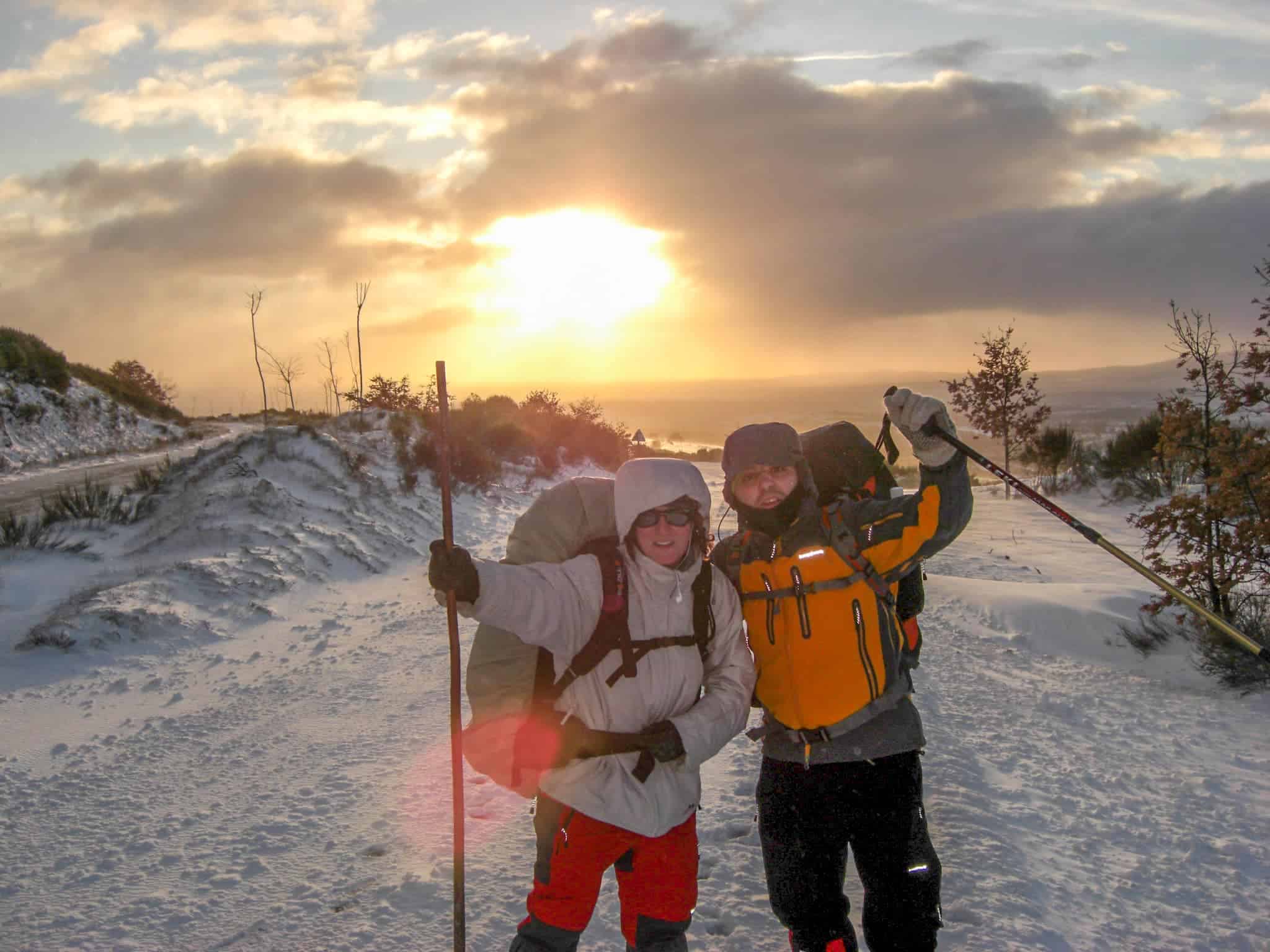 Rainproof: How dry you stay depends on your budget. Your best bet includes Gore-Tex and Paramo, but other similar fabrics are easy to pick up. Gore-Tex could well be the most famous brand on the Camino, feel plastic and are noisy. Paramo is a newer fabric that imitates animal fur to keep water away from the body, and feels more natural. Ponchos can be good for rain but not so much in terms of practicalities.
Trousers: On the Camino, function beats fashion, every time. Enter convertible trousers. These'll keep you quite warm and you've got the option to zip-off the lower parts of the leg when you get too hot. Those going in colder months might not need this option, in which case thicker hiking trousers will do the trick.
Waterproof Trousers: Wet trousers are never pleasant, so having waterproofs where rain is expected is a good idea. These can cost you between €40 – €150 depending on your budget, but they aren't a must. Remember that rain doesn't fall directly on legs and that in some regions showers only last an hour and are followed by sunshine. Your call!
Accessories: Hat! Make sure to cover those ears as they're the first body parts to get frostbite in cold weather. Bring sun cream to prevent sun and snow burn, and sunglasses to prevent sun and snow glare. We also suggest using walking poles to help maintain good posture during the day – whether you're with or without bag.
Gloves: Don't get too stressed about having the 'right' pair of gloves. Even the waterproof kind rarely keep the rain completely out for more than an hour or two, so chances are that pair you've been using at home is most likely enough.
Socks: Last but certainly not least, socks. Our suggestion would be to bring a synthetic or merino wool sock as they don't store moisture like cotton does. There are loads of different types, including 1000 mile and double layer socks, so it's worth trialing some during your training. It's important to walk in clean, dry socks, so bring at least three pairs to rotate. Those sleeping in pilgrim hostels (the ones that are open in winter!) should get to the heaters quick, as they don't always run at night.
Make 2020 Your Camino Year!
Either you have Camino plans or not yet, contact us, we'll help you make the right Camino choice for you.
Flexible itineraries Luggage transfers Great private room & bathroom and more.
Contact Us
This post was published by one of our staff writers at Follow the Camino.