With Coronavirus keeping us all in one place there were many trips on the Camino postponed to Autumn or even to 2021. Aneka, a personal trainer from London, is one of the people who has had to postpone her Camino de Santiago. But, instead of feeling down and sitting around waiting for the lockdown to end and travel to resume – she decided to walk her own "virtual Camino" in London!
Aneka was booked in to walk the stunning Camino Portuguese Coastal route from Oia to Santiago. The walk is 144km and takes 6 days of walking. So, Aneka challenged herself to walk that distance on a virtual Camino in London, averaging 24km a day. That's the same distance she would cover while walking the Camino!
She posted regular updates on her Instagram stories, showing her progress and the lovely places she was exploring. We caught up with her after she finished her walk to ask her about her experience.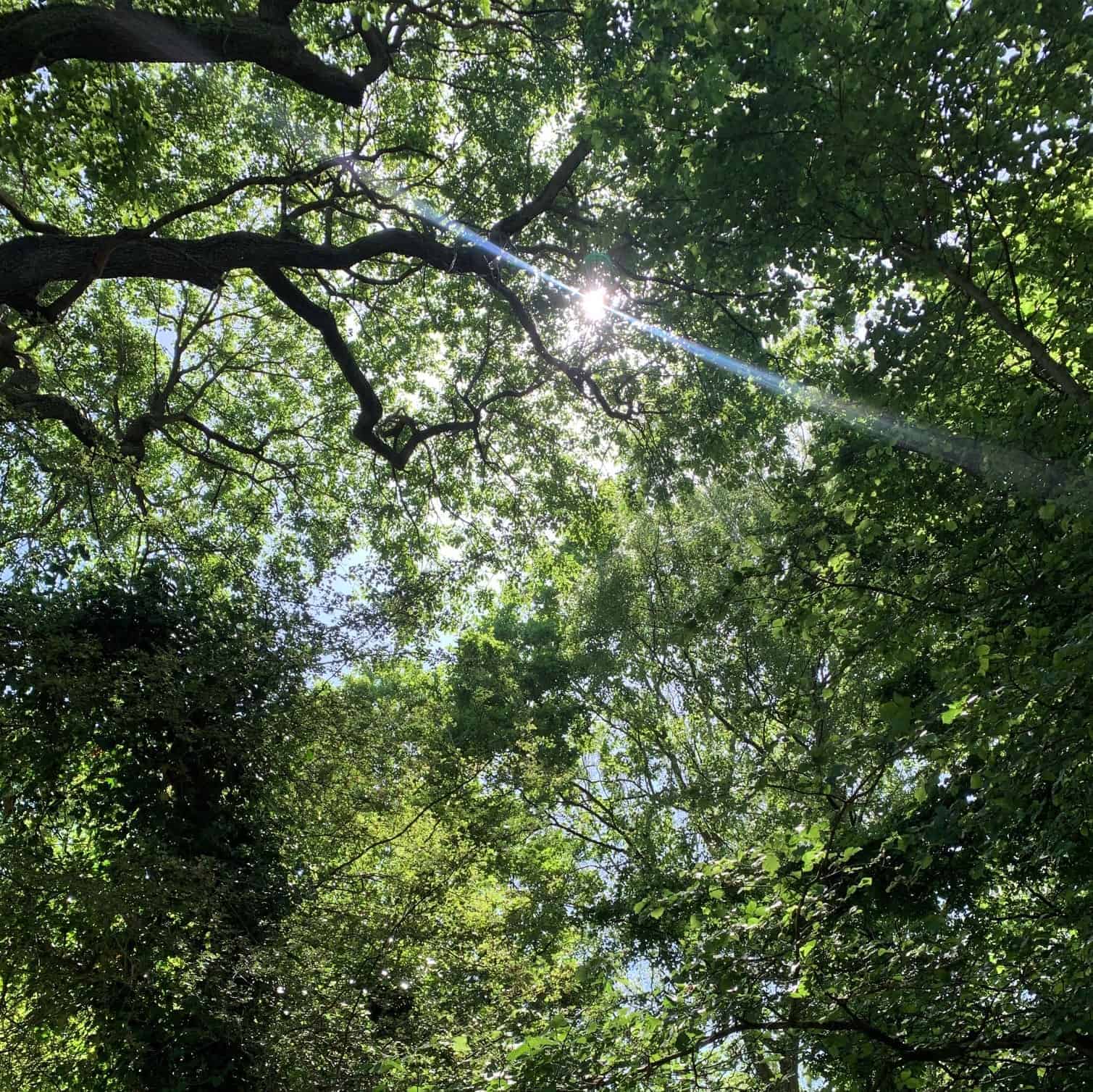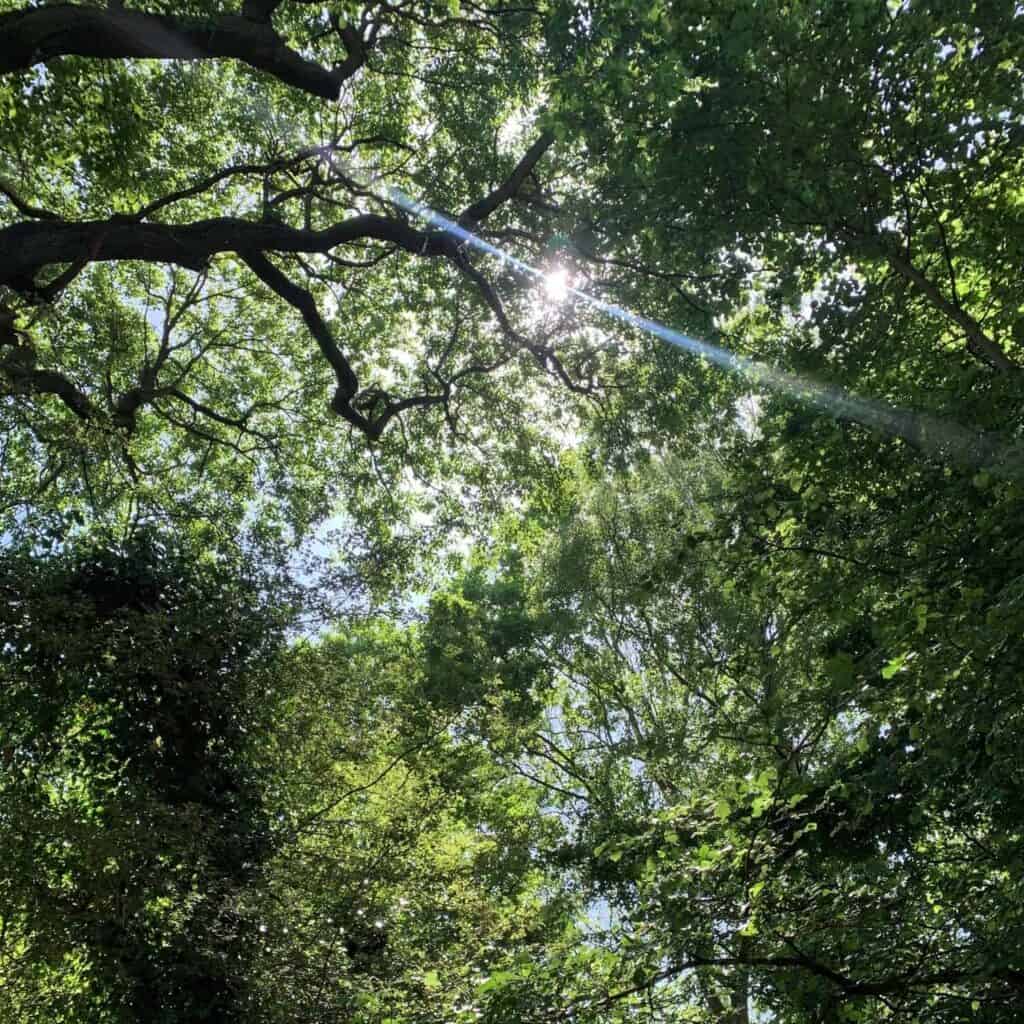 Hi Aneka! Thanks for sharing your story with us!
You were supposed to be walking the Camino this summer, what inspired you to want to do this walking holiday?
I had heard about the Camino de Santiago through a friend at the start of 2019 and as a huge fan of trekking and travelling, I decided to do some research into the different routes I could walk. I decided on the final stage of the Camino Frances route, walking from Sarria to Santiago de Compostela.
I had such a great time that I decided to do the Camino again this year with a friend.
Fantastic! Tell us a bit about your first Camino?
I had only heard good things about the Camino de Santiago, but it exceeded my expectations completely. The way I describe it to friends is that you spend most of the day exploring beautiful woodland, little villages, eating tapas (for around €3!) and meeting new, interesting people.
Having lived in Barcelona in my early twenties and have had numerous family holidays to the Costa Del Sol. I absolutely adore the Spanish culture and way of life. The Camino allowed me to experience Spain in a different way, visiting small towns and villages I ordinarily wouldn't think about – this made me fall in love with the country even more.
That sounds so lovely! Spain certainly is an incredible country to visit. How did you choose the route that you were supposed to take this time?
As I had completed the Sarria to Compostela route, I decided to book the Portuguese Camino route. It really appealed to me as it's a mixture of walking along the coast and through forests and villages.
Absolutely, the Portuguese Camino routes are really gorgeous, and the scenery is so varied.
You are a very fit person, being a personal trainer, do you think the Camino is accessible for everyone?
Absolutely. There is a full range of ages of people who walk the Camino. Most of the people I saw on the walk were older than me. I actually made friends with a lovely group of South African ladies who were all celebrating their 50th birthdays. I walked the Camino with some of them and celebrated with them on the night we got to Compostela. We still keep in touch and they have asked if they can come to my wedding (when I get married!)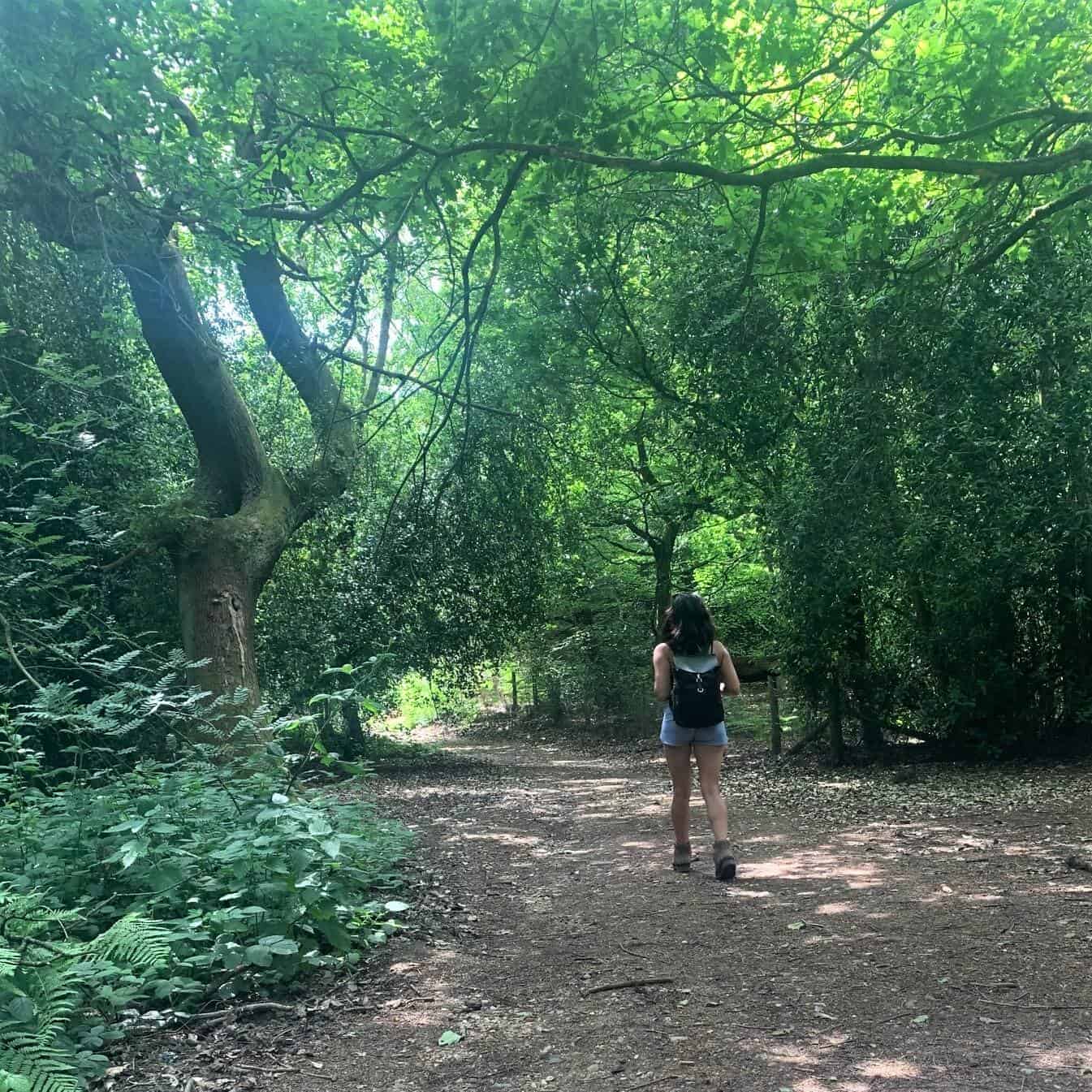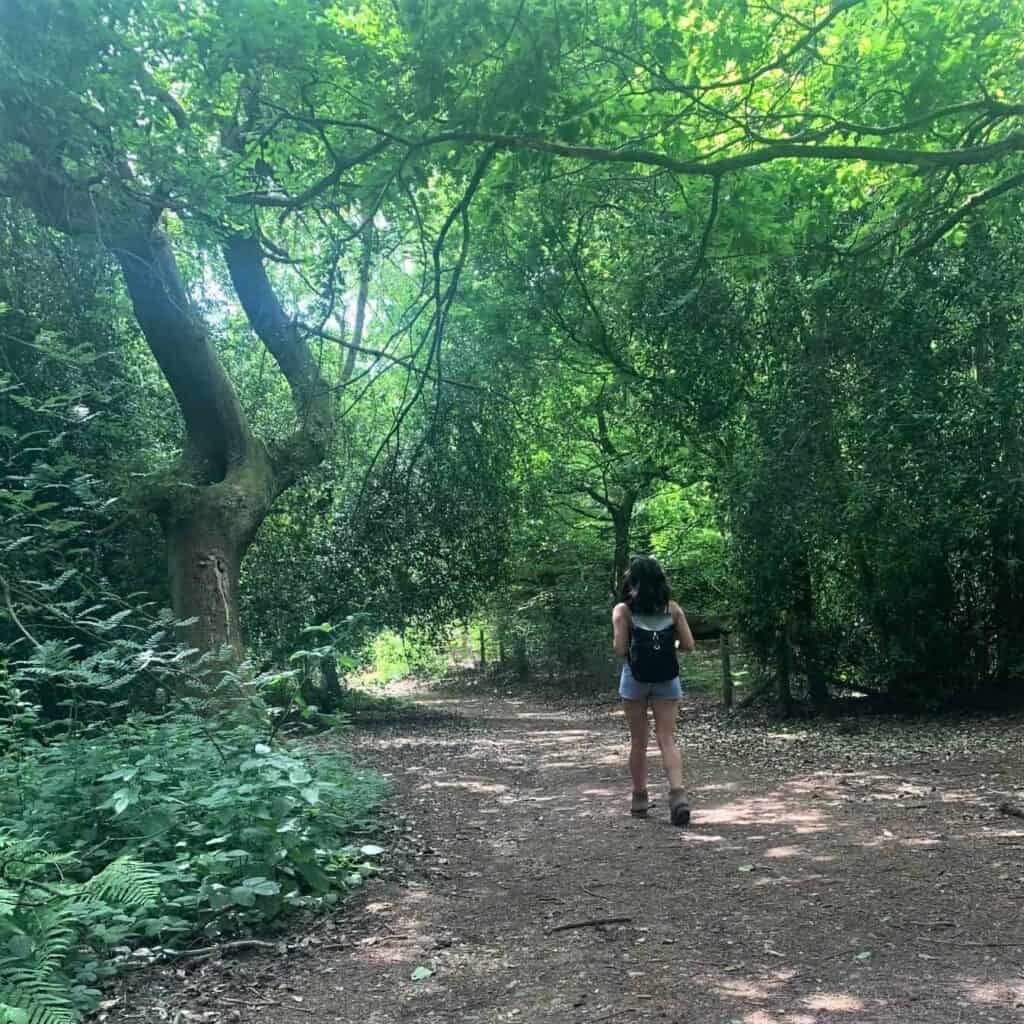 That's so lovely! It really is wonderful meeting new people from all over the world and from so many different backgrounds on the Camino.
You were planning on walking with a friend – how do you find that experience?
The thing I love about walking holidays is that they are really meditative. You have a lot of time by yourself, which I really enjoy. The friend that I am going with is someone who I feel very comfortable with and we are both huge podcast/audiobook fans, so I think we will probably spend half the way talking to each other and the other half listening to something!
That sounds like an excellent Camino buddy – one who is on the same page as you! We love working with friend groups and families because it really does seem to add a new element to people's journeys
Unfortunately, due to COVID-19, you were unable to walk the Camino in April so you chose to walk the distance of the Camino in London. This is such a creative idea!
What inspired you to do this?
I was speaking with a friend the day before I was due to fly to Portugal to start trekking the Camino and she suggested that I do a "virtual Camino", so essentially walking the same number of kilometres in London that I would have done on my trip over a six-day period. That evening I just thought why not! I worked out how many kilometres I would have walked from Oia to Compostela, which was 144km, averaging 25km per day. I ended up going slightly over and walking a total of 160km doing the London Camino!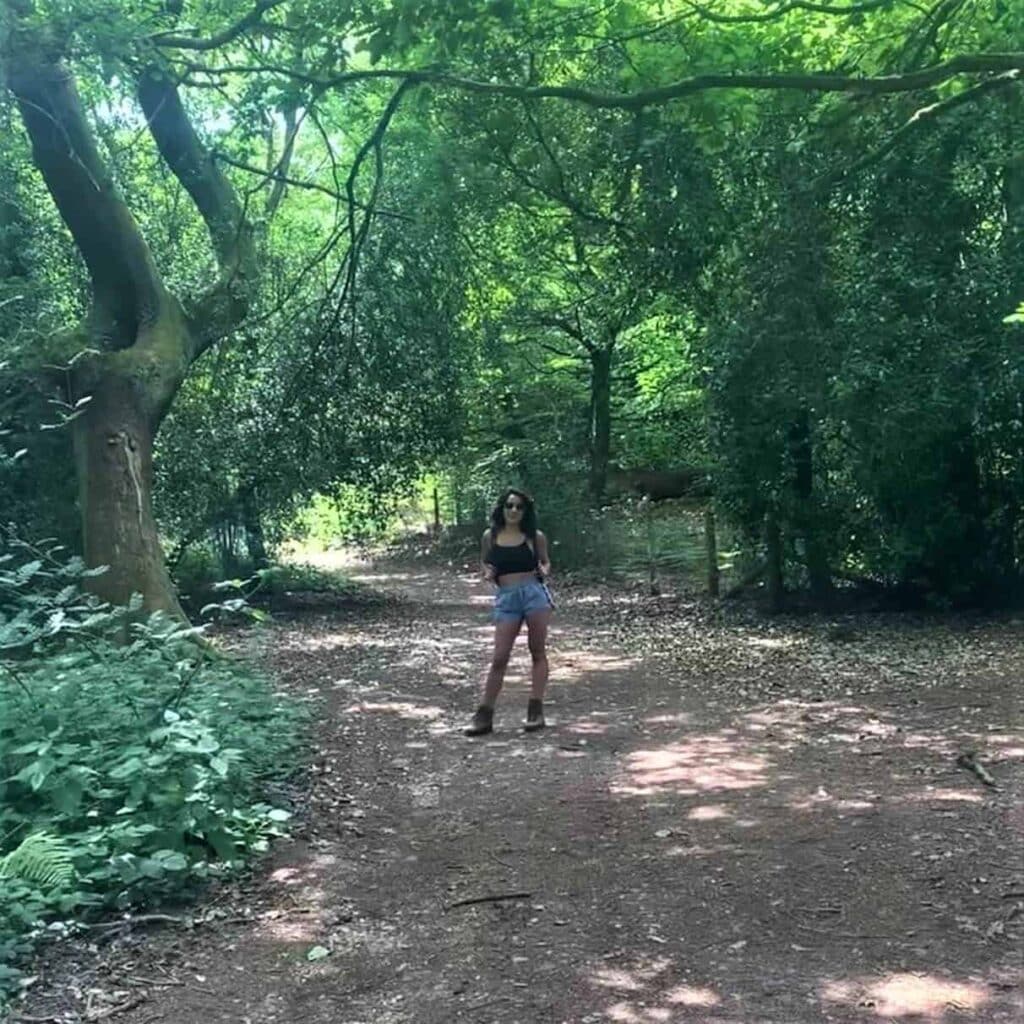 Virtual Caminos are such a lovely idea! We've seen quite a few stories about people who have done their virtual Camino wherever they are in the world while they wait for everything to open up again. Great job on passing your goals!
How did you find walking long distances in London?
As a Londoner, I walked a couple of routes that I was familiar with but some I had to be a bit more creative and adventurous with. I found that some parts of my London Camino challenge were similar to the real Camino – walking through Hampstead Heath and Highgate Woods reminded me of my walk last year as there was so much greenery! On my third London virtual Camino day, I walked from North London all the way east to Epping Forest. That day was the most challenging, as it was my furthest walk (32km) and around 28 degrees and there was no shade until I arrived at Epping Forest.
It's so wonderful that you managed to find those parallels in London – a place that is so different from rural Spain!
How did you pick your routes? What did you enjoy about your London virtual Camino challenge?
During this lockdown period, it has been tricky seeing close friends and family due to the social distancing measures. With that in mind, I planned most of my routes around visiting these close connections who live across London, so I could catch up with them from a distance. I also really enjoy visiting and seeing parts of London I haven't been to before!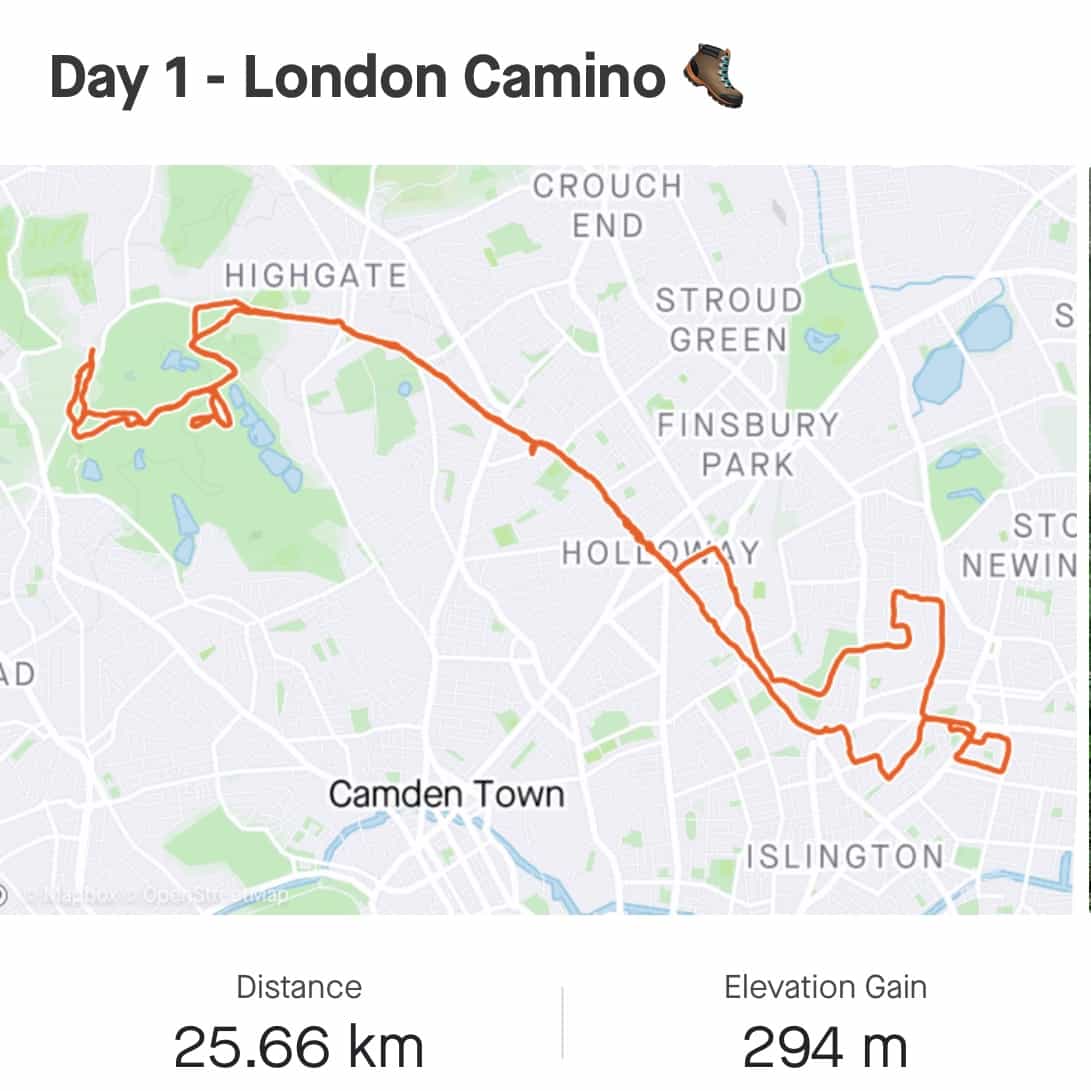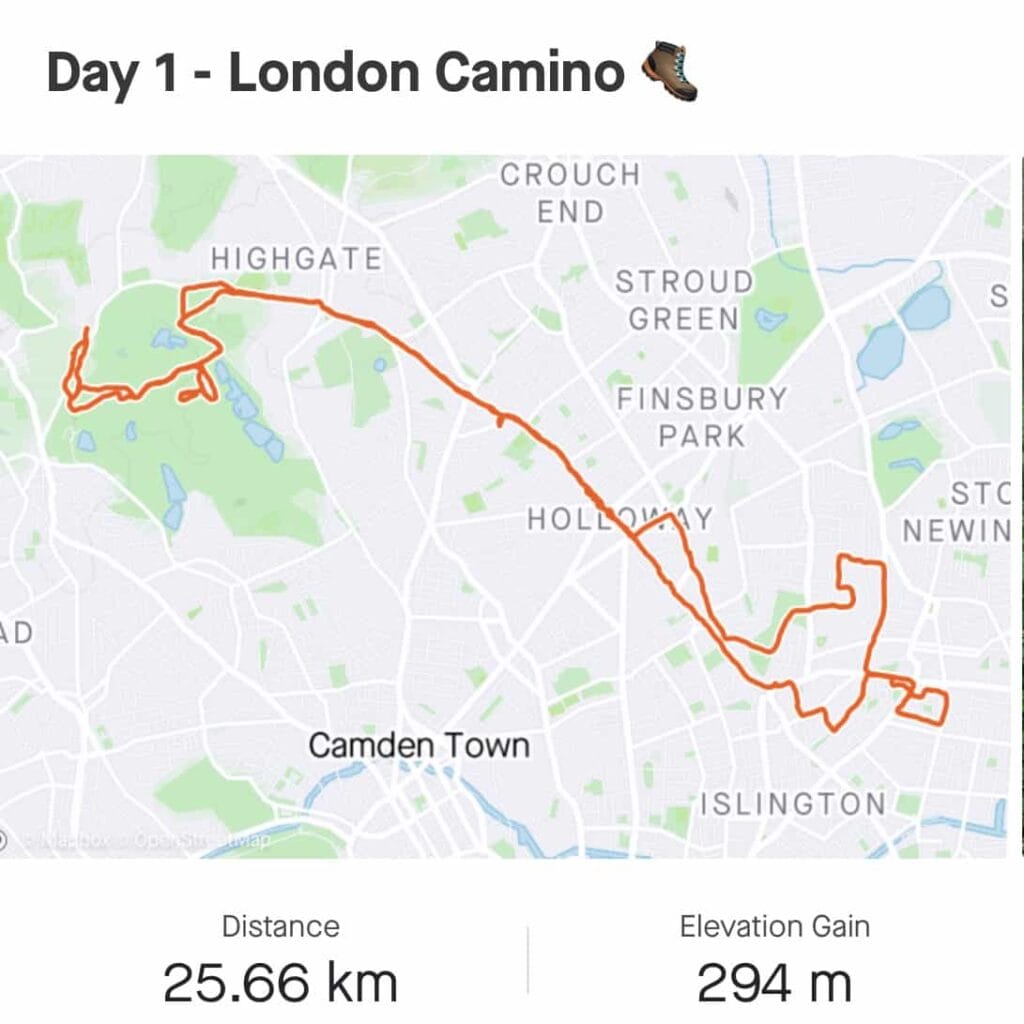 It's fantastic that you were able to use this challenge to see friends safely! What did you miss from not being on the Camino?
The energy from the people that you meet along the way. Everyone walking the Camino has their own reasons for why they are doing it. I found that all the people walking were in such good spirits! And of course…the daily tapas and red wine! I did treat myself to a glass of red wine and a tapas takeaway in the evening I finished the London Camino.
We hear that from so many of our clients, the Camino really is an incredibly friendly place.
Have you rebooked your Camino yet? When do you think you will walk the Camino again?
We haven't rebooked just yet, as there is a little bit of uncertainty on when we will be allowed to fly overseas at the moment. However, as soon as borders open again and it is safe to travel, we are going to book our trip. I am hopeful for Autumn 2020!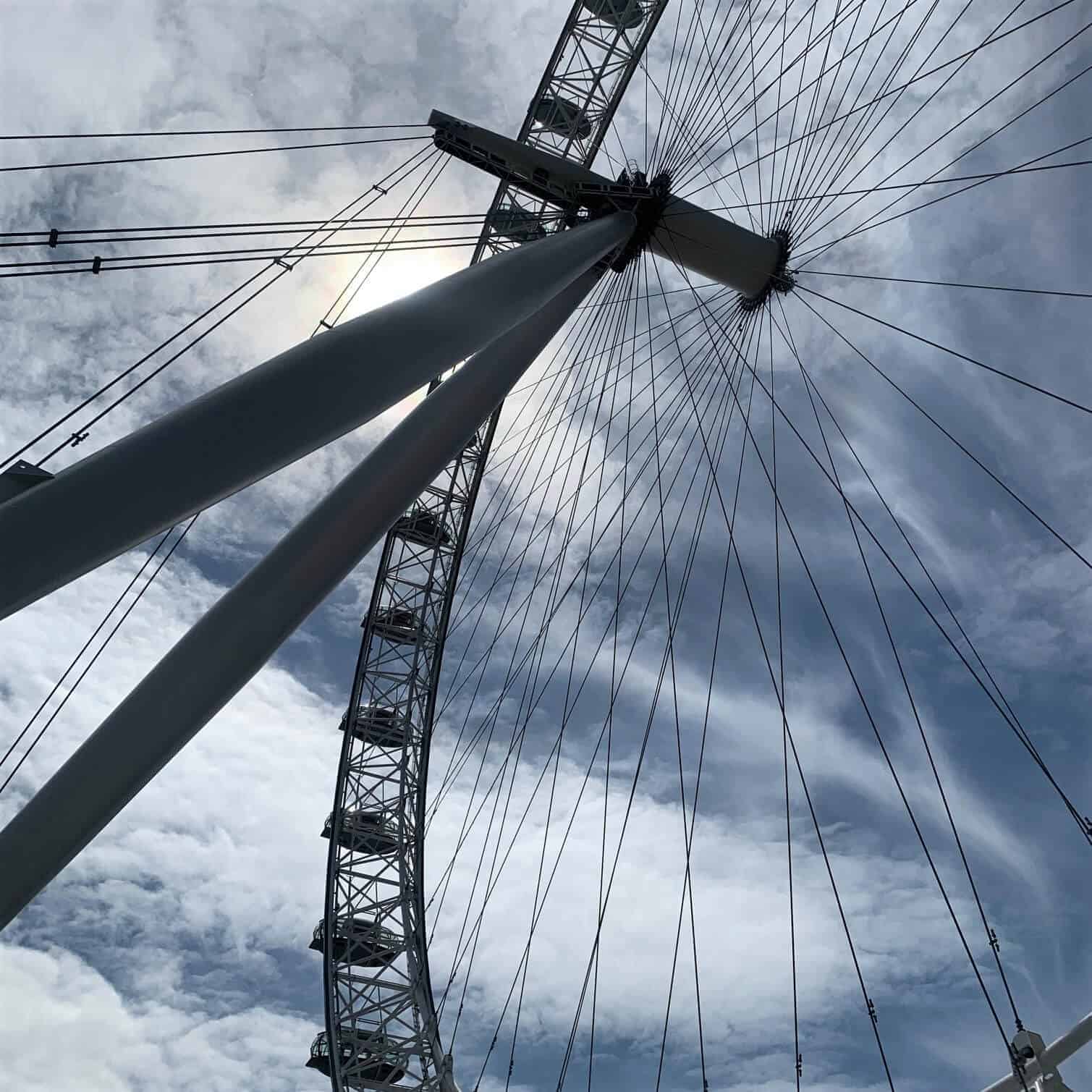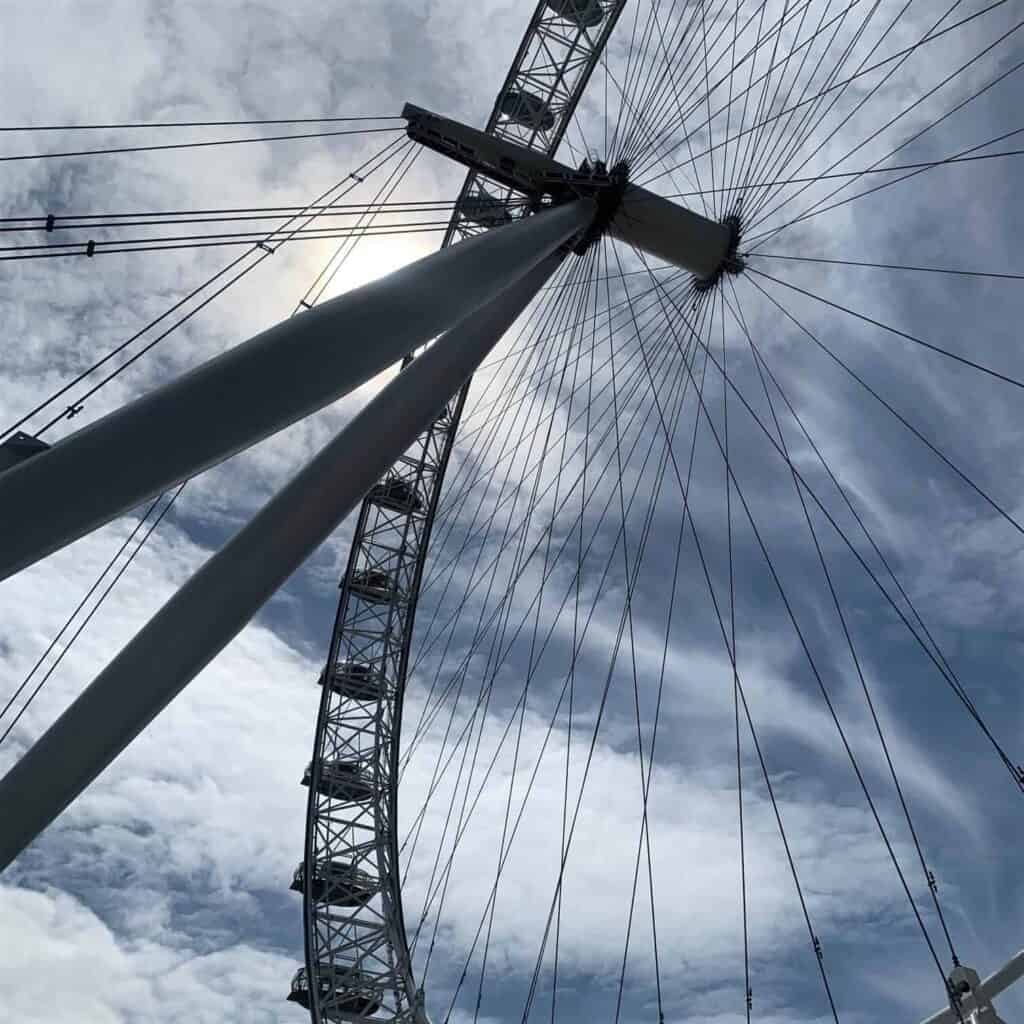 Autumn is an excellent season to walk the Camino, so that is great to hear. It's a bit cooler too!
What made you choose to book through Follow the Camino? Which parts of the service do you think add the most value?
This is the second time I have booked with Follow the Camino and I am sure I will continue to. As I walked the Camino self-guided and on my own in 2019, it was important I booked through a reliable and safe company, and I couldn't fault the service I received from the team!
All the hotels and luggage transfers were so well organised, everything worked like clockwork and I felt so at ease!
We do our best! Thanks so much for taking the time to chat with us, Aneka. We have loved hearing your virtual Camino stories and seeing your wonderful pictures.
Hopefully, everything will be opening up in the next few months as planned and we'll get you back on the Camino very soon!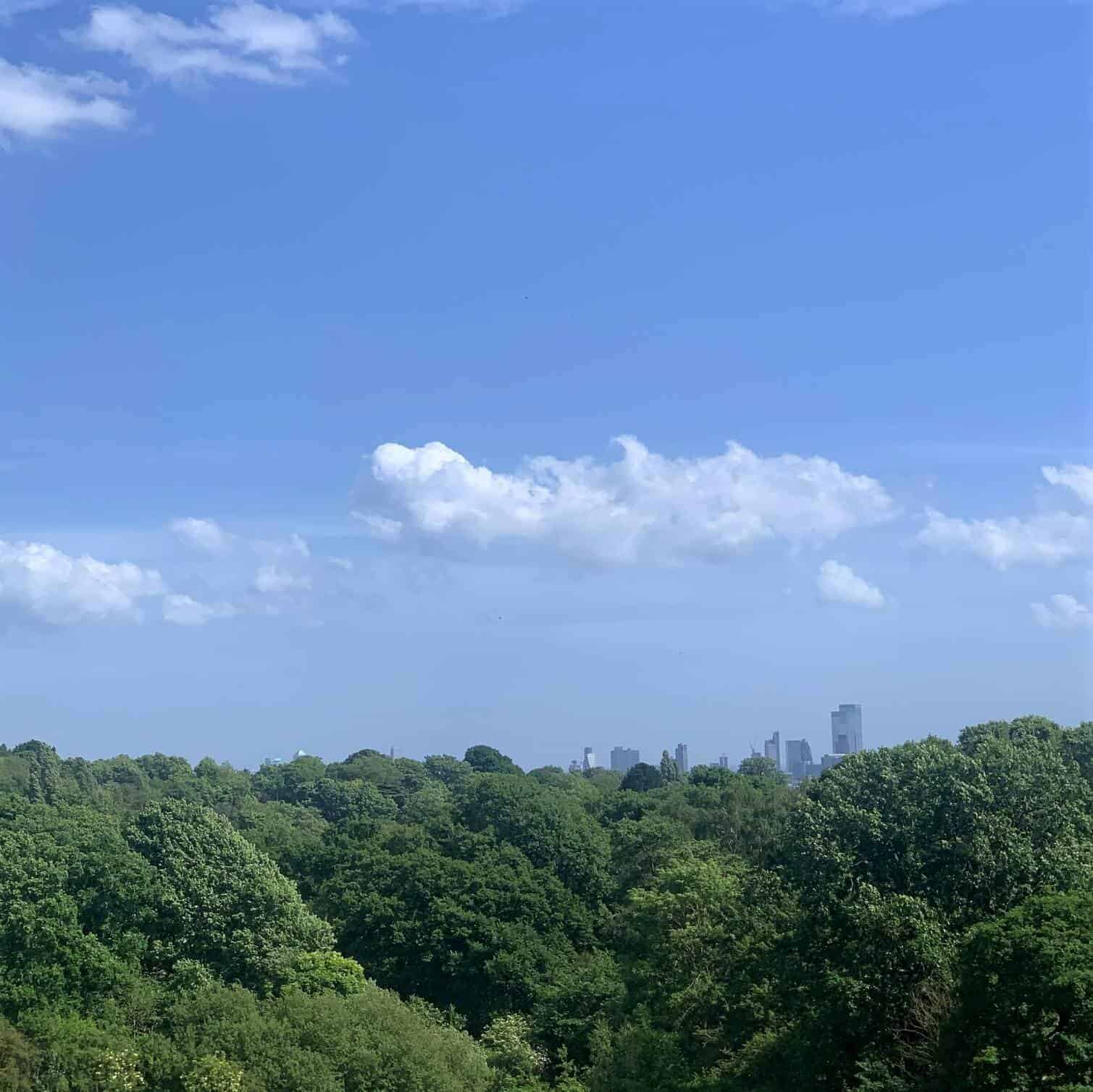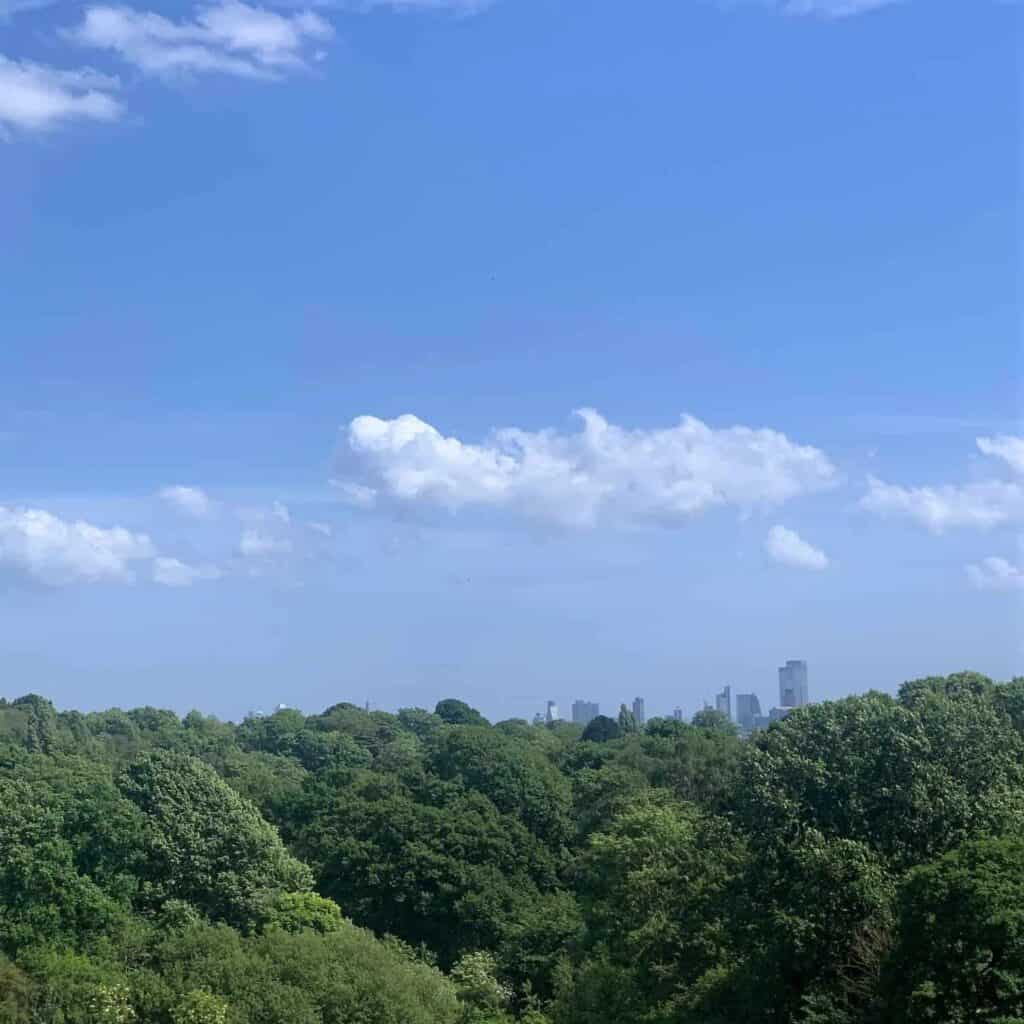 We are thrilled to see that Spain and Portugal are opening up as they recover from COVID-19. It is likely that we will see the Camino routes opening up in the next few months. So Aneka and everyone else who has postponed their Camino will be able to get there soon.
We are keeping an eye on the stages Spain and Portugal are going through on the road to reopening. You can see some of the updates here. We have flexible bookings for anyone affected by coronavirus travel restrictions, so you can book with confidence.
Get in touch with us to learn more about the Camino de Santiago route that Aneka was planning to walk. We can help you customise any of our walking holiday routes.
The virtual Camino is an alternative way to walk the Camino that was invented because of the pandemic situation around the world while we were waiting for the world to open up to travel again. There's a wonderful charity that we have worked with within the past, Focus Ireland, which is running a virtual Camino!
Embrace Life – Embrace the Camino!
Book 3 months in advance to recieve a 5% Early Bird Discount for 2023!
Take on a new adventure and reconnect with yourself and your loved ones.

Let us help you to turn your dreams into reality.
Flexible itineraries Luggage transfers Private rooms & bathrooms
Contact us