Autumn is an excellent time to walk the Camino! Stroll through ancient woods with a gentle breeze keeping you cool, stepping on freshly fallen leaves. Inhale the invigorating air as you witness the change of the season and the colours of nature.
An autumn walk along the Camino de Santiago is a truly magical experience.
Each route has something special to offer during autumn (or fall, to our US and Canadian clients), be it the picturesque ripening of nature, local festivals or a quieter walk we're convinced you'll find your bliss on your autumn Camino.
Here are our favourite routes –
1 – Camino Frances in Autumn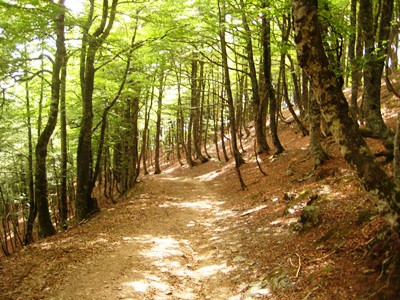 September is an excellent month to walk the first stage of the Camino Frances (St. Jean to Pamplona) as it is cooler but not too cold yet.
As we move into early autumn the scenery on the way down through the Pyrenees is particularly colourful with plenty of late summers produce on the tables.
At this time of year the final stage of the French Way can be quite busy, so choosing this less walked section will give you plenty of peace.
2 – Camino Portugues in Autumn
The Camino Portugues (The Portuguese Way) is an amazing journey that crosses some of the most beautiful parts of northern Portugal and southern Galicia. The weather here stays warm later, so even in late autumn or early winter, the walk is very pleasant.
You can also take the Coastal Way from Porto to Santiago for breath-taking scenery and incredible food.
3 – Camino Primitivo in Autumn
One of the less well known Camino routes, the Camino Primitivo (The Original Way) boasts some of the most impressive landscapes of the Camino. Starting your walking from either Oviedo or Lugo, every day you will be guaranteed awe-inspiring views, comfortable accommodation and delicious food.
Enjoy the refreshing breezes and serenity of this older route to Santiago de Compostella.
Things to Consider
There are many festivals along the Camino in September, October and November. These festivals throughout the year. can draw lovely crowds, which you may want to join or avoid depending on your preferences.
Flights and trains may be cheaper in October which is always a welcome bonus. Regular flights into Santiago from the UK and Ireland usually run right up to Halloween.
To determine if this time of year is a good fit for you weather-wise, check out our Camino Weather Map.
If you need any guidance choosing which autumn walk on the Camino is best for you (or to customise your own perfect trip) – get in touch!
Simply fill out the contact form and one of our Camino Experts will be in touch to advise you on the various options and help you book a trip that will make you forget that the summer is over!
Walk Our Most Popular Camino Route!
The last 100km of the French way is the most walked section of the Camino.

Walk it with us!
Flexible itineraries Luggage transfers Specially selected hotels
Contact Us