The Camino de Santiago is a special place for many people, but it is especially special for couples who have chosen to spend anniversaries walking together. The pilgrimage to Santiago is an amazing opportunity for couples and families to spend time together. The simplicity of walking each day offers opportunities to talk, connect, and share a life-changing experience.
It is also a walk through truly beautiful areas, with spectacular food, and delicious wines. Add a touch of luxury and upgrade to some absolutely gorgeous accommodation options!
We asked a couple of our clients to share their memories of their Camino anniversaries with us to inspire you. Here they are!
Kenneth and Rory's 40th Wedding Anniversary
If this were a movie, I don't think we could have scripted it any better!
Imagine entering the holy city of Santiago de Compostela and walking the final mile of our second Camino -the Portuguese Coastal – reflecting on the still-fresh remarkable journey full of sights and wonders. We kneeled before the cathedral overwhelmed by joy, happiness and divine inspiration.
Our arrival at the Praza do Obradoiro coincided with the weekend of the Jubilee Year celebration of Saint James and culminated in an emotional dinner reunion with Rory's four sisters and their husbands, Sarria pilgrims in their own right.
With the King and Queen of Spain also on hand for the Xacobeo 2021 festivities, Santiago was on fire that weekend with a full moon and a fireworks display for the ages.
And all of this on July 25, our 40th wedding anniversary.
To our fellow pilgrims, to our gracious Spanish and Portuguese hosts, and to the wonderful folks
at Follow the Camino who were with us every step of the way, even gifting us an ice bucket of champagne for the special occasion – we couldn't have done it without you!
Eileen and Sean's 40th Wedding Anniversary
In 2012 my husband and I took a short vacation to Barcelona and visited a few other areas of Northern Spain while we were there. We had a brief visit to Santiago to see the famous Cathedral and noticed all the Peregrinos arriving. I was enthralled.
I decided right then that when I retired in 2019, for my 65th birthday and our 40th wedding anniversary, I wanted to walk the Camino (or at least part of it) to experience what it was like arriving as pilgrims in this beautiful and historically rich city.
Husband Sean was definitively on board too. We both loved the culture of Galicia and also inexplicably sensed our Irish roots there. Both his parents and my mother were from Ireland and Galicia resembled Ireland with its music, Celtic vibe and green fields (perhaps not the food, however.)
I retired in 2018 several months before my 65th birthday. I couldn't wait as I was really tired from working for 41 years as a Neonatal ICU nurse at a large hospital in SF.
Retiring allowed me time to plan our trip – when/where and how long we'd walk and how much our budget allowed.
My 65th birthday was in April and our 40th wedding anniversary was June 2 2019, so it seemed appropriate to arrive in Santiago de Compostela on that day if possible.
I thought the weather would be nicer walking in late May (and we were not disappointed). Neither of us wanted to speed walk our way or to sleep in a dorm-type accommodation. I found Follow The Camino on the internet and it had great reviews. The idea of carrying only our daypack and having our accommodations arranged gave us both peace of mind.
We recognized this was not the "true Camino experience" but we really didn't care. We loved every minute of our trip walking from Tui to Santiago.
After spending a few days in Lisbon, we took a train and a bus to Valenča, in northern Portugal, the day before we were to start our Camino in Tui right across the border in Spain.
A heatwave began a couple of days before our arrival in Santiago so we left our accommodation ~ 10km away, fairly early in the morning while it was still cool.
We walked our final stretch into Santiago with a wonderful family from the Netherlands we had met the previous night. We have remained in touch since.
When we checked in to our pre-arranged Auberge it was really sweet to see a bottle of Champagne and two glasses in our room.
We decided if we had spent every day 24/7 averaging 18km/day we would likely stay married for another 40 years! 🙂
Mara and Tom's 20th Wedding Anniversary
My husband and I decided to do the Camino de Santiago in celebration of our 20th wedding anniversary and we could not have picked a better outfit to help us make a very special one.
We did not have a lot of time, so we decided to do the Camino on road bikes. Follow el Camino were very accurate in describing what we should expect. The bikes that were delivered to our first hotel for us to use were perfectly sized and in great condition. They include the tools and spare parts necessary for the road and they came in handy.
The accommodations were expertly picked, very comfortable and always close enough to the centre of the action without being in the middle of it.
We had a fantastic time.
Sinead and Niall's 20th Wedding Anniversary
A wonderful trip, very well organised. Follow the Camino were great.
They organised a wonderful trip for my husband and me to celebrate our 20th Wedding Anniversary. They listened to our requirements and tweaked the hotels and walking to suit us.
The standard of accommodation was very high and the food was excellent in every auberge we stayed in. The baggage transfers were seamless and not having to carry our rucksacks every day made the trip so much more enjoyable and relaxed.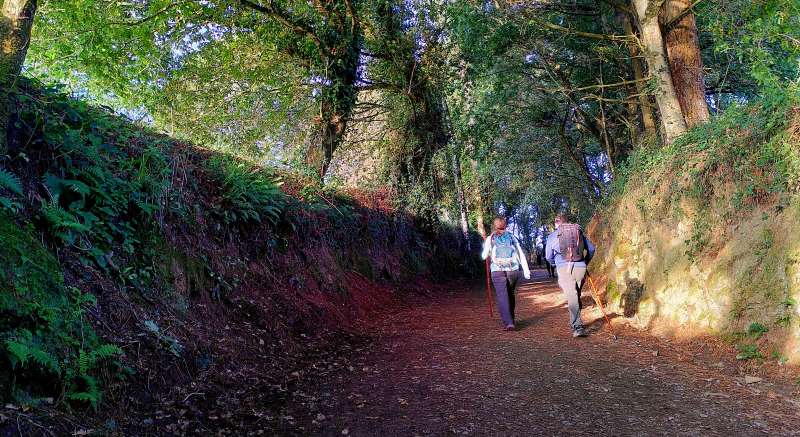 Celebrate Your Special Anniversary on the Camino!
Make your next anniversary one to remember by taking a trip on the Camino de Santiago! There are plenty of routes to choose from. Whether you are wine connoisseurs, gourmet food enthusiasts, or looking for a simple spiritual experience.
There is a wide variety of terrain too, from challenging hills to undulating coastal walks. If you would like to take it slow, we can organise short walking day itineraries. These lower-kilometre itineraries give you more time to explore, relax and rest.
We offer a range of accommodation options – from spectacular Pousadas and Paradores to basic hostels. You can mix and match as you go, and upgrade particular nights, too!
Anything is possible, so get in touch to start planning the anniversary of a lifetime. If you already know what you would like to do on your anniversary Camino – get a free quote! We would love to help you celebrate.
We can't wait to help you to plan your next adventure!
Take a Romantic Break on the Camino de Santiago
Upgrade your Camino experience with hand picked accommodation and luxurious treats!
Reconnect with your loved one on the journey of a lifetime.

Let the Camino bring you closer together.
Flexible itineraries Luggage transfers Private rooms & ensuites
Contact us