There are many types of accommodation along the Camino de Santiago routes, but if you are looking for something a bit special we highly recommend Paradores and Pousadas! These special accommodation options are perfect for your luxury Camino through Spain or Portugal.
What is a Parador?
"Paradores" are luxury hotels in Spain, with 3 to 5 stars. They are managed by a state-owned company and are usually located in buildings of historical interest. This includes castles, forts, monasteries, and other grand old buildings. There are some newer Paradores that are not in historical buildings, but in places of stunning natural beauty. They are mostly in scenic nature reserves.
The first parador was "Parador de Gredos" in Ávila, opened in 1928. Today there are 94 Paradores spread throughout Spain. As you can see on the map – there are plenty of Paradores along the Camino de Santiago routes.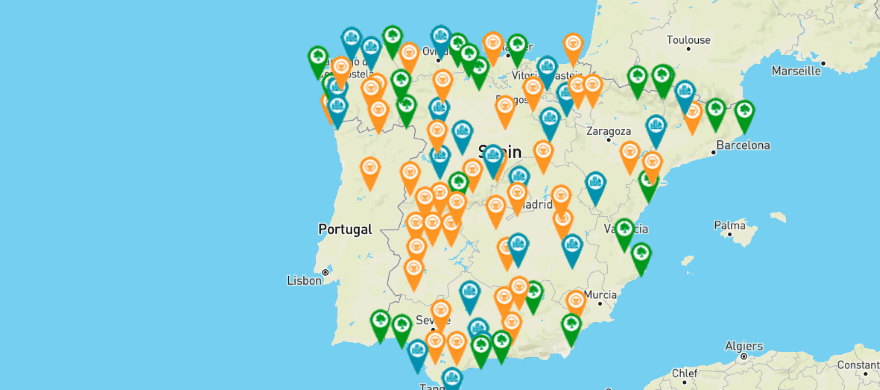 The public company that manages these beautiful accommodation options in Spain is "Paradores de Turismo de España". It was founded by King Alfonso XIII to promote tourism in Spain.
What is a Pousada?
"Pousadas" are the Portuguese equivalent to Paradores. Pousadas are found in castles, palaces, monasteries, halls of kings and rooms of queens with a focus on buildings of extreme beauty and historical significance.
Some of the Pousadas that you can stay in are over 1000 years old and the buildings that they are in could be old castles or even hospitals!
Why Choose Paradores and Pousadas for your Accommodation on the Camino?
These magnificent buildings add a real treat to your journey! You can still have an element of luxury and extra comfort while walking the Camino de Santiago. Anyone who is interested in history will find the buildings that house Paradores and Pousadas fascinating. They are beautiful to explore, and usually have excellent restaurants as well.
Staying in Paradores adds an extra cultural element to your Camino that you won't experience if you stay in chain hotels or albergues.
Many Follow the Camino clients add parador stays whenever they are available and have come back as return customers for several years!
Paradores on the Camino Frances
There are a number of incredible Paradores to stay in on the Camino de Santiago in Spain. The Camino Frances is one of the most popular routes, with many options to upgrade your accommodation to something more luxurious. There are five excellent Paradores open to pilgrims along the Camino Frances.
Santo Domingo de la Calzada
Santo Domingo de la Calzada on section 3 of the Camino Frances actually contains two lovely Paradores to choose from. The town is located in La Rioja region, which is well known for its excellent cuisine and wines.
Parador de Santo Domingo de la Calzada
The original 12th-century pilgrims' hostel on the town has been upgraded to the 4-star Parador de Santo Domingo de la Calzada. It has a regal, elegant style, a lobby filled with Gothic arches, and wood ceilings. It is right next to the cathedral and the town centre, so there are lots of things to do.
Parador de Santo Domingo Bernardo de Fresneda
Just 800 meters from the town centre you will find Parador de Santo Domingo Bernardo de Fresneda. The 3-star former Monastery of San Francisco has been divided into three sections: church, workshop/museum and guest house. The Parador is located in the ornate guest house section.
Parador de León
León is one of our favourite cities to stop in on the Camino Frances! It offers excellent architecture, and a brilliant tapas scene. It is also the beginning of the 3rd last section of the Camino Frances and a great place to start your walk if you don't have time to do the full Camino Frances.
While you are here we recommend that you stay in the 16th century Parador de León.
This wonderful Parador is located in convent of San Marcos and featured in the movie "The Way". It was where the main character, played by Martin Sheen, and some of his fellow pilgrims stopped to have a more luxurious night on their way to Santiago.
The Convent of San Marcos is one of the most important monuments of the Spanish Renaissance. The palatial tower dates from 1711 to 1714. It is well worth a visit, even if you aren't staying here.
Parador de Villafranca del Bierzo
On the 2nd last section of the Camino Frances, just after Ponferrada you will find the town of Villafranca del Bierzo. This is an excellent spot to treat yourself to a night in the 4-star Parador de Villafranca del Bierzo.
If you are looking for somewhere to take a rest day, you can add an extra night in one of the most stunning towns on the Camino Frances.
Parador Santiago de Compostela
The Parador in Santiago is by far the most popular accommodation upgrade that we offer. Many pilgrims will want to end their pilgrimage in style! This incredible period building is right next to the cathedral of Santiago de Compostela in the Plaza do Obradoiro.
Also known as "Hostal dos Reis Católicos", the five star Parador started its life in 1499 as a royal hospital to house pilgrims. It is one of the oldest hotels in the world! It has four gorgeous cloisters, grand reception rooms, beautiful bedrooms and a luxurious dining room.
Even if you don't spend a night here you should see if there is a table available at the restaurant. The food is excellent and offers both international and Galician dishes!
Paradores and Pousadas on the Camino Portuguese
The Portuguese routes of the Camino de Santiago also have several stunning Paradores (in Spain) and Pousadas (in Portugal) for you to upgrade your accommodation. Whether you are walking the Inland or the Coastal routes, there is something spectacular for you!
Pousada de Lisboa
Begin your Camino Portuguese in style with a stay at the stunning Pousada de Lisboa. Right in the centre of Portugal's capital city, this restored traditional building is the perfect accommodation option. It even has a swimming pool, private sunbathing deck, fitness centre and a spa!
Conimbriga Hotel do Paco (formerly Pousada de Condeixa-a-Nova)
Spend the night before you arrive in historic Coimbra on the second section of the Camino Portuguese in the stunning 4-star Conimbriga Hotel do Paco. The hotel is inside the 19th century Pestana Palacio do Freixo. The building is one of the most remarkable examples of Portuguese Baroque architecture, with stunning ceiling frescos. This spacious hotel has beautiful gardens and an outdoor pool.
The Conimbriga Hotel do Paco is located close to Conimbriga with its famous Roman settlements, inhabited between the 9th century BC and 8th century AD. Visitors can view its well-preserved city walls, Roman baths, paved roads, amphitheatre and beautiful mosaics.
Pestana Palacio do Freixo (formerly known as the Pousada of Porto)
You absolutely MUST spend an extra night in Porto – if not two of three! Upgrade your accommodation in this history and culture filled city with a stay in the Palacio do Freixo.
This hotel is perfectly located to explore Portugal's second-largest city, with magnificent views over the Douro River. After a busy day of sightseeing, guests can relax in the hotel's luxurious spa, health club or in the outdoor swimming pool with river views.
Parador de Tui
On the inland Camino Portuguese route you will pass through the historic city of Tui (also spelled Tuy) just after leaving Portugal to enter Galicia. The 4-star Parador de Tui stands in the middle of the city and is a beautiful example of the Galician 'pazo' or grand house. Visit Santa María Cathedral and the city's charming old quarter. If you had an extra day to spend in Tui, visit the Monte Aloia Nature Reserve!
Parador de Baiona
If you are doing the Camino Portuguese Coastal route, you will walk through the lovely fishing town of Baiona. The 4-star Parador in Baiona is a traditional Galician mansion with stylish and spacious rooms and large gardens. It is right out on the Monetrreal Peninsula and has spectacular sea views. Baiona is a lovely town to visit in its own right! Make sure to try some of the local Rías Baixas wines.
Parador de Pontevedra
The coastal and inland Camino Portuguese routes come together in coastal city of Pontevedra. Here, the 16th century Renaissance palace, located in the historic centre of the city has been converted into a 4-star Parador. This luxurious hotel in an excellent place to base yourself as you explore the area. The old quarter and the Pontevedra museum are definitely worth seeing.
Upgrade Your Camino with Luxury Stays in Paradores and Pousadas!
Even pilgrims who choose to stay in communal sleeping hostels and albergues along the way will often upgrade to a Parador or Pousada once or twice on their journey to add a bit of culture, history, and luxury to their journey.
Follow the Camino has been planning customised itineraries on the Camino de Santiago for clients for over 15 years! We love helping our clients to find the best balance of quaint country hotels, B&Bs, and Pousadas and Paradores for them.
Our team specialises in tailor made packages that include accommodation, bag transfers, detailed route notes and meals. We can add or remove any element of the service, so get in touch to see what we recommend for you.
If you already have an idea of what you'd like to do – get a free quote!
The Camino is Open for 2024 Bookings!
Some of our top accommodation are already booked out for 2023, so get in now to secure the best accommodation for your Camino!
Discover this empowering journey across Spain, Portugal and France for yourself.

Journeys from 3 to 90+ days available.
Flexible itineraries Luggage transfers Private rooms & bathrooms
Contact us