Discover one of the gems of Ireland's wild western coast on a pilgrimage journey to Croagh Patrick. Ireland offers many areas of outstanding natural beauty, and the Atlantic coast with its inlets and islands is the ideal place for an active holiday. Croagh Patrick mountain stands proudly on the edge of Country Mayo, and offers scenic views of the Atlantic coastline, drumlin islands, and Clew Bay.
Here are some helpful tips and local information to help you on your pilgrimage to Croagh Patrick!
What is Croagh Patrick?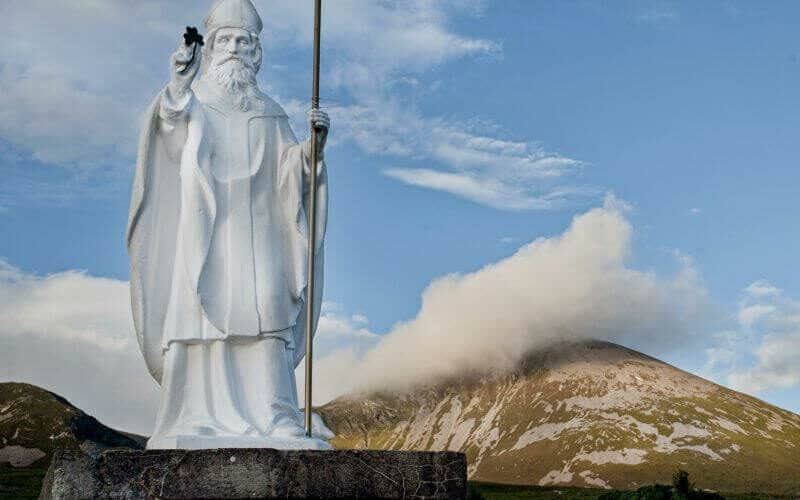 Croagh Patrick mountain is nicknamed the "the Reek", and is an important site of Catholic pilgrimage in County Mayo in Ireland.
It is a destination for followers of all religions, and one of the world's largest Christian pilgrimages.
"Croagh" means "Hill" or "Mountain" in Irish and it is a truly dominant feature of the local landscape.
The mountain got its name from Saint Patrick who is the patron saint of Ireland.
According to legend, in 441AD, St Patrick travelled on his missionary expedition through Ireland to County Mayo and spent forty days of Lent on this mountain. He fasted and prayed – following the example of Christ and Moses.
Archaeologists have found evidence that there has been a stone chapel or oratory on the summit since the 5th century!
Saint Patrick is credited with driving snakes and demons out of Ireland from here. It is said he threw them all into Demon's Hollow or Log na nDeamhan, a lake at the north base of Croagh Patrick.
Every year, thousands of pilgrims climb Croagh Patrick on Reek Sunday (the last Sunday in July) in honour of Saint Patrick. Believers climb this mountain barefoot and ask for forgiveness for their sins. Today the mountain is referred to as Ireland's "Holy Mountain".
Many pilgrims who climb the mountain also take a pilgrimage to the Camino de Santiago.
Where is Croagh Patrick?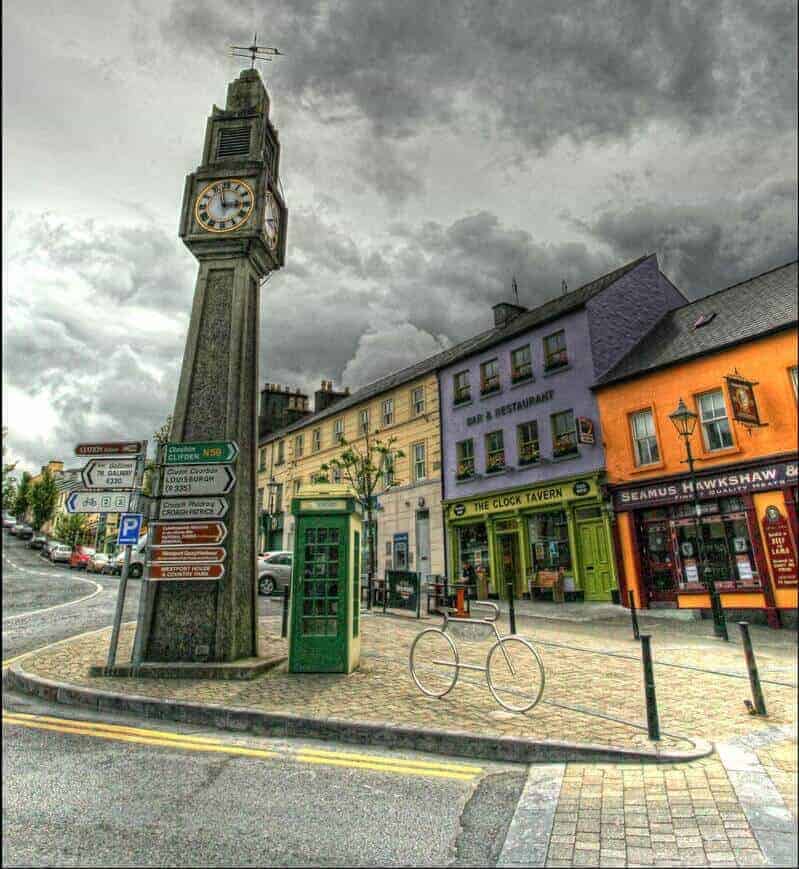 Croagh Patrick mountain is located about 10km (6.2 miles) outside the picturesque tourist town of Westport just off the Wild Atlantic Way.
Westport is a lovely spot to spend a few days and a great place to base yourself to explore this part of the Emerald Isle.
Usually, you will find very few tourists here, but it can get a little busier at the weekends. During the week and weekend of Reek Sunday, however, the mountain is packed with thousands of pilgrims! In 2019, over 25000 people completed the pilgrimage on Reek Sunday.
How to Get there by Car
It is about a 10-15 minute drive from Westport town via the town of Murrisk. There is a car park at the bottom of the mountain. Many people go to the Tavern Bar for a much-needed meal after their climb.
How to Get there by Public Transport
You can catch a bus or a train from Dublin and Galway to Westport. There are local buses from Westport that can then bring you to the mountain.
How to Get there by Bicycle – Cycle the Great Western Greenway!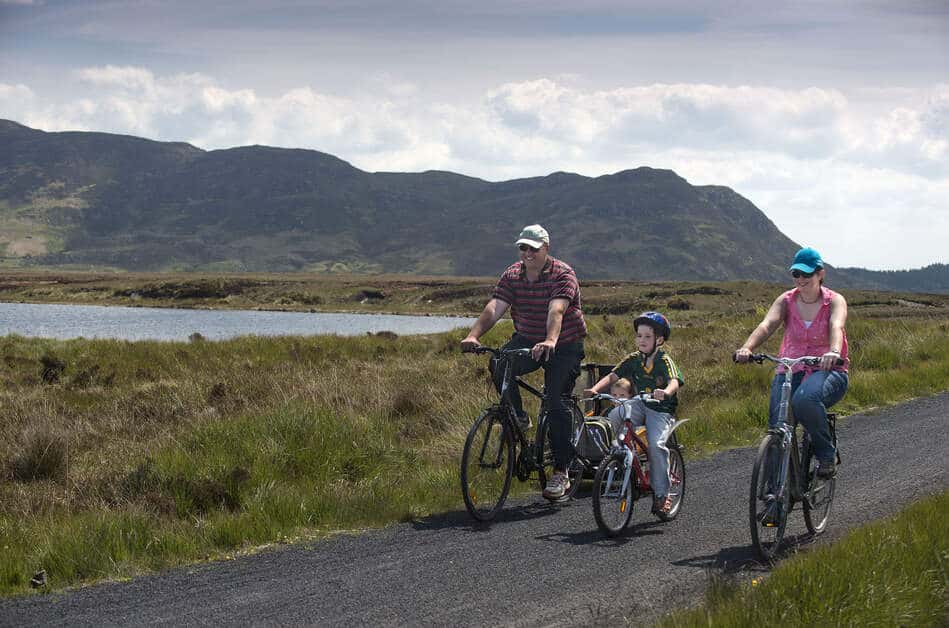 When you arrive in Westport, you can decide to cycle all or part of the Great Western Greenway. It is the longest off-road walking and cycling route in Ireland.
It follows the path of the closed railway line from Westport to Achill Island.
The trail will bring you past Croagh Patrick and if you are feeling energetic, you could take a detour to hike this Holy Mountain. We do not recommend cycling up this mountain, so make sure to bring your walking shoes.
How high is Croagh Patrick?
Croagh Patrick is 764 meters high (2,500 feet), which makes it the 4th highest mountain in Ireland.
The halfway point is about 40 minutes to one hour from the start of the journey. You will recognise the halfway point because the ground levels out a bit here.
Croagh Patrick's trail is around 7 km to the peak and back and you can reach the top in about 1.5 hours. The whole climb takes around 3-4 hours.
As you climb the mountain, you are greeted with spectacular views from all angles.

Remember to pack your camera and hope for a clear day!
Learn more: Download your FREE Camino e-book!
Discover the routes and sections of the famous Camino de Santiago pilgrimage.
Download
Where Do You Start the Climb Up Croagh Patrick?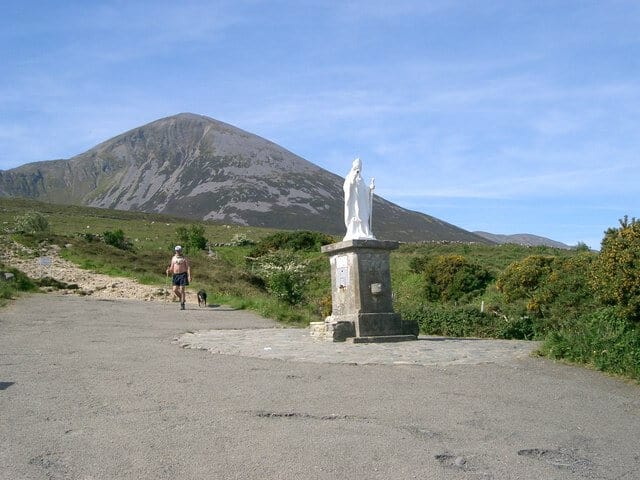 The most popular starting point to Croagh Patrick is in the village of Murrisk. It is located roughly 8 km west of Westport and the path leads up the side of the mountain.
There is also a visitor centre at Murrisk with a coffee and craft shop, secure lockers, information service, toilets and shower facilities (with a charge).
You will find a statue of St. Patrick along the way and on the top, you will find a small church that was built in 1905.
Mass is celebrated at the small church – called Temple Phádraig – during the week of Reek Sunday in July each year.
The Croagh Patrick Heritage Trail is a suggested route on the Celtic Camino network, which includes many historic Irish starting points for the Camino de Santiago. The Heritage trail is 63km in length starting in the Mayo village of Balla and continuing westwards to Murrisk at the foot of Croagh Patrick.
When is the best time to climb the Croagh Patrick?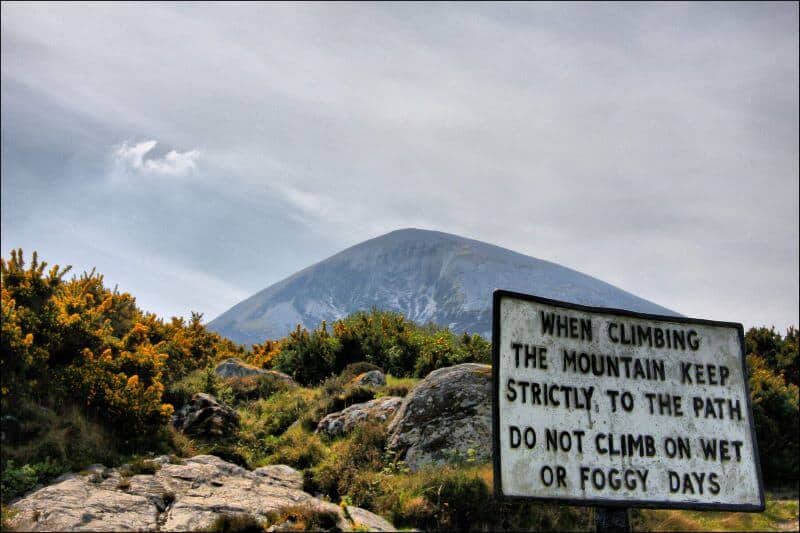 The best time to climb this mountain is between April and September when the weather is warmer. Ireland is known for wet, cloudy, and changeable weather, and it can surprise you even if you set out on a nice sunny day.
The views can be hampered if there is excessive cloud cover which can happen quite often in the West of Ireland. It is best to attempt a hike on a clear cloud-free day.
Always bring a raincoat and check the weather forecast before starting any hikes in Ireland.
If the weather is not permitting, there is always an option to put off your hiking plans for another day and spend a rainy afternoon exploring the numerous sights of Dublin or other charming cities of Ireland
The temperature can be lower at the top and the wind can be quite strong, so always carry extra layers and rainwear with you. Raincoats and waterproof trousers also do a good job at stopping the wind!
Is Croagh Patrick Difficult to Climb?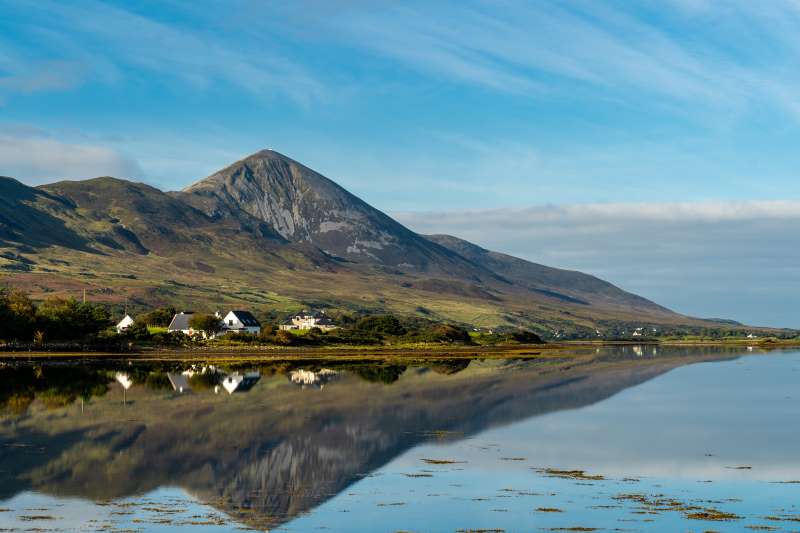 It is a challenging climb to the summit as a result of some steep terrain. It can also depend on the climber's fitness levels.
Check out our five must know hiking techniques to help make your climb easier.
There is an uneven and rocky terrain with slippery scree, which can make your climb quite difficult. It is important to be careful with each step you make and be aware of the loose rocks.
An important factor to consider is your own and your group's level of fitness. This is a mountain that is quite steep in places and requires a decent fitness level. Prior to undertaking the hike, you could look at strength and stability training to get your body ready.
Equipment You Should Bring on Croagh Patrick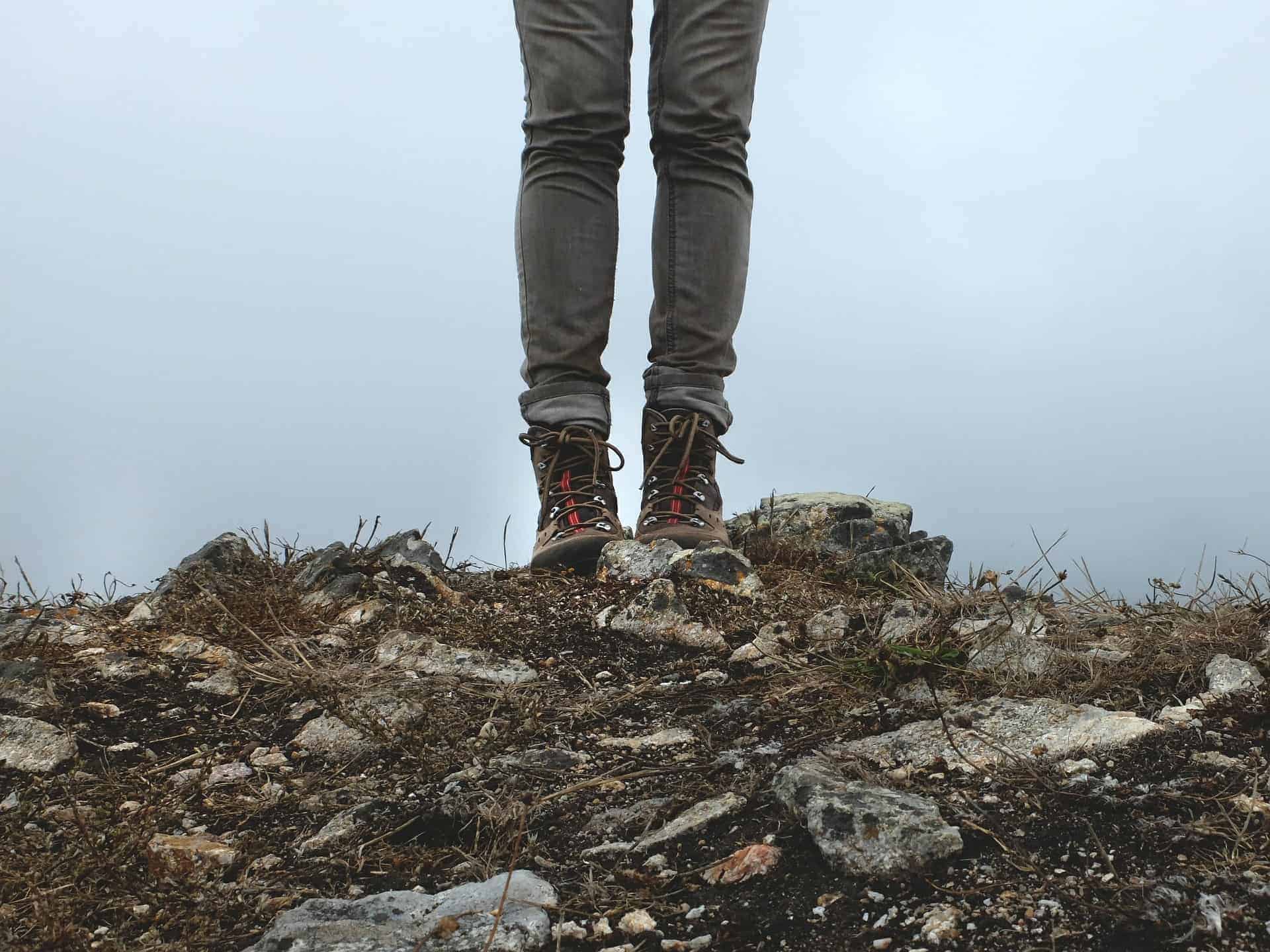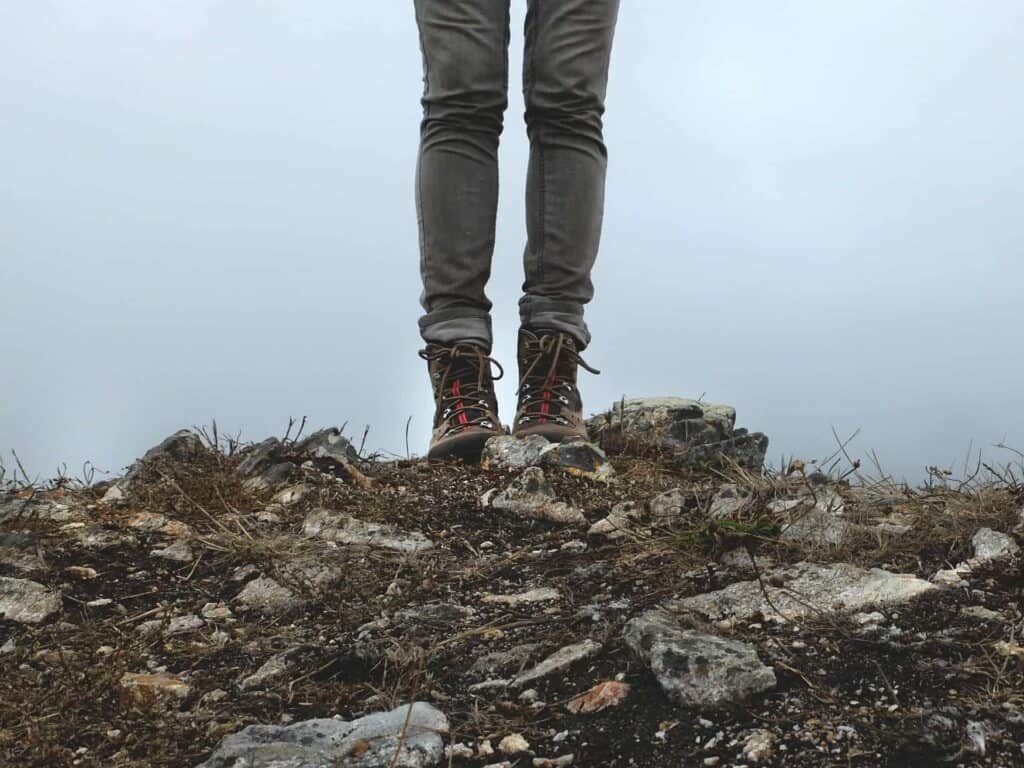 The equipment you should consider bringing with you on the hike is some solid hiking shoes or boots. Some pilgrims have been known to walk the route barefoot to increase their suffering – but there are a lot of stones so this is very painful.
Walking poles are great to make your hike more steady and comfortable.
Bring waterproof gear – no matter the weather – and test that it is really waterproof before you set off.
Bring an extra layer of warm clothing. The wind chill at the top can drop the temperature by several degrees, even on a sunny day! A fleece jumper or wool hiking jersey are great options.
Sunglasses can be handy, as the rocks are light coloured and reflect the sun back at you. They also protect your eyes from the wind.
Of course, remember to bring some food like sandwiches, snacks and at least a litre of water per person.
Staying Safe While Hiking in Ireland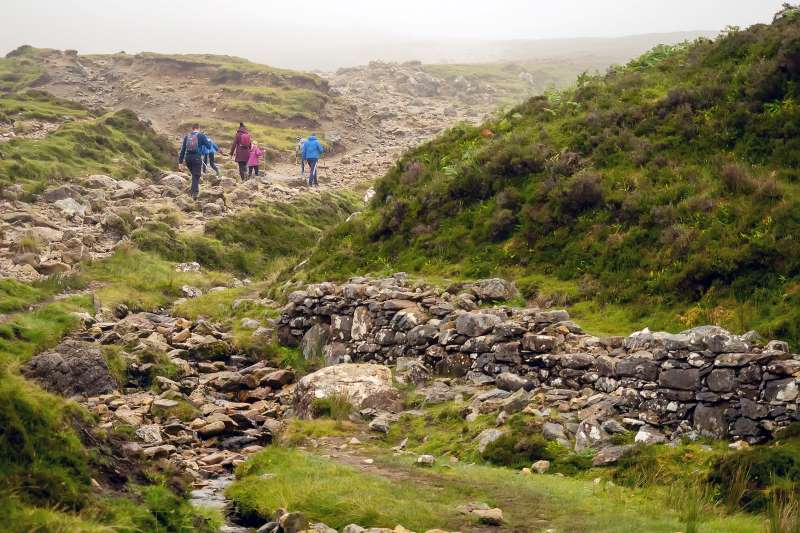 Please be aware of safety on the mountain.
Always let someone know when and where you are going and when you hope to be back. If you are visiting Ireland from abroad, let your accommodation know when you will be back.
Voluntary groups like the Mayo Mountain Rescue are there to rescue climbers in emergencies (and do every year). But, it is better to be prepared than to take any unnecessary risks.
Check the weather forecast and do not climb if it is cloudy or windy. Not only do these make the climb more dangerous, but they also make it much less enjoyable and spoil the views. If the weather does get bad suddenly – turn back. The tracks are relatively clear in most places, but visibility on the mountain can decrease very fast.
Always stay on the tracks. This is for your safety as well as to protect the natural surroundings.
Take a Walking Pilgrimage with Follow the Camino
This article is merely informative as we don't operate the Croagh Patrick pilgrimage. Although, Croagh Patrick is a walking pilgrimage much like the Camino de Santiago. Follow the Camino has been offering customised Camino walking pilgrimage holidays since 2006. We would love to help you plan your Camino pilgrimage so let us know what you are dreaming of and we will make it a reality!
Get your free quote and start your adventure now!
The Camino is Open for 2024 Bookings!
Get in now to secure the best accommodation for your Camino!
Discover this empowering journey across Spain, Portugal and France for yourself.

Journeys from 3 to 90+ days available.
Flexible itineraries Luggage transfers Private rooms & bathrooms
Contact us