Do you need to be fluent in Spanish to walk the Camino de Santiago? Absolutely not! But, it can be very useful to know a few basic Spanish phrases. On some of the less well-walked sections of the Camino routes you will find fewer people who speak English. This is where you are most likely to need useful phrases. The Spanish are very proud of their national identity and language particularly in rural areas. In bigger cities you will still get an extra big smile for making the effort!
Here are some Spanish words, phrases, and sentences that you will find helpful on your Camino journey:
"Buen Camino"
On the Camino, the number one Spanish phrase that you will hear is "Buen Camino"! It basically means have a good way or good walk. It's a simple and friendly way to wish the best to other pilgrims on their walk. In some places you will also hear "Ultreia!" used in the same way.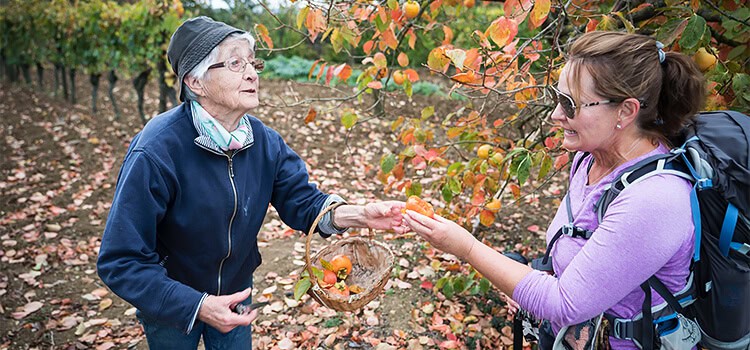 Common Spanish Greetings on the Camino
How are things? – ¿Qué tal?

Hello! How are you? –

¡Hola! ¿Cómo está?

Good day/ night –

Buenas días/ noches

What a splendid day – ¡Qué día más estupendo!

Goodbye! Until later –

¡Adiós! Hasta luego
Important Spanish Words
Yes – Sí
No – No
It's fine or OK – Vale
Please – Por favor
Thanks – Gracias
Numbers
1 – uno (oo-noh)
2 – dos (dohs)
3 – tres (trays)
4 – cuatro (kwah-troh)
5 – cinco (seen-koh)
6 – seis (says)
7 – siete (syay-tay)
8 – ocho (oh-choh)
9 – nueve (nway-vay)
10 – diez (dyays)
Introductions and Saying Hello
What's your name? –

¿Cómo te llamas?

My name is –

Me llamo

Where do you live? –

¿Dónde vives?

I live in London –

Vivo en Londres

Are you English? –

Eres inglés(a)

I'm Irish –

Soy irlandes(a)

I'm single –

Estoy soltero(a)

I'm married –

Estoy casado(a)

I have 2 sons –

Tengo dos hijos(as)

I have no children –

No tengo hijos

I'm here on holiday (pilgrimage) –

Estoy aquí de vacaciones (peregrinación)
Understanding Each Other
What did you say –

¿Cómo dice?

It's not important –

No importa

Do you understand? –

¿Entiende?

I don't understand! –

¡No entiendo!

I speak very little Spanish –

Hablo muy poco español

Do you speak English? –

¿Habla usted Inglés?

How do you pronounce that? –

¿Cómo se pronuncia eso?

Please write it down –

Escríbamelo, por favor

What does this mean –

¿Qué significa esto?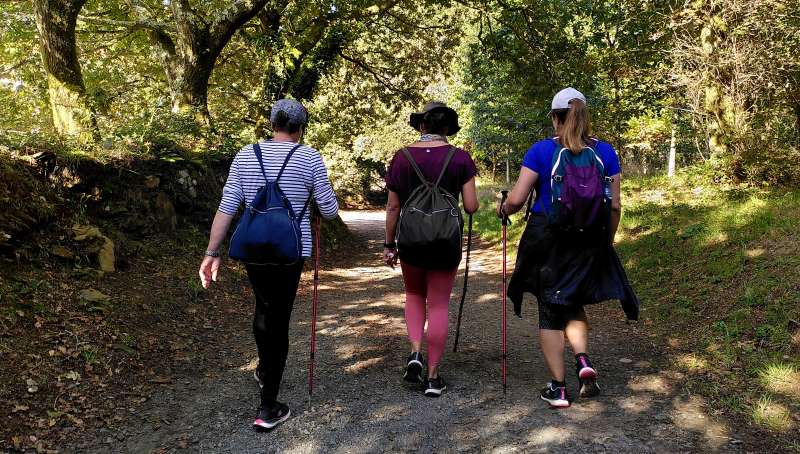 Asking Directions in Spanish
Here –

Aquí

There –

Allí

O

n the left –

a la izquierda

On the right –

a la derecha

Outside the bank –

Fuera del banco

Beside the cafe –

Al lado del café

Near the centre –

Cerca del centro

Opposite the market –

Enfrente del mercado

Where are you going? –

¿A dónde vas?

Where is the pilgrim hostel? –

¿Dónde está el albergue de peregrinos?
W

here is the bathroom? –

¿Dónde está el baño?

Where do I get the taxi to the airport? –

¿Dónde se coge el taxi al aeropuerto

?

How do I get to the centre of (Léon)? –

¿Cómo se va al centro de (Léon)?
Times and Dates
What time is it? – ¿Qué hora es?

It's midday –

Es mediodía

Five past one –

Es la una y cinco

Ten past two –

Cuatro y dos

Half past three –

Tres y media

Quarter past four –

Cuatro y cuarto

Twenty to five –

Cinco menos veinte

Quarter to six –

Seis menos cuarto

Five to seven –

Siete menos cinco

Today –

Hoy

Yesterday –

Ayer

Tomorrow –

Mañana

Day after tomorrow –

Pasado mañana

Last week –

La semana pasada

This month –

Este mes
Phrases for Ordering Meals on the Camino in Spanish
Ordering food and drinks using Spanish phrases is a great way to connect with locals on the Camino. In smaller towns you might find restaurant and bar staff who speak almost zero English, so these are definitely words and phrases that you want to remember.
What time is dinner (breakfast) –

¿A qué hora es la cena (el desayuno)?

What's today's menu –

¿Cuál es el plato del día?

Do you have a menu in English –

¿Tiene la carta en Inglés?

This food is cold (too hot) –

La comida está fría (muy caliente)

Where can I find a shop to buy food? –

¿Dónde puedo encontrar una tienda para comprar comida

?
The bill, please – La cuenta, por favor
Food – Comida
Menu of the day – Menú del día
Menu – carta

Breakfast –

Desayuno

Lunch –

La comida

Dinner –

Cena
Meat – Carne
Beef steak –

Bistec

Fillet steak –

Filete

Pork –

Cerdo

Lamb –

Cordero

Veal –

Ternera

Chops –

Chuletas

Ham –

Jamón

Chicken –

Pollo
Fish – Pescado
Trout –

Trucha

Salmon –

Salmón

Sole –

Lenguado

Hake –

Merluza

Prawns –

Gambas

Squid –

Calamares

Mussels –

Mejillones

Seafood –

Mariscos
Non-meat and Vegetarian – Vegetariana(o)
We have a full blog on being vegan and vegetarian on the Camino – read that here.
Is there a vegetarian restaurant? – ¿Hay un restaurante vegetariano?

Vegetables –

Verduras

(Tomato) Salad –

Ensalada (de tomate)

Fruit –

Fruta

Sandwich –

Bocadillo

Cheese –

Queso

Dessert – Postres
Ordering Alcoholic Drinks in Spanish on the Camino
These are some of the most important Spanish phrases for your Camino! Make sure to try some of the delicious wine that Spain is famous for.
Most drinks can be ordered by simply stating "Una (whatever drink you would like), por favour". If you would like two – "Dos … , por favour", and so on.
A red wine, please – Una vino tinto, por favor
I want a glass of Rioja – Quiero una copa de Rioja
Two more, please – Dos más, por favor
What wines do you have by the glass? – ¿Qué vino tenéis por copa?
A bottle of… – Una botella de…
Red Wine – Vino tinto
White Wine – Vino blanco
Rosé wine – Vino rosado
Sparkling wine – Cava
"Summer wine" (similar to sangria) – Tinto verano
Cider (alcoholic apple cider) – Sidra
Beer – Cerveza
A small draft beer – Caña
Larger draft beer – Doble
Pint of beer – Jarra
Bottled beer – Botellín
Shandy (beer with lemonade) – Clara con limón
Gin and tonic – Copa de gin-tonic
Rum and coke – Copa de ron cola
Wine and coke (a common drink in Spain!) – Calimocho
Hot Drinks
Coffee with milk – Café con leche
Tea with milk – Té con leche
Black coffee – Café negro
Espresso coffee – café espresso
Black tea – Té negro
Green tea – Té verde
Chamomile – Manzanilla
Cold Drinks
Milk –

Leche

Juice – zumo
Orange juice – zumo de naranja
Coca-Cola – Coca-Cola
Lemonade – Limonade
Water – Agua
Sparkling water – Agua con gas
Are You Vegan Or Vegetarian? Download our Ebook!
Our Vegan on the Camino Ebook is full of tips for our plant-based clients, from restaurant recommendations to useful phrases!
Download
Accommodation
D

o you have any vacancies? –

¿Tienen alguna habitación libre?

I'd like a room for one night –

Quería una habitación para una noche

There's a problem with the room –

La habitación tiene un problema

It's too hot (cold) –

Hace demasiado calor (frío)

There is no hot water –

No hay agua caliente

Where can I wash my clothes –

¿Dónde puedo lavar mi ropa?
Medical
I need a dentist (doctor) –

Necesito un dentista (medico)

Where is the health centre? –

¿Dónde está el centro de salud?

I have blisters –

Tengo ampollas

I have a tendinitis –

Tengo tendinitis

My leg / knee / foot / toe hurts –

Mi pierna / rodilla / dedo del pie

My ankle is swollen –

Mi tobillo está hinchado

My lower back is in spasm –

Mi espalda tiene una contractura

Where is the pharmacy? – ¿Dónde está la farmacia?
Transport on the Camino
Train – Tren
Bus – Autobús

Have you a timetable? –

¿Tienen un horario?

What time do we get to León? –

¿A qué hora llegamos a León?

How much is a single (return) ticket? –

¿Cuánto cuesta el billete de ida (y vuelta)

?

I want to cancel my reservation –

Quería anular mi reserva

When does the bus arrive at Arcos? –

¿Cuándo llega el autobús para Arcos?

When is the next train to Bilbao? –

¿Cuándo sale el próximo tren para Bilbao?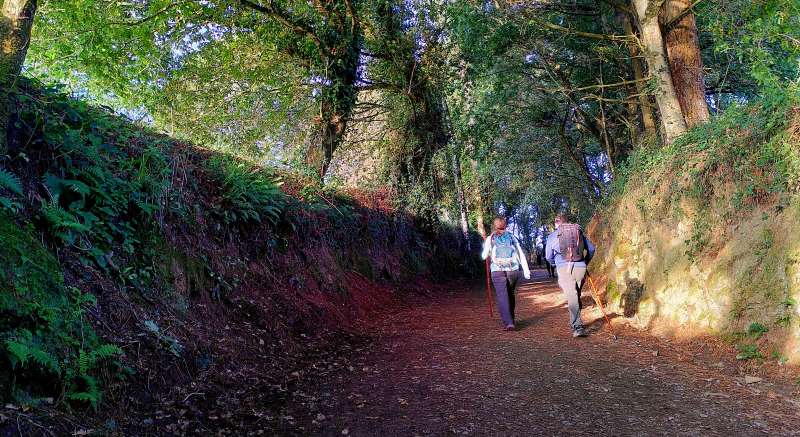 We hope that you find these Spanish phrases and words useful on your Camino! Spanish people are very friendly and they will always try their best to understand you. Showing that you have made a little bit of effort to learn basic Spanish before you arrive is a great way to respect the locals and make friends.
Give it a go, and don't worry about making mistakes!
If you want to take your Spanish phrases to the next level for the Camino you could also try some online courses, or apps like Babbel or Duolingo.
Practice Your Spanish Phrases on the Camino!
One of the best ways to learn a new language is to speak it! Try out all your new Spanish words on your own journey through Spain. The Camino de Santiago is a fantastic collection of walking routes through Spain, and Follow the Camino has been sending people on The Way since 2007!
Our experts craft custom made itineraries for every client. We incorporate you interests, preferred comfort level, and your ideal route into each journey.
Our Camino de Santiago tours can be guided or self-guided, with bag transfers, added rest days, longer or shorter distances, and more.
Contact our Camino experts now for more information on Camino de Santiago tours or our services, or request a free quote!
Buen Camino!
The Camino is Open for 2024 Bookings!
Some of our top accommodation are already booked out for 2023, so get in now to secure the best accommodation for your Camino!
Discover this empowering journey across Spain, Portugal and France for yourself.

Journeys from 3 to 90+ days available.
Flexible itineraries Luggage transfers Private rooms & bathrooms
Contact us