The routes of the Camino de Santiago can take as long as a few months to walk, so it is definitely worth scheduling in a number of rest days along the Way. You can choose to add lots of them, or just a few, depending on your style of walking and traveling.
If you are less used to long distance walking, or if you have any niggling injuries, rest days on your Camino are especially important.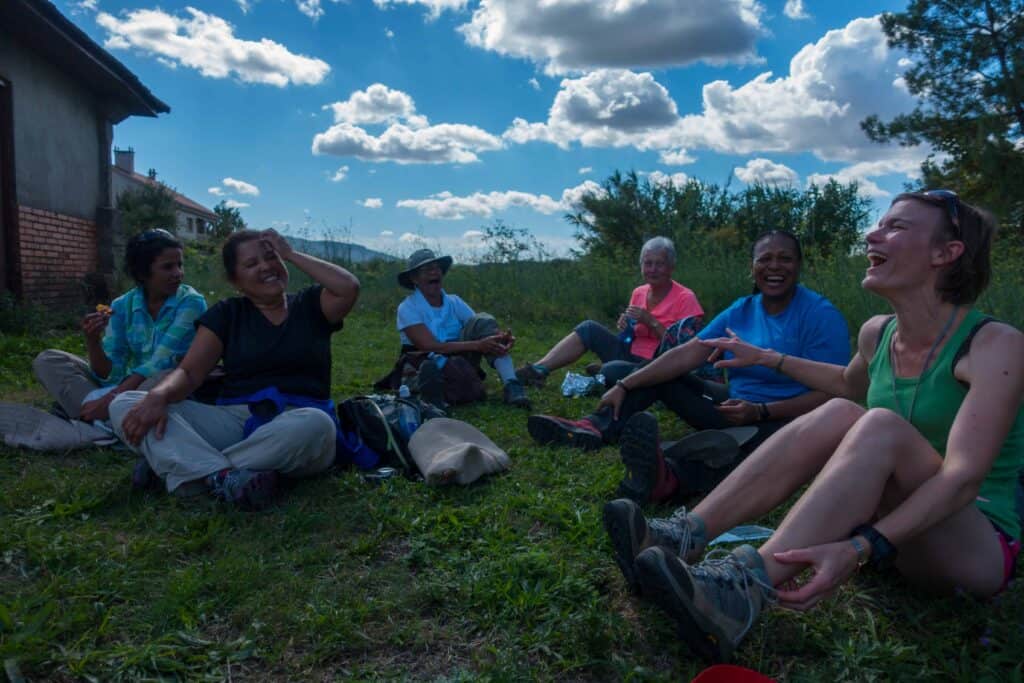 Why Should You Add Rest Days to Your Camino Pilgrimage?
It breaks up the walk.
If you are walking the full Camino Frances you will be covering 800km, or 500 miles of the Way of Saint James. This usually takes people about 30-33 days without rest days. Doing anything physical for that long can get repetitive and wearisome. Taking a day off to look after your mind and body will make for a much better overall experience.
Remember, this is a journey, not a race!
It gives you time to enjoy the country you are walking through.
The Camino de Santiago is beautiful and travels through stunning towns and regions. At the end of a long day of walking, most people don't have the energy to go out and explore, or the time to pop out to a local vineyard.
Adding an extra day in some of the wonderful places along the Camino you choose will give you more flexibility and time to really appreciate Spain, and any other country your route crosses. There is so much that you will want to see!
Rest tired muscles and joints.
Repetitive walking each day will have an impact on your body. Most pilgrims will experience blisters, sore joints, and aching muscles at some point on their journey. One of the most important things that you can do to avoid injuries is to give your body time to rest and heal along the way.
Regular rest days on your Camino could save you several sore days later on, or even worse, a trip cut short. Training and preparing yourself will also help a lot!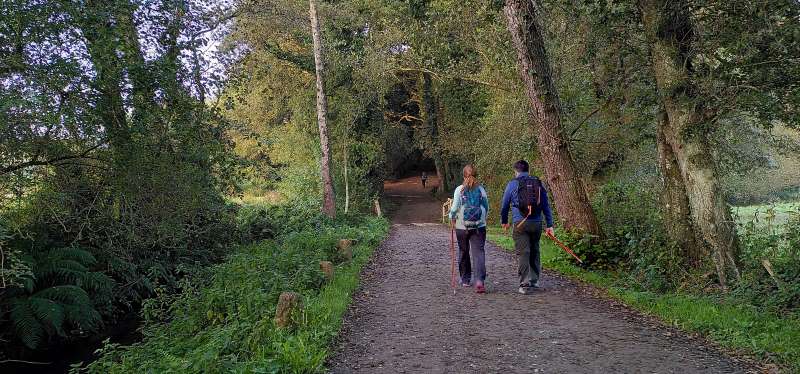 Where Should I Plan My Camino Rest Days?
This is totally flexible and up to you! If you are worried about your fitness then you might want to add a few more. You can spend extra time in a certain town, city, or wine region, by simply adding more days there.
If you choose to walk the Camino with Follow the Camino we will recommend some of the best places to break up your journey with non-walking days. Our experts have some great tips for activities to do during your break, too!
A common way to plan rest days is to add one in at the ends of the stages that the Camino routes are commonly divided into.
Rest Days on the Camino Frances
Of course, you can always add more or skip a few of these to suit your fitness and timeframe, but these are some of our favourite places along the Camino Frances. We definitely recommend spending a bit more time in each spot if you can to experience what makes them special!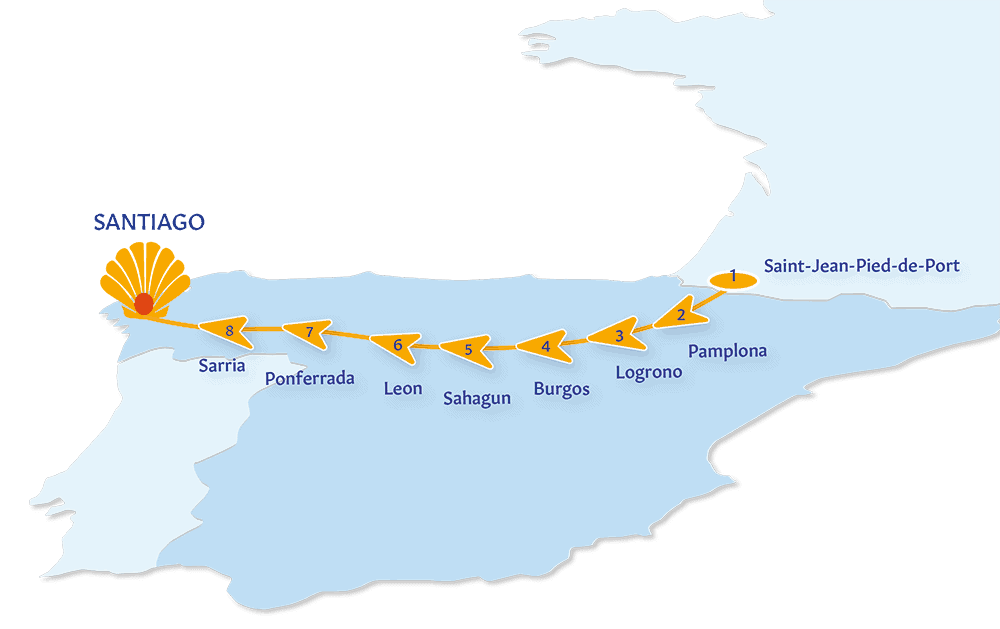 Saint Jean Pied de Port
If you are walking the full Camino Frances from Saint Jean Pied de Port, we always recommend giving yourself a night there before you begin. Wherever you are travelling from, you are likely to arrive later during the day, tired from travel. Spend a night in Saint Jean Pied de Port and start fresh the next morning.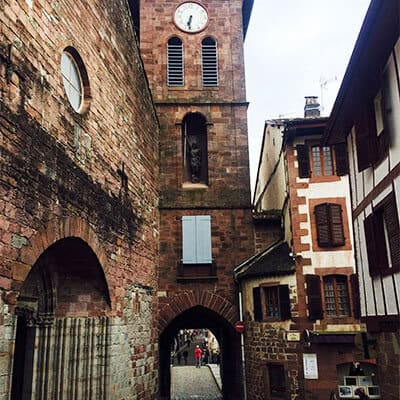 Pamplona
The end of the first section of the Camino Frances is Pamplona. This stunning town is another place that many people will add an extra night and a rest day. If you happen to be there in July then you might even see the Running of the Bulls! You will also find delicious tapas and wine.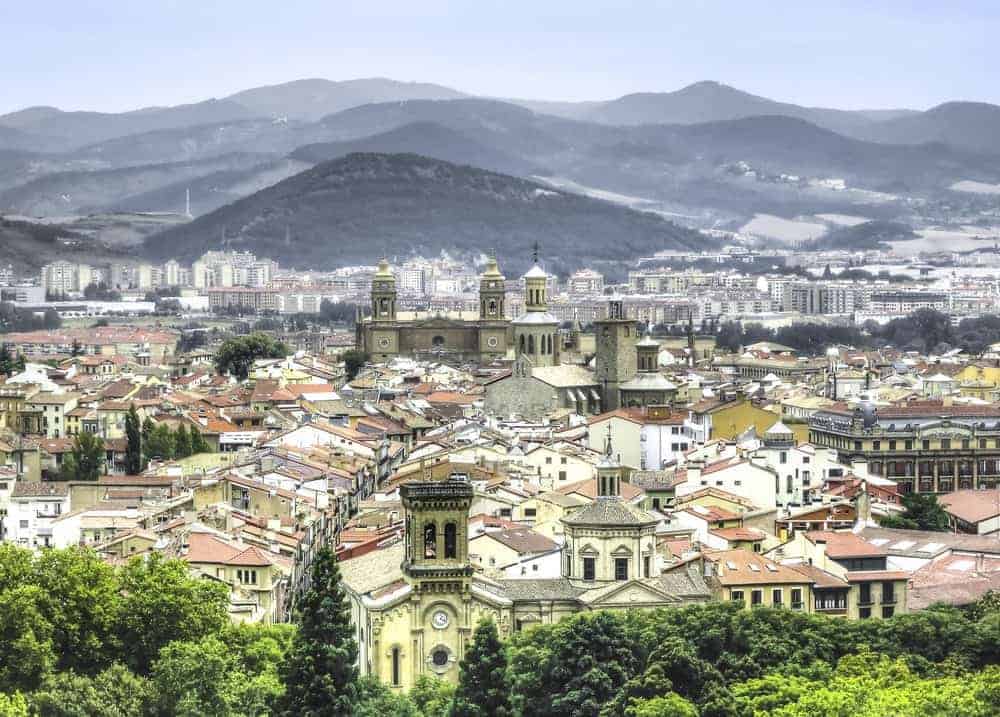 Logroño
Speaking of wine, if you enjoy a glass of vino then you will definitely want to take a day off in La Rioja wine region! Logroño is an excellent option. There are plenty of vineyards around to visit, each with delicious wines to try.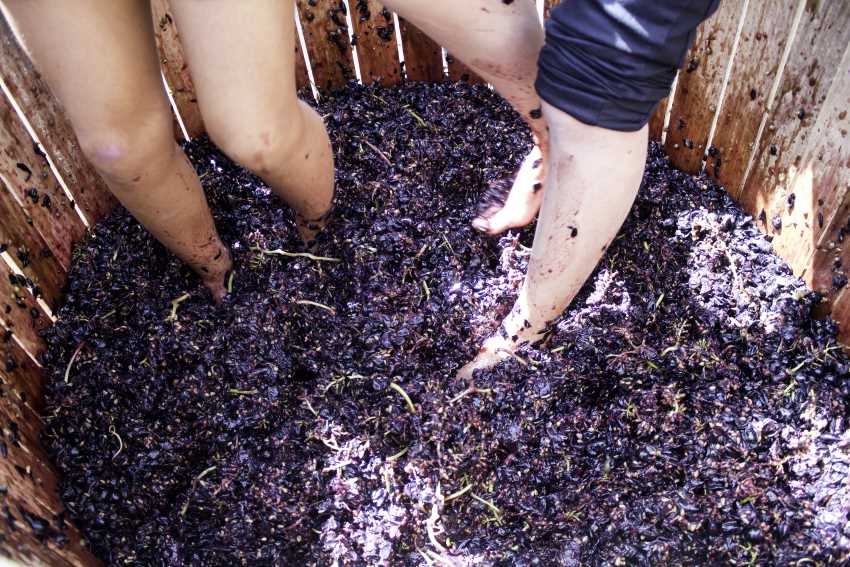 Burgos
For the history buffs and lovers of medieval architecture, Burgos is worth an extra day. This delightful city is full of character and places to eat. Make sure to visit the UNESCO World Heritage listed cathedral.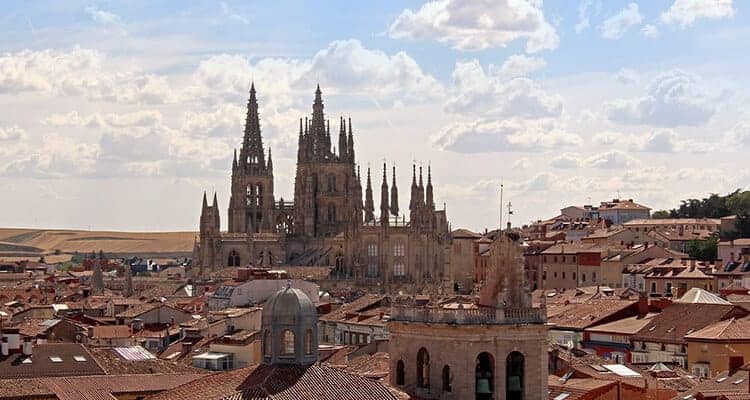 Leon
Leon's historical Old Town district, with sections of old Roman walls and a bustling tapas scene is worth at least one extra day to explore. The magnificent Cathedral is surrounded by narrow streets, museums, bars, and historical buildings. If you are lucky enough to visit on the weekend before 5 October, you will see the medieval festival celebrating the day of San Froilán!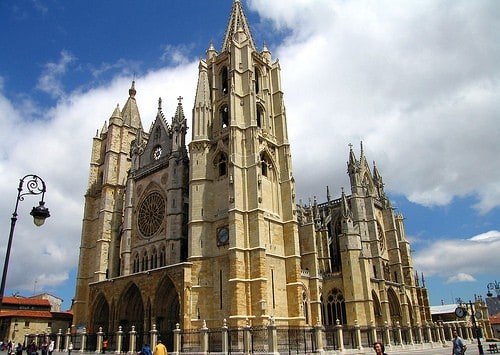 Ponferrada
As you get closer to Santiago de Compostela on the Camino Frances you will arrive in another city with Roman roots – Ponferrada. Visit the museums, fascinating religious buildings, and the magnificent castle on the hill. The Castle was built by the Knights Templar towards the end of the 12th century and has a wonderful library of rare books and manuscripts.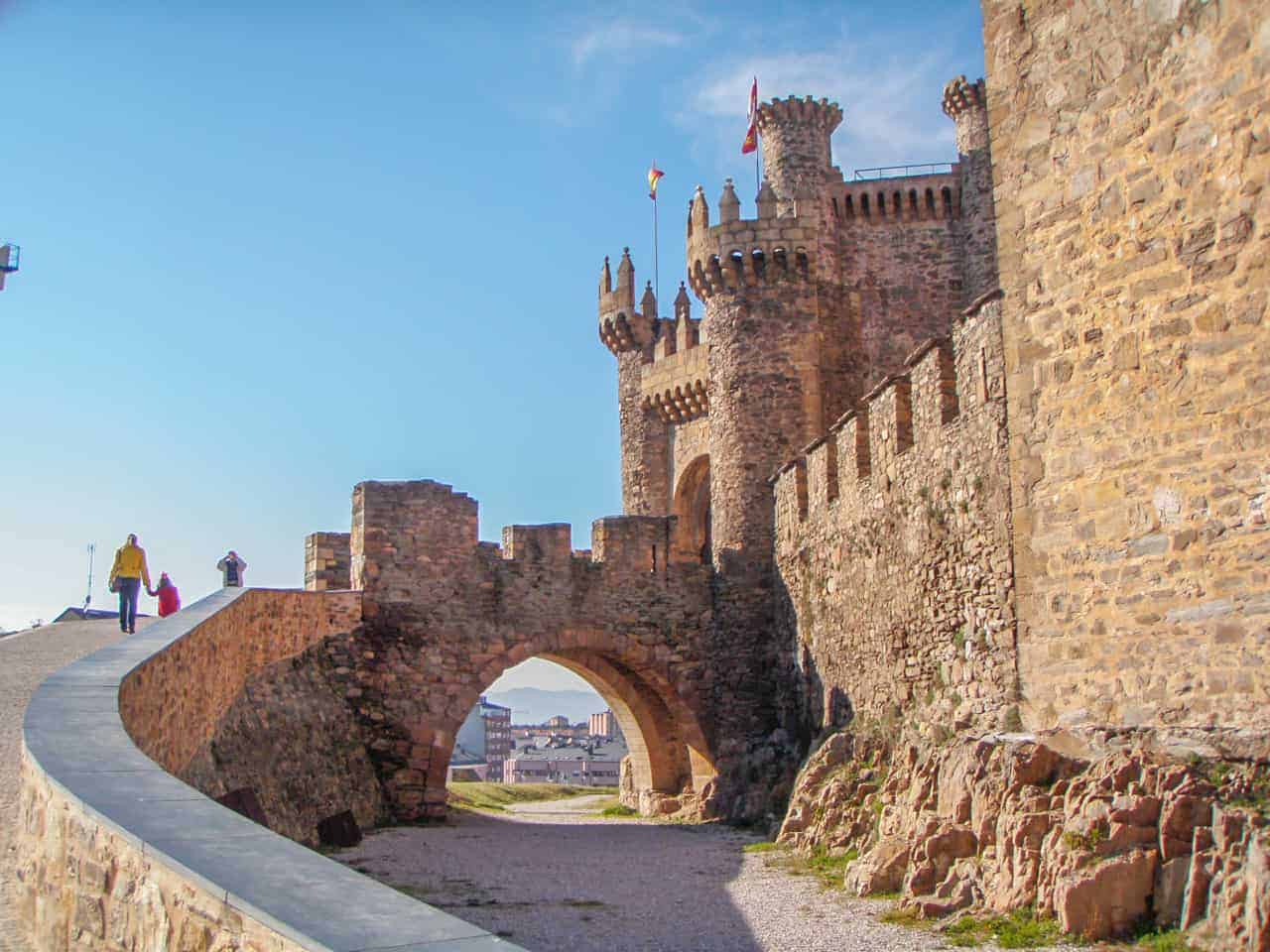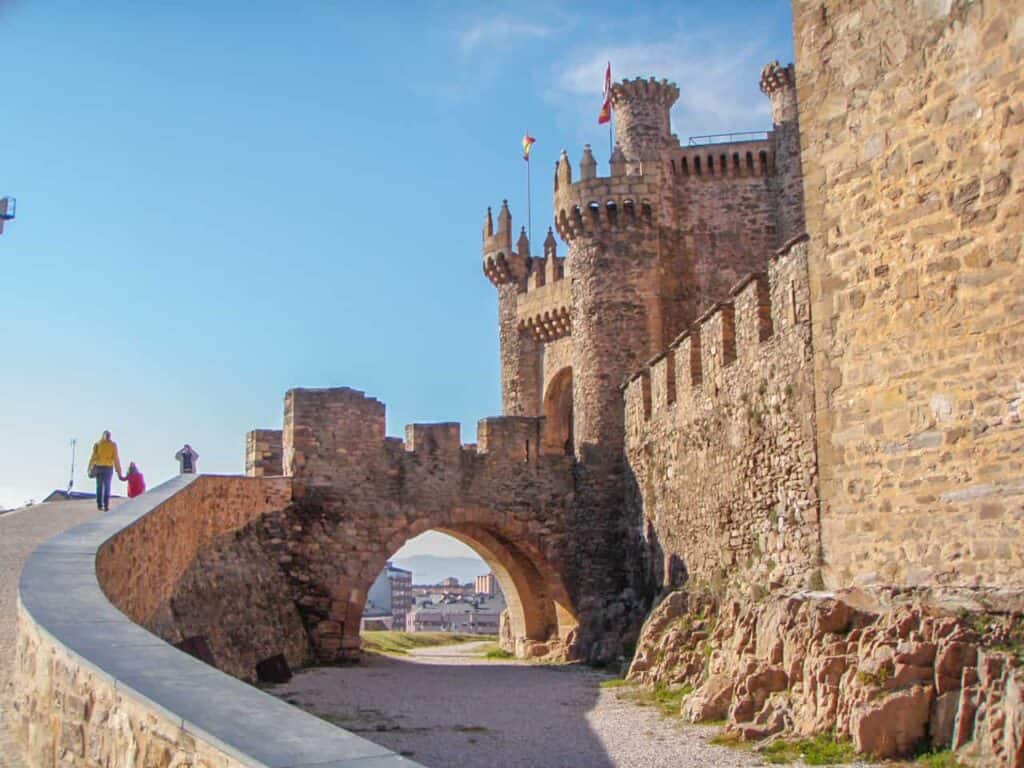 Santiago de Compostela
Well done! You made it to Santiago de Compostela and the end of your Camino! This gorgeous city has so much to offer and we absolutely recommend spending at least two nights here at the end of your trip. You deserve these rest days!
Walk the narrow streets, explore the little shops, cafes, tapas bars, and bakeries. Taste the delicious cookies that are sold from many shops near the cathedral, and finish each day with a tapas crawl through some of the delightful eateries.
The cathedral, Santiago de Compostela Basilica, is worth allocating several hours to – it is very large and has a mix of different architectural styles. If you arrive during a Holy Year you will also be able to enter the cathedral through the Holy Door. After exploring the cathedral, visit the adjacent museum to see beautiful and interesting objects from the history of Santiago.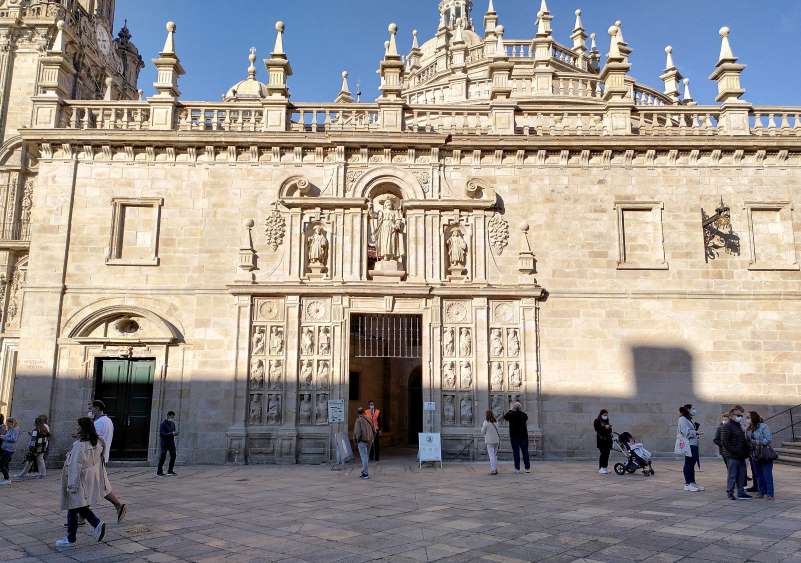 Rest Days on the Camino Portuguese
Whether you choose to walk the inland or the coastal route of the Camino Portuguese there are plenty of stunning places to stop. These are a few of our favourites, and you can always add more rest days to your Camino if you want. Take a bit of extra time to experience the wonderful food, culture and history of Portugal!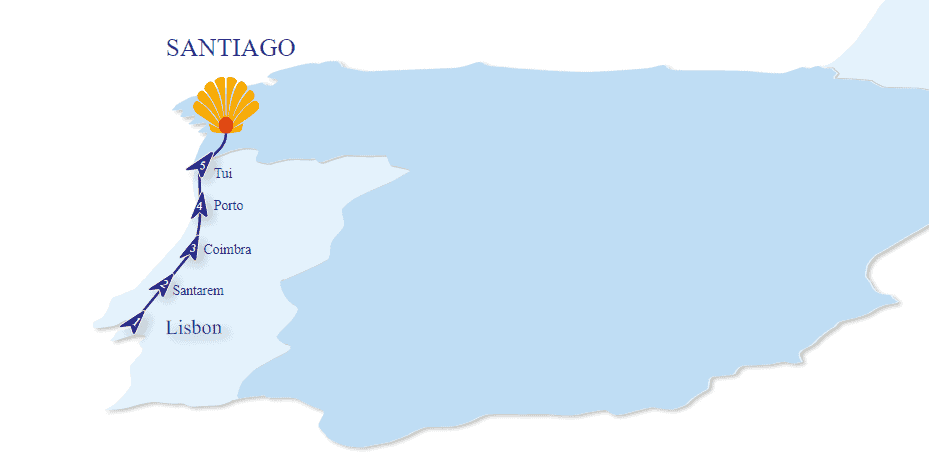 Lisbon
The Camino Portuguese begins in the capital city of Portugal – Lisbon! This hilly, coastal city is absolutely gorgeous. Whether you fly in or arrive by train, get yourself rested and ready to begin with a few days exploring Lisbon. Make sure to visit the museums and beaches, as well as taste some excellent Portuguese wines.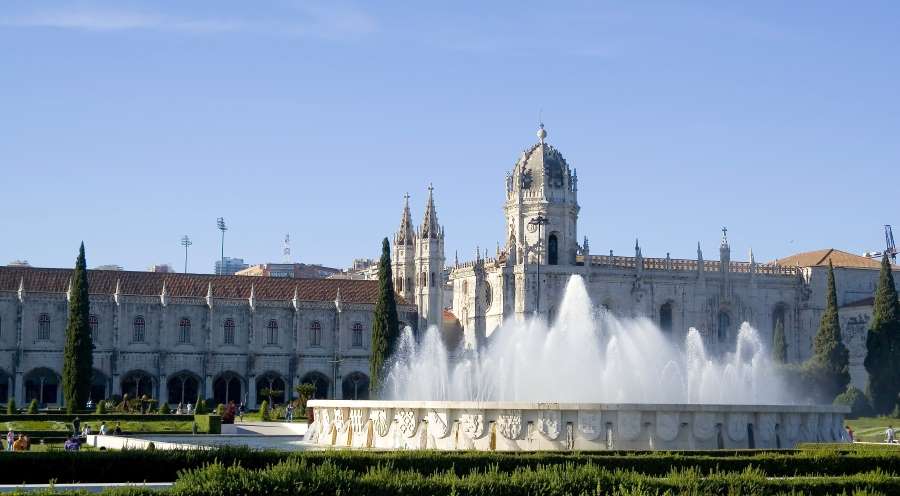 Coimbra
About halfway between Lisbon and Porto, add a rest day to your Camino in Coimbra. The fourth-largest urban centre in Portugal is a lovely river-front city. Its most famous attraction is the University of Coimbra – one of the oldest continuously operating universities in the world. The university is a UNESCO World Heritage Site. Admire its architecture, unique culture and traditions, and historical role in shaping higher education in the Portuguese-speaking world. It is also really lovely to walk around!
Porto
No matter where you are starting or finishing your Camino Portuguese we always recommend an extra night in Porto! This thriving city has so much going on that you could happily spend a week here without getting bored.
Firstly, come hungry! Porto is absolutely full of incredible food, including 3 Michelin Star restaurants. Add "Francesinha", "Aletria", "Tripas à Moda do Porto", and "Bacalhau" to the list of foods to try during your Camino rest days in Porto. This is also the home of Port – a delicious fortified wine that you simply must try.
Walk off your meals exploring the city. We recommend Porto Cathedral, Casa da Musica, the Monument Church of St Francis, Bolsa Palace, and the Ribeira district. A walk across the Ponte de Dom Luís I is a wonderful way to get views over the city and the river.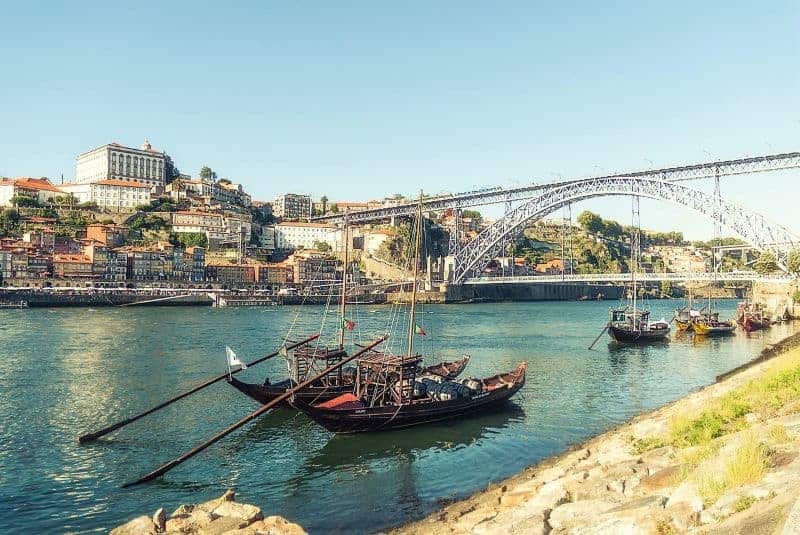 Vigo
If you are walking the Camino Portuguese Coastal route then we recommend spending an extra night in Vigo. The delightful coastal towns on this stretch are all wonderful and peaceful. You have a multitude of beaches to choose from. There is fresh seafood everywhere you look.
If you have an extra day to spare, pop out to the Cíes Islands – part of the Atlantic Islands National Park. The Cíes are known for their magnificent birdlife and crescent-shaped Rodas Beach. The ferry only takes around 45 minutes and goes multiple times each day.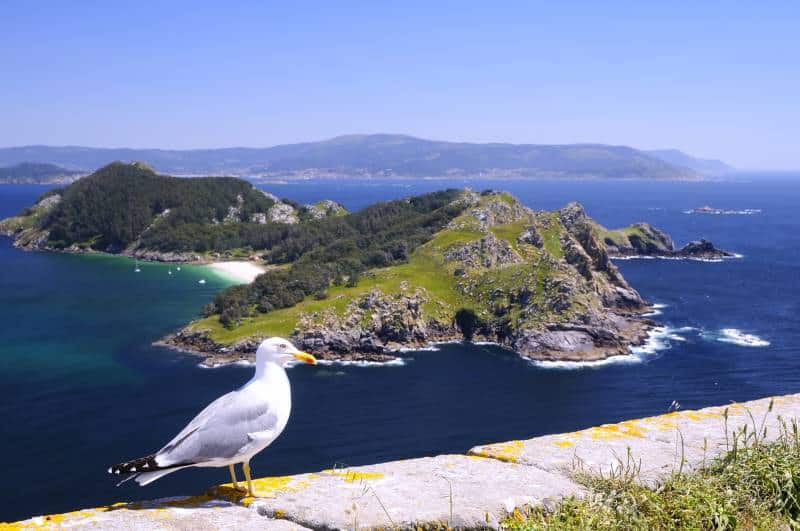 Pontevedra
The coastal and inland Camino Portuguese routes come back together in seaside Pontevedra. Just three or four walking days from Santiago, many people will walk through Pontevedra without taking much notice. But they are missing out! Pontevedra has one of the largest and best-preserved old towns in Galicia. Wander the network of narrow streets and squares to discover churches, shops, and a lovely gothic basilica.
It also has a stunning Parador that you can stay in that we highly recommend for a taste of luxury!
Another interesting area is the shipyards, giving you a glimpse into the proud seafaring history of the city.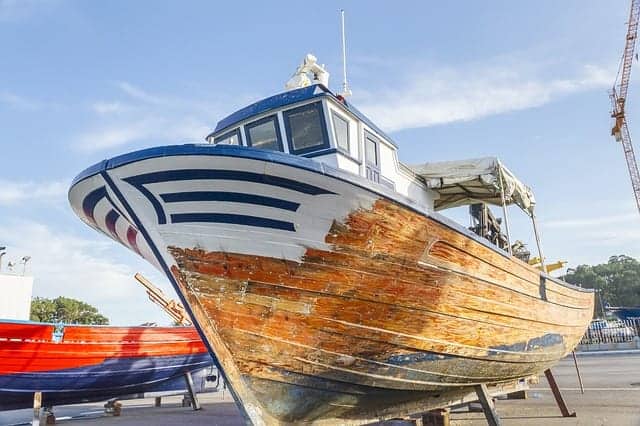 Santiago de Compostela
Just like the Camino Frances, the Camino Portuguese finishes with a soul soaring walk through Santiago de Compostela to the incredible cathedral. Spend a day or two here to rest and recover after your adventure. You might see friends from along the Camino wandering the old streets, picking up a souvenir or gifts for friends back home.
Put your feet up and relax! If you are feeling in the mood for some pampering, there are a myriad of massage parlours and day spas that are ready to massage your legs back to life.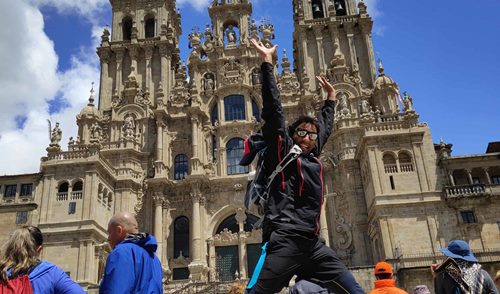 Get Advice on the Best Rest Days for Your Camino!
Not everyone will want to stop at each of these lovely spots, and that is ok! If you are feeling fit or if you are low on time our experts can give you customised advice based on the route or sections that you are walking.
Follow the Camino has been operating tours and journeys on the Camino de Santiago since 2006. We know each of the routes in detail, and have all the best advice for your journey.
Let us take the stress out of your travel planning. We offer fully customised itineraries with as many rest days and short walking days as you like. Our Camino Planners will select top quality accommodation for your route, and organise all the details – from bag transfers to walking notes.
Get a free customised itinerary and quote for your Camino today.
We are here whenever you are ready!
The Camino is Open for 2024 Bookings!
Get in now to secure the best accommodation for your Camino!
Discover this empowering journey across Spain, Portugal and France for yourself.

Journeys from 3 to 90+ days available.
Flexible itineraries Luggage transfers Private rooms & bathrooms
Contact us