Northern Spain is absolutely full of incredible cuisine, so it is no surprise that you will find a number of Michelin star restaurants on the Camino del Norte and the Camino Primitivo! The Camino del Norte (also known as the Northern Way or the Camino de la Costa) routes run from San Sebastian to Oviedo. It hugs the coast, leading through culinary hot spots like Bilbao, Santander, and Gijon before heading inland. The Camino Primitivo – the Original Way – then takes pilgrims from Oviedo to Santiago.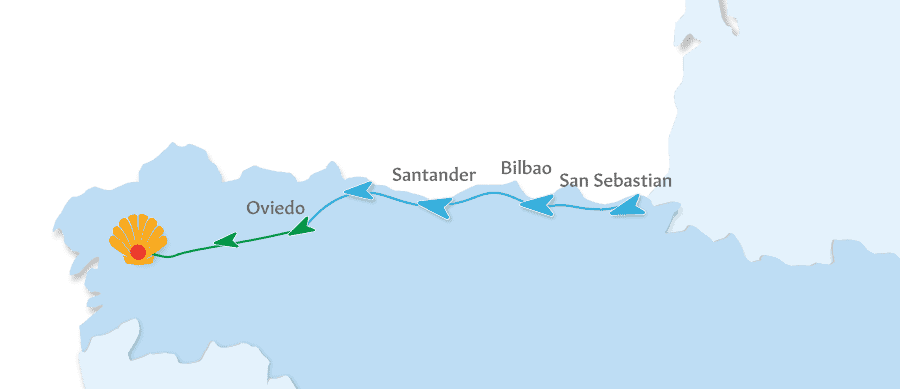 Here are some of the best restaurants to visit on the Camino del Norte and the Camino Primitivo, according to the Michelin Guide 2022:
Michelin Star Restaurants on the Camino del Norte in San Sebastian
The first stage of the Camino del Norte is simply phenomenal for foodies! You might even want to add a couple of extra days here just to try more restaurants! San Sebastian alone has 6 restaurants with between one and three Michelin Stars.
Kokotxa
Snuggled away in a quiet corner of the Old Town, Kokotxa is bright, modern and contemporary. This one Michelin star gem showcases Basque cuisine and excellent local products. Choose from the seasonal menu and the tasting menu.
Mirador de Ulía
For a meal with some of the best views in town, head to Mirador de Ulía. The restaurant is family run and has been owned by the same family for three generations. Expect creativity and seasonal products with a personal touch.
eMe Be Garrote
The interior of this former cider house is a fascinating fusion of Scandinavian and Basque design. The cuisine in eMe Be Garrote is rooted in traditional regional cooking with a modern spin.
Amelia by Paulo Airaudo
Idyllically placed on the Playa de La Concha this two Michelin star restaurant has just three tables and the bar for seating, but it is all part of the experience! The eclectic tasting menu at Amelia combines a range of international influences with Basque foundations.
Mugaritz
Mugaritz is a short taxi ride from San Sebastian, but this two Michelin star restaurant is a totally unique experience. Plan about 3 hours for the 23 to 25 creations that you will taste and smell. This is food like you have never seen it before.
Akelaŕe
A short drive west of San Sebastian, another three-star gem is waiting. Akelaŕe boasts an impressive design and wonderful sea view along with creative menus. You can even take part in cookery classes here to take your gastronomic experience to the next level!
Arzak
Three Michelin stars and an immense wine cellar await you at Arzak, which obtained its first star from the prestigious Michelin guide in 1972. Housed in a building over a century old, the contemporary dining rooms might surprise you! The innovative menu is crafted by a father-daughter duo who are the fourth generation to run a foodie establishment in this location. This is widely considered one of the best restaurants in Northern Spain.
The Best Restaurants on the Way to Bilbao
From San Sebastian, we walk west along the coast towards Bilbao. This stunning section of the Camino is peaceful and surrounded by nature. Once we arrive in Bilbao there are 6 more Michelin star restaurants waiting for us!
Elkano
The sea is most definitely the star of the show at nautically themed Elkano. In your second stop on the Camino del Norte, Getaria, you will find some of the most incredible seafood. The menu changes seasonally, and we highly recommend a visit.
Ola Martín Berasategui
The presentation of chef Martín Berasategui is absolutely breathtaking. Located in the Hotel Tayko, Ola offers a selection of the famous chef's best-known dishes and a spectacular tasting menu.
Zarate
Zarate's thriving kitchen is full of high-quality seafood and exquisite flavours. The owner-chef specialises in fresh, wild-caught fish sourced only from the ports of Lekeitio and Ondarroa. For a delicious and slightly less formal affair, pop to their small gourmet fish shop for spectacular takeaway options.
Zortziko
Zortziko opened its doors in 1989 and has been delighting guests ever since! Owner-chef Daniel García explores the roots of Vizcayan cuisine and experiments with modern tastes and seasonal ingredients.
Mina
Fresh, tasty and highly personal cuisine is what you'll find at Mina. The kitchen uses seasonal and market-fresh produce to create its two tasting menus, and there is a lovely range of wines to choose from too.
Nerua Guggenheim Bilbao
Situated inside the iconic Guggenheim Museum in Bilbao, this modern and minimalist space is home to modern cuisine and innovative dishes. There are a number of menus to choose from at Nerua, all with wine pairing options.
Etxanobe Atelier
Contemporary, intimate, and elegant. Etxanobe Atelier offers modern cooking, excellent ingredients, and particularly fantastic fish. The chefs combine interesting textures and flavours in their range of "experiences".
Michelin Star Restaurants between Bilbao and Santander
As you continue along the Camino del Norte to Santander you will find wonderful coastal views, bays, inlets, beaches, and cliff walks. You will also find three Michelin star restaurants along the Way, and Santander itself has another two.
Solana
The views from Solana are almost as good as the food! Whether you are looking for more traditional dishes or very contemporary cuisine you will find it here. The particularly interesting wine list has plenty of options to complement the seasonal menus.
La Bicicleta
Warm, welcoming and retro-chic, La Bicicleta offers a contemporary reinterpretation of traditional Cantabrian and Basque recipes. This fantastic restaurant also has a Michelin Green star for its efforts in sustainability!
Cenador de Amós
Cenador de Amós is housed in a palatial 18C property and boasts three Michelin stars as well as a Green star! The gastronomic delights that they serve up are contemporary and wonderfully Cantabrian. The products are local, and the restaurant is committed to sustainable practices.
Casona del Judío
Santander's Casona del Judío is innovative and interesting. Chef Sergio Bastard incorporates maritime-inspired ingredients including algae and herbs from along the coast – adding original flavours to his tasting menus. The 19th-century Indian mansion that the restaurant resides in is also fantastic.
El Serbal
Situated right on the beach in Santander, El Serbal has superb sea views and excellent à la carte and tasting menu options. Fresh fish is the centre of their menu, alongside native Tudanca beef. The wine cellar boasts over 500 wines from all over the world.
The Best Restaurants on the Camino del Norte Between Santander and Ribadesella
While there are plenty of excellent places to dine along this section of the Camino de la Costa only four have the distinguished Michelin star rating. The walk is still worth it though, as we cross from Cantabria into the Asturias region, known for its lush greenery, stunning mountains, and apple cider.
El Nuevo Molino
Our next stop is a little outside Santander. Step into a delightful 18th-century watermill on the River Pas and prepare yourself for a regionally inspired set menu at El Nuevo Molino! The atmosphere is relaxed and slightly rustic, and the food is wonderful.
El Retiro
The first Michelin star restaurant that you will find after leaving Santander is El Retiro in Llanes. You know that they are committed to fresh, seasonal flavours when you hear them say "The menus may change depending on the market and the state of the sea."
Arbidel
Described as "a gastronomic jewel located in a quiet alleyway in the old quarter", Arbidel is a must-visit when in Ribadesella. The à la carte focuses on updated Asturian cuisine, and you can choose from two interesting tasting menus.
Ayalga
With a nod to Asturian and Cantabrian haute cuisine and ingredients of the highest quality, Ayalga has earned its place as one of the best restaurants in Ribadesella. This modern restaurant is part of the Villa Rosario hotel, overlooking Santa Marina.
Are You Vegan Or Vegetarian? Download our Ebook!
Our Vegan on the Camino Ebook is full of tips for our plant-based clients, from restaurant recommendations to useful phrases!
Download
Michelin Star Restaurants Between Ribadesella and Oviedo
Our time on the coast is coming to an end as we turn inland towards the capital of the Asturias region, Oviedo.
El Corral del Indianu
Rustic meets contemporary with both the decor and the cuisine at El Corral del Indianu. The food here is innovative, yet shows its roots in traditional Asturian cooking and recipes. Dishes are beautifully presented in a lovely space.
Casa Marcial
Casa Marcial has been awarded two Michelin stars for its incredible menus and stunning location. "This chef blends both tradition and innovation in his menus to create distinct flavours that always showcase the culinary roots of the Asturias region".
Salazogue
While Oviedo doesn't have any Michelin star restaurants it does have this stunning Bib Gourmand restaurant! Situated in Oviedo's beautiful old quarter, Salazogue has two unique dining experiences under one roof. The informal tapas bar hosts a lively aperitif hour, and a relaxed bistro-style dining room offers both a set menu and à la carte.
Best Restaurants on the Camino Primitivo Between Oviedo and Santiago de Compostela
The Camino Primitivo is quite rural and peaceful, with very few towns large enough to sustain Michelin level fine dining restaurants. There are, however, some absolute delights to find along the way!
Os Cachivaches
Lugo is a wonderful walled city in Galicia, known for its tasty cuisine. Os Cachivaches puts a sharp focus on an underappreciated hero of the food world, rice, as well as fresh seafood and fish. The rice with jamón ibérico, scallops and garlic cream is a particular highlight!
Paprica
Another lovely Michelin Guide restaurant in Lugo is Paprica. You'll find it in the Old Quarter of the city, beside the Roman walls. The food is creative, and there are options for half raciones, à la carte and several set menus.
Michelin Star Restaurants in Santiago de Compostela
Santiago de Compostela is the perfect destination for food lovers! There are 16 restaurants in Santiago that are featured in the Michelin Guide 2022. 9 of them have the Bib Gourmand stamp of approval and 3 have the prized Michelin Star. We very strongly recommend adding a few days to the end of your Camino to taste the food and immerse yourself in the tapas scene.
Casa Marcelo
An attractive gastro-bar, this restaurant also offers a tapas bar! It is just a few meters from the Cathedral de Santiago de Compostela, in the heart of the oldest part of the city. Booking is essential to get a table at Casa Marcelo, and absolutely worth it! The food is an amazing fusion of Galician, Japanese and Peruvian cooking.
Auga e Sal
If you enjoy a tasting menu then this is the stop for you! Auga e Sal offers two creative menus, one at lunchtime and one in the evening. They highlight local and seasonal products with modern techniques and stunning aesthetics.
A Tafona
The stunningly designed A Tafona has a beautiful interior. Serving modern fusion dishes, this restaurant is one to wander to after a day exploring Santiago de Compostela.
If you are looking for something a bit more relaxed, here are the Bib Gourmand restaurants to look out for:
Anaco
A Viaxe
A Horta d'Obradoiro
Asador Gonzaba
Cafe de Altamira
Mama Peixe
Mar de Esteiro
Abastos 2.0 – Mesas
Pampin Bar
Discover the Cuisine of the Camino del Norte and Primitivo for Yourself!
Visit the best restaurants on the Camino del Norte and the Camino Primitivo! Both routes have plenty to see and do, and you can walk just one section or several. If you have time, you can combine them for an epic 50+ day trek.
Whatever plans this list of amazing restaurants has inspired, get in touch with us! Follow the Camino are the pilgrimage experts and we can put together a custom itinerary for you.
We have been organising self-guided and guided trips on the Camino since 2007. Our team would love to offer you a free quote, with hand-picked accommodation and services that we trust.
All of our Caminos are organised by real people who will look after you every step of the way. Start your foodie Camino journey today with a quote from the Camino experts. Get a Free Camino Quote!
Taste the Camino in 2022 or 2023!
Are your dreaming of immersing yourself in the sumptuous food, delicious wine, and friendly culture of Spain or Portugal?

Let us turn your dreams into reality.
Flexible itineraries Luggage transfers Private rooms & bathrooms
Contact us