The Camino de Santiago is an incredible journey, with plenty of beautiful scenes and moments that you might want to capture on camera! To make sure that you can capture these as well as you can, and bring home all of those wonderful messages to share we have collected a few top tips for photographing the Camino de Santiago! Of course, these tips can be used on any travel that you do – they apply to all travel photography.
Lighting on the Camino
Light can make a truly incredible difference to how your photographs turn out. Moody low light, bright and fun light, soft morning light – each is unique and creates a different effect.
Some of the most interesting light happens in the morning and in the evening. Luckily – you will usually be up and walking pretty early in the morning on your Camino, so there are plenty of opportunities to take epic photos.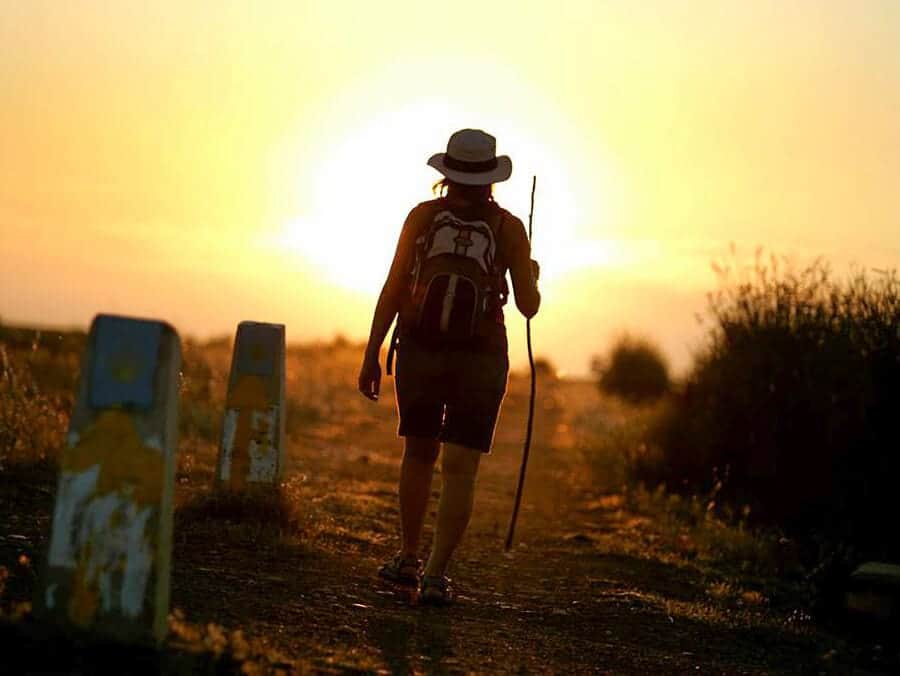 Sunrise and sunset add warmth and colour to your pilgrimage photos, too! The hour after sunrise and the hour before sunset are often called "golden hours" because of their soft, warm tones and eye-pleasing shadows. "Blue hour", is the hour after sunset (or before sunrise) when the sky is still blue, but city lights are turned on.
Photographs taken in the very bright direct light of midday can be less pleasing. They can look flat, overexposed, and washed out.
Consider Your Subjects – Composition
One of the highlights of the Camino de Santiago walking holiday is the people. The other pilgrims that you will meet can add a huge amount of joy, laughter, interest, and thought to your walk.
Other than people, there are lots of wonderful subjects for your photographs on the Camino. The kilometre markers are a bright and identifiable symbol of your Camino and make great photos.
When you are framing up your photos, consider the "rule of thirds". The goal is to place important parts of the photo into sections of the photo based on lines that divide the image into thirds. This will help frame the overall image in a way that's pleasing to the eye.
For example, place your subject along the left grid line rather than directly in the centre. Try putting the horizon on the bottom third, rather than in the middle.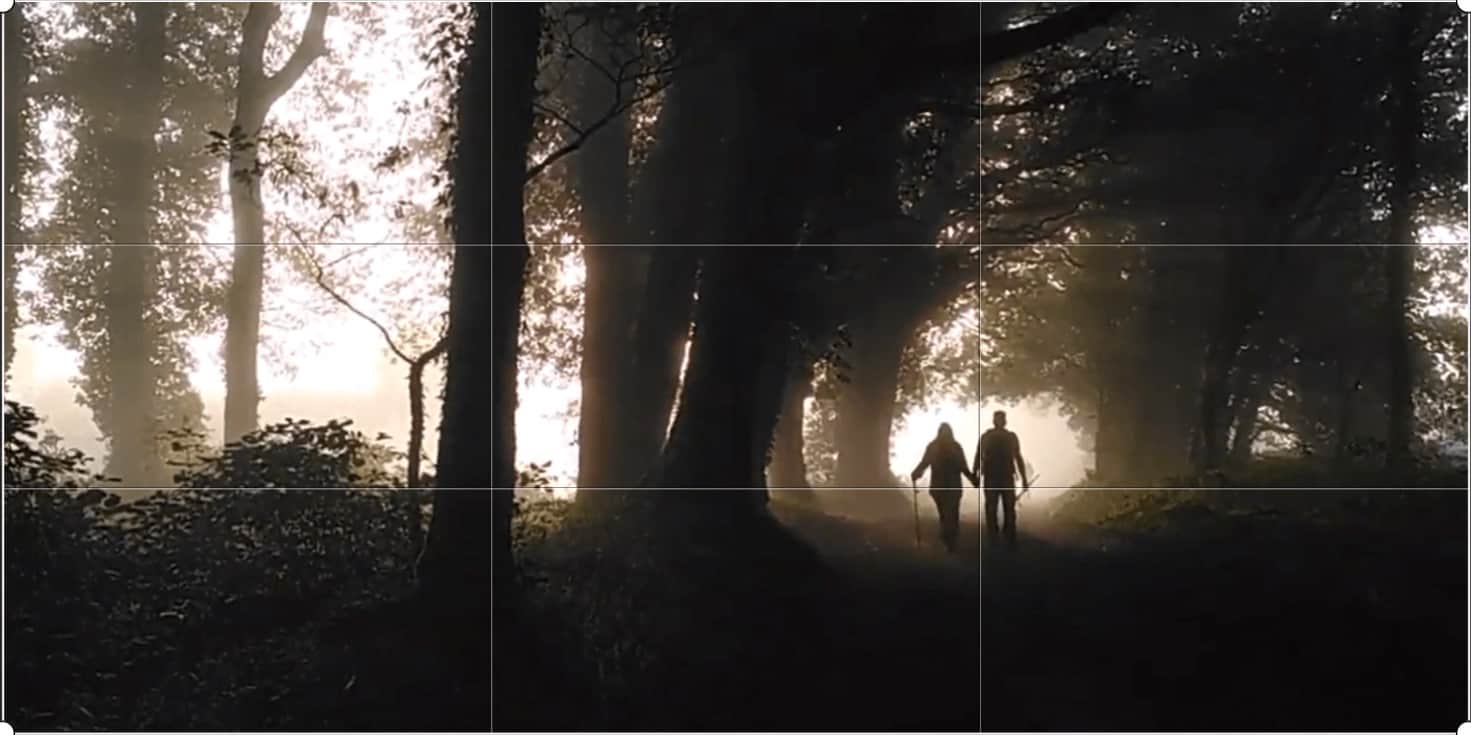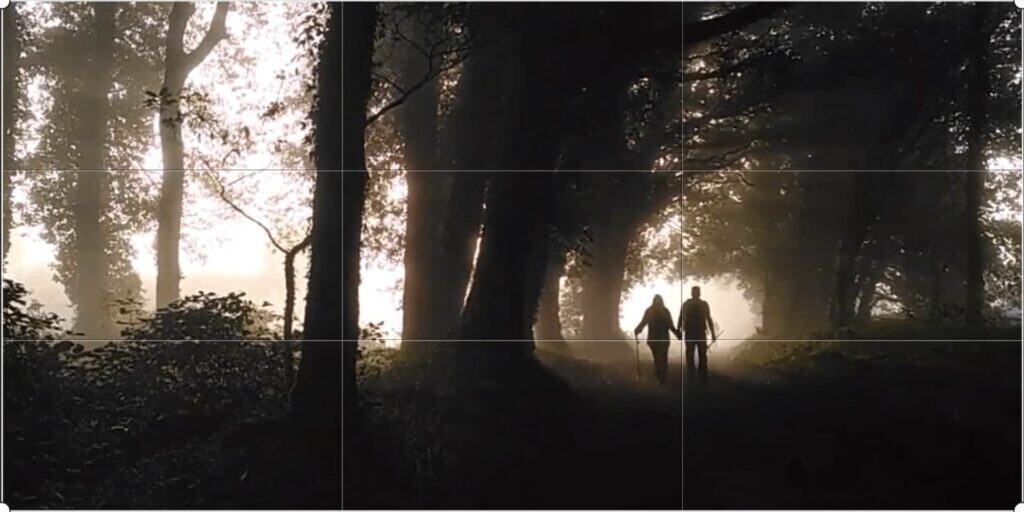 Framing
When you take a photo you will probably have more than one thing in it. It could be people on the path beneath trees or a kilometre marker nestled between bushes on the trail.
Look at the whole image. Is there a cool tree that hugs the view like a picture frame? Could you shoot this through a window, under a bridge, or through the gap in some trees?
Changing your angle to use something in your environment to create a frame inside the picture can be a great effect.
Foreground, Midground, Background
Travel and nature photography will often have several layers to them. You can include elements in each layer that are in or out of focus. This helps viewers to see the scene more three-dimensionally. It also helps to convey scale and distance.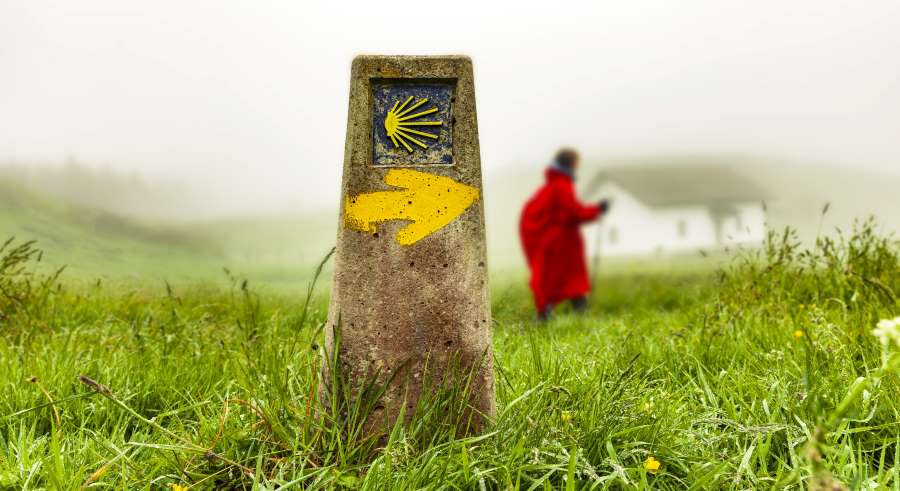 Leading Lines on the Camino
Our eyes love lines and will naturally follow lines in photographs. This is especially good for photographing the Camino de Santiago because there are so many lines to look at!
The roads and paths of the Way of Saint James can be incorporated into your photograph to show viewers the sense of travel and of movement. They draw the eye into the photograph and direct it towards the subject.
Move Around to Find the Shot
Jump up onto a bench, bend down, take a few steps back, forwards, to the side. It can be tempting to just pull out your camera and shoot from eye level, but it is rare that you will immediately find yourself in the perfect location.
Consider the shape, size, and distance of your subject, and what kind of angles might make it look appropriately imposing, tall, detailed, positive, or delicate. Consider the emotions that the scene makes you feel, and why you want to take the photo.
Is it to show how grand and symmetrical a huge monastery is? Try taking the photo from the exact centre of the building, crouched down.
Is it to show a happy, friendly cow? A close-up on their nose looking through the fence at their eye level might work. If it doesn't, you can take a few steps down the road and try for a side shot with your camera held over the fence.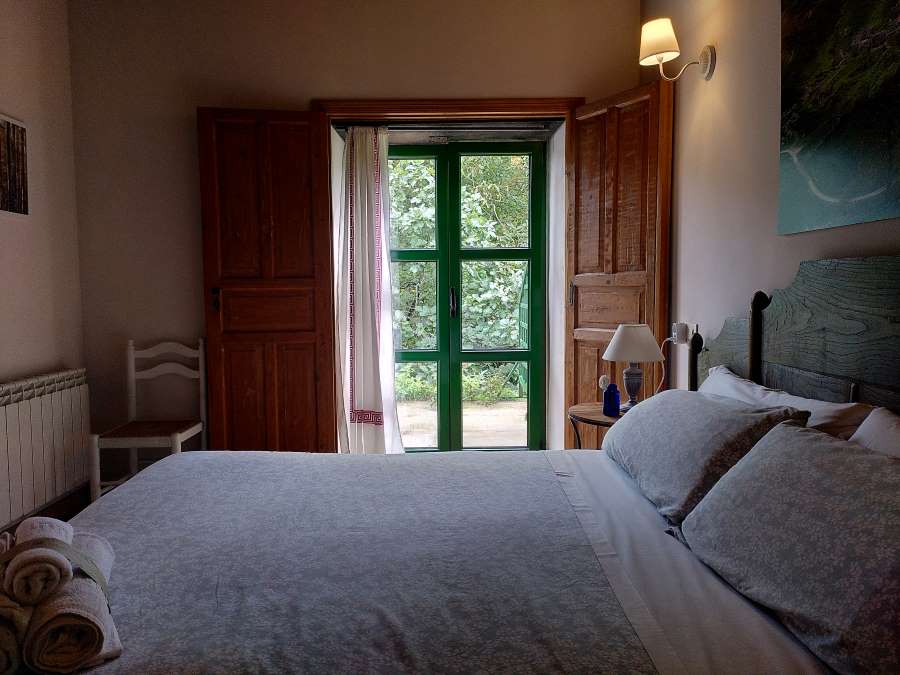 Inspired? Download Our Camino Packing List!
Everything you need to pack to walk the Camino de Santiago.
Download
When Photographing Pilgrims and Locals – Ask for Permission
Asking someone for permission to take their photo is polite and respectful. In Spain and most of Europe, it is also important for legal reasons.
There are certain restrictions when photographing people in public in Spain and this includes people on the Camino. Spanish photographic law requires consent for action related to a picture of a person in a public place, i.e. you are required to get the subject's permission to take their picture unless they are part of your family or immediate group. You can learn more here.
Practice Makes Progress!
We aren't all born with amazing photography skills, but we all have the ability to learn and improve! Start playing with your camera before you head off to the Camino. Learn what the features are and how to find them. Try taking photos in low light, while moving, far away and close up.
The better you understand your camera the more likely you are to know what it will do well and you can plan your shots accordingly.
The more you take photos and see which ones you feel most drawn to, the more your individual style will develop. You will start to learn what kind of settings work best for different conditions – or maybe you will decide that "auto" mode is good enough for you!
Remember – if you are photographing the Camino on a digital camera – it costs nothing to take more photos! You can practice, take a hundred photos, and if they are all terrible you can delete them. When you arrive at your pilgrimage you can snap loads of photos, and worry about which ones were good when you get home.
The more photos that you take the more likely you are to get a good one!
Take Your New Photography Skills on the Camino
So, now you know a bit more about travel photography and it is time to start planning the travel you want to photograph! The Camino de Santiago is a spectacular active holiday adventure. This pilgrimage to Santiago de Compostela is one of the best-known pilgrimages in the world, with hundreds of thousands of walkers and cyclists per year.
Follow the Camino has been helping people from all over the world to experience the Way their own way since 2006. We offer a wide range of flexible and convenient services – from hand-picked accommodation to bag transfers and route notes. Our active travel experts love the Camino and have an extraordinary amount of experience and knowledge to share. Let us make your Camino worry-free with our flexible bookings and 24/7 support.
Take the first step on your Camino de Santiago by requesting a free quote!
We hope to see you on the Way soon!
Check out the heartwarming story of Camino skies.
The Camino is Open for 2023 Bookings!
After unprecedented demand in 2022, 2023 is going to be an amazing year to walk the Camino de Santiago.
Start planning today to lock in the best accommodation for your journey.

Take the journey of a lifetime.
Flexible itineraries Luggage transfers Specially selected hotels
Enquire now!