We always love to hear all about the pilgrimage journeys that our clients go on on the Camino de Santiago. Some will send us messages and updates along the way, others will write beautiful stories about their experiences! Julie O'Neill walked Stage 1 of the Camino Frances from St Jean Pied-de-Port to Pamplona with us in 2021 and wrote this fantastic story about the walk.
The Camino calls me back…
It's there, simmering on the edge of my consciousness, a golden path through autumn woodland, whispering to me, luring me.
The idea of walking the Camino had been on my "to do" list for a long time, a project to complete, a physical challenge to meet head-on.
I intended to start from St Jean Pied-de-Port, climb the difficult path over the Pyrenees and, over a period of years, walk the nearly 800 km to Santiago de Compostela. My aim was to complete the journey before I reach 70 so starting shortly before my 65th birthday seemed like a good plan.
I made bookings for the first stage for May 2020. Then Covid intervened putting all our lives on hold. And life intervened in other ways too.
My lovely Mum passed away just before the onset of Covid, adding poignancy to my planned journey, knowing she would mutter about why I couldn't just take a relaxing holiday and sit somewhere in the sun like "normal" people while simultaneously being proud of my efforts and approving of the religious significance of the journey.
Plans on hold, that first day over the Pyrenees began to grow in significance in my mind.
I had a vivid and recurring dream where the mountains loomed close to St Jean Pied-de-Port seeming ominous and impassable. My head was full of tales of travellers – I wasn't yet ready to think of them as pilgrims – turned back as the route was closed due to the sudden onset of bad weather, forced to take the low road to Roncesvalles.
As the world gradually reopened a window appeared in my busy diary in early October 2021 during which we could attempt the first stage to Pamplona. As the date approached, my training took on a degree of urgency.
Could I climb at least 1,000 metres in one hike? Could I walk at least 20 km on the flat in one day? Could I manage a steep descent with my protesting knees? And, could I turn that training into ascending 1,500 metres and walking over 25km on the first day of the Camino and then get up and walk even further the next day?
In my mind, the project was still all about the physical challenge, not the emotional journey.
The Camino changed me…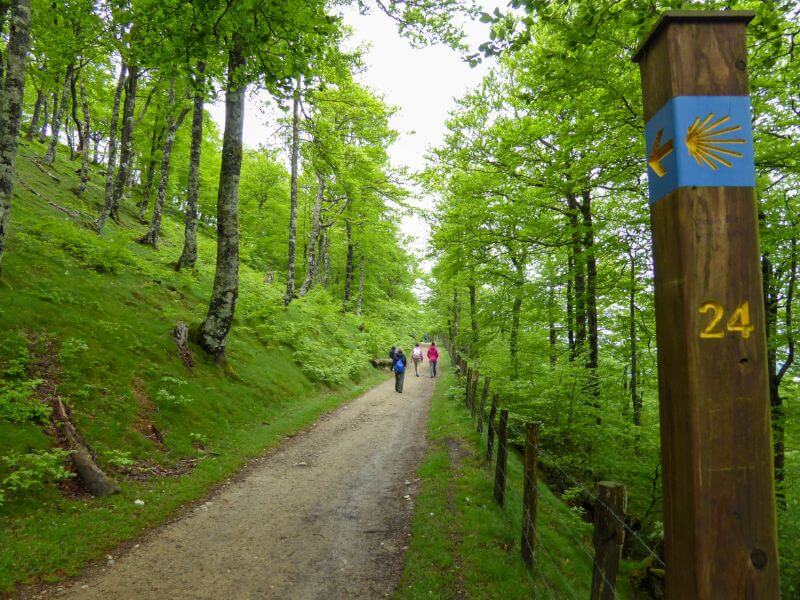 Camino Frances Day 1 – St Jean Pied-de-Port to Roncesvalles
The first day dawned brightly in St Jean Pied-de-Port but the rain, forecast for many days in advance, was clearly on the way. For days before I had fretted about the route being closed.
I had come over-prepared with provisions of snacks and energy bars and electrolytes for the journey, my placebos to get me through. But I had assumed my normal hiking wet gear would be up to the challenge of any rain that would fall. I hadn't thought to organise ponchos, those peculiar garments that make pilgrims look like a cross between hobbits and the hunchback of Notre Dame on a wet day but turn out to be remarkably effective at keeping out the worst of the rain.
The mountains loomed over the town as I had imagined but looked somewhat less forbidding. We set out, a group of five family members, just after 8 am and began our steep climb along country lanes. Before 10 am the rain had started and quickly built up to a crescendo of sharp, slant-wise notes. But the high road was open and we pressed on following the route Napoleon took.
By the time we got to Auberge Orisson, the only café bar open along that way, we were already soaked through.
Already-weary walkers piled through the narrow doorway, backpacks and clothes dripping, walking poles causing trip hazards, while the frustrated owner reminded us all that this was not a swimming pool.
Cyclists and walkers of all ages, shapes and sizes disrobed haphazardly in corners of the dining room and the tiny bathroom, some stripping half-naked to change into drier gear, others, including myself, merely shaking off the outer layer temporarily on the basis that resistance to the rain was futile.
Soup, hot chocolate, tortillas, coffees were consumed as we all tried to get some heat into our bones before continuing on in rain that seemed to have gotten heavier in the hour we spent in shelter. Strangers conversed – "Will you go on? Will you go back to St Jean and start from here tomorrow? Will you risk the descent through the forest or take the longer road?". New friends were made that we encountered again later in our journey.
We walked on. There were no panoramic views that day. Nothing to be done but to put one foot in front of another and your head down as you faced the hills. No fear of heights to disturb your equilibrium as you couldn't see how high you were anyway. Just the rhythmic clip of walking poles on gravel, the sound of the rain and a relentless grey mist.
Somewhere just before Cruceiro, on a bleak mountain pass near the top, an enterprising local had set up a van in a layby on the asphalt road serving little more than hot chocolate and bananas under a swaying awning. Never was a sight more welcome or a cup of warming chocolate more delicious.
His handwritten sign told us, helpfully, that we had only 2 more kilometres to climb, 4 on the level and 4 more steep downhill. Thus restored by this slight understatement, we continued to Frontera over the cattle grid into Spain, experiencing something of an anti-climax that we had reached the high point in our journey without even noticing it.
Very occasionally the rain and mist eased briefly to give a glimpse of the views we might have seen and the sheer drop to the valleys below.
We trundled on, beginning our descent through a beech forest. It was too wet to take out a phone to use as a camera with hands shrivelled up as if we had spent hours in a bath. And so it was a small miracle that I was forced to use my eyes to imprint on my retina that beautiful, ancient forest.
The soil was reddened from the rain. The beech trees rose through the mist as if in an enchanted wood, their trunks like needles, silvered in the strange light. It seemed endless that forest as we had no sense of how close we were getting to Roncesvalles and no glimpse of the Navarre valley below.
We descended the steep track from Col de Lepoeder. It was slippery in the rain but manageable with the help of walking poles. And then, just after 4 pm, as if emerging from a trance, we arrived, soaked and teeth chattering at our lodging, Casa de Los Beneificiados.
We had completed the first 25 km of the Camino.
The most challenging task of the day was to find, with frozen fingers, a Covid friendly mask and passports in our rucksacks so that we could check-in.
The second biggest challenge was getting out of layers of wet clothes that had become one sodden mass over the course of the day. But a warm room awaited us off those cloistered halls and we were grateful for the dry clothes in our suitcase, which had been transported ahead of us.
The Camino changed me…
It didn't matter that I hadn't seen the wonderful views back to St Jean or down to the Navarre.
Mindfulness and meditation have never come easily to me. Even in yoga practice, I struggle to remain in the moment, my monkey mind constantly drifting to the next task, to the persistent, gnawing thoughts about work and family or to simple chores on my endless to-do list.
Not that day.
That day there was just the rain and the walking and the cold getting into my bones and what should have been miserable being somehow joyous and exhilarating. And I cannot recall one moment of that day when I was distracted from the task in hand, the simple task of putting one foot in front of the other.
I started that day as a hiker. I ended it as a pilgrim.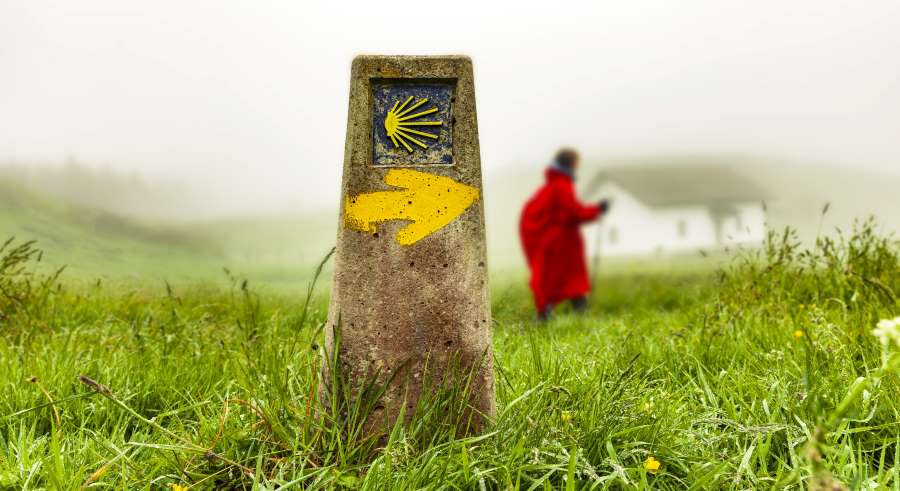 Day 2 – Roncesvalles to Akeretta
Let me 'fess up. I didn't set out to do this the hard way.
Yes, I know that there is a school of thought that one should attempt the Camino carrying all you need for the journey on your back, walking just as far as you are able each day, stopping anywhere you can find a bed for the night, even if that means sharing a dormitory with up to 110 beds in one room.
The Camino will provide they say. I am filled with admiration for those who are courageous enough to do it that way.
But I wanted to walk the Camino in the maximum comfort it could offer. A private room in which to lay my head each night, a warm shower or bath, a good meal, perhaps even a great meal, along the way. And that is ok too.
There is no right way to walk the Camino. Each pilgrim finds her own path.
For me it meant planning ahead, gauging how far we could walk on each stage, arranging accommodation and the transfer of suitcases to the next stop, not leaving it to chance, a meal included at most overnight stops. It takes some of the spontaneity out of the journey but avoids the need to carry an even heavier load.
I relied on a Camino specialist, Follow the Camino, to organise accommodation and transport for us.
They are no ordinary tour operators. They come from a place of love of the Camino, a deep knowledge of the route and an ability to match the expectations of novices like me and more experienced pilgrims.
Their pre-planning took any stress out of the journey and enabled us to travel light, carrying just enough provisions for each day.
I woke several times during that first night as the muscles in my legs protested and I wondered if I would be able to get going the next day. But the day dawned cool and misty, as the bells rang out from the church of the Real Collegiata de Santa Maria, and it felt right when it was time to lace up our hiking boots and follow the path across the fertile Erro plain to Zubiri and beyond.
This was a lovely stage, the Camino as I had imagined it in my best dreams, along sun-dappled woodland paths, across pastures and through delightful villages such as Burguete where Ernest Hemingway used to stay and a rainbow came out to greet us and Espinal where we had our second breakfast and our credentials stamped at the cheerful Café Bar Keler.
As the day warmed, we continued along natural pathways that crisscrossed the busy main road before another steep descent into Zubiri.
Zubiri itself is a pretty village with a medieval bridge at its centre. We left three of our pilgrim party enjoying a beer at Bar Valentin at the end of their day's walking. We continued on for another 6km in the afternoon sunshine, past the vast, industrial Magna plant that seemed almost post-apocalyptic in that serene place, to the little hamlet of Akerreta, making that day's walk 28 km in all.
Our lodgings for the night were in Hotel Akerreta, a restored Basque farmhouse with a handful of rooms, offering a simple meal made with excellent local ingredients.
The owner tells me it featured in the film The Way with Martin Sheen and Emilio Estevez, a film I will now have to watch again.
Relaxing with a glass of local wine on the terrace at the end of the day, I realised I had no urge to scroll news headlines or the latest Covid statistics, no desire to check emails or WhatsApp messages.
All I needed at that moment was to gaze across the fields as the sun went down towards the mountains where I would continue my journey the next day.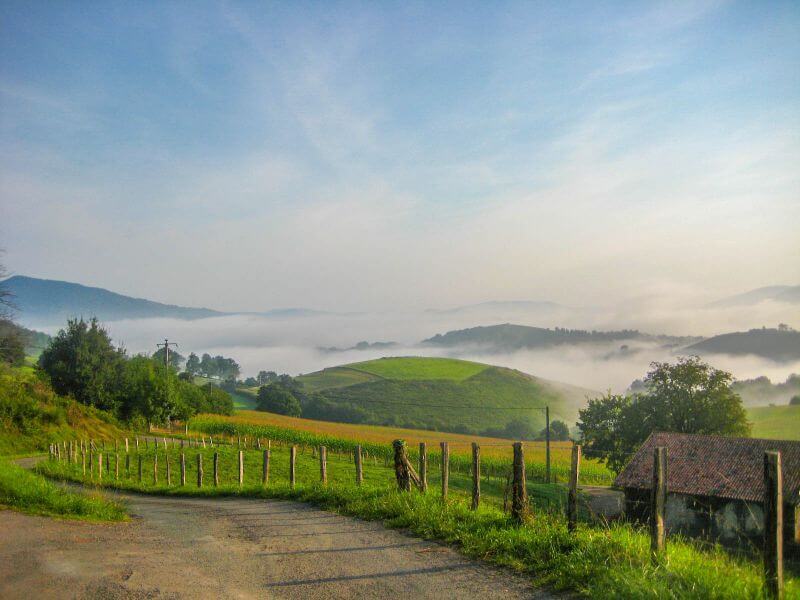 Day 3 – Akerreta to Pamplona
Restored by a relaxed evening, we waited for our three companions to catch up with us the next morning before continuing for the relatively short 15 km walk into Pamplona. Our nerve ends were jangled by the noise of traffic rising up the valley as we approached the outskirts of the city. We kept our eyes peeled for shells way-marking the Camino as we navigated the hard city streets from Puente de Arre until we arrived at the destination of our pilgrimage – Plaza del Castillo at the heart of the old city.
There we stayed for two nights at the lovely Hotel Europa, complete with its Michelin starred restaurant. We used the opportunity to visit the old city and savour the delights of its tapas bars and the beautiful, art deco Café Iruna. While all the time my feet ached to continue the journey, following the line of shells out of Pamplona on towards Puente La Reina.
Becoming Pilgrims on the Camino Frances
We had completed the first stage of the Camino and had already become familiar with its rhythms and its variety. We had learned that some stretches are a joy, some a hard slog; some offer stunning rural landscapes, some more urban, suburban or industrial; sometimes the path is soft and forgiving, sometimes it is harsh and rough underfoot.
We had learned not to be afraid of distance but not to be in a hurry either; that the Camino will provide but to take enough food and water for the day's journey, and maybe a poncho is a good idea after all. We had met and made friends along the way, talking to strangers, sharing stories.
Everyone we met had their own particular motivation for walking the Camino. Perhaps each of us was just following a deep-rooted human instinct to complete a journey, a quest, the story arc of every human life.
Consciously or unconsciously, we are all in search of something along the way, along the mystical path that seems to have absorbed something of the intentions of the millions who have travelled it for over a thousand years, all travelling in one direction towards a common goal. But sometimes the answers it gives you are not the ones you expect.
The Camino begins a process of unravelling old certainties and creating new ones. It has drawn me in. It calls me back to continue the pilgrimage journey I have begun.
To be continued…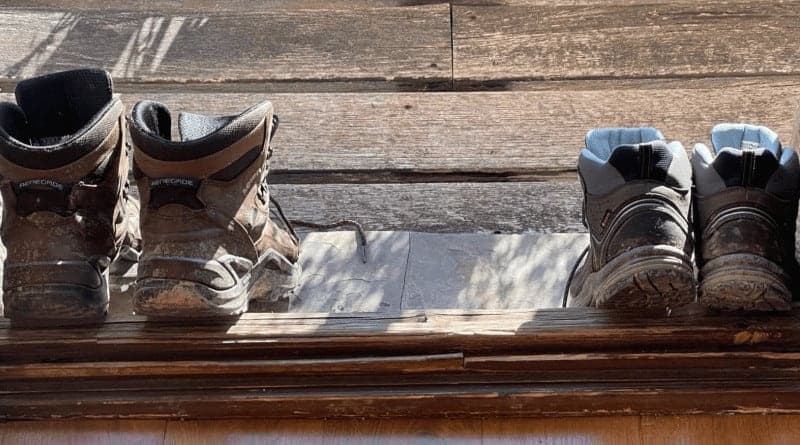 Discover the Camino Frances for Yourself!
Walk the famous Camino Frances and experience the joy of becoming a pilgrim for yourself! Whether you would like to start with Stage 1 of the Camino Frances and walk a section each year or combine a few sections, there is a Camino for you. Of course, you can always dive in and walk the full French Way of Saint James if you are looking for the ultimate adventure of a lifetime.
Follow the Camino has been supporting people on their pilgrimage tours since 2006. We are passionate about the Camino and active holidays, and we would love to help you to create your perfect Camino tour itinerary.
Get a free quote for your customised Camino de Santiago itinerary! Let us help you to plan the adventure of a lifetime.
The Camino is Open for 2024 Bookings!
Some of our top accommodation are already booked out for 2023, so get in now to secure the best accommodation for your Camino!
Discover this empowering journey across Spain, Portugal and France for yourself.

Journeys from 3 to 90+ days available.
Flexible itineraries Luggage transfers Private rooms & bathrooms
Contact us