Winter may not be the season that immediately jumps to mind when you think about walking holidays, but walking the Camino in winter can be incredible! You might even decide it's your favourite season!
Why should I walk the Camino in Winter?
"Can you walk the Camino in winter?" – it's a common question, and the answer is YES! In fact, doing the Camino in winter has a lot of advantages.
The Camino is quieter in winter
The busy season starts in May and ends in October, so it's a lot less crowded as soon as November rolls around. This means more peace, quieter paths, and an experience closer to the original pilgrimage. And since soul-searching is such an important part of any pilgrimage, a little isolation can go a long way!
Less waiting
Fewer guests at accommodation and restaurants mean more time devoted to you. If you are ending your walk in Santiago de Compostella, you'll also avoid the lines to get that final stamp in your pilgrim's passport, which can be around an hour in peak season.
Note: Catholics take Christmas very seriously and some accommodation will close between 24 December and 7 January. If you are booking through us we will make sure that you are in accommodation that will look after you whenever you choose to walk.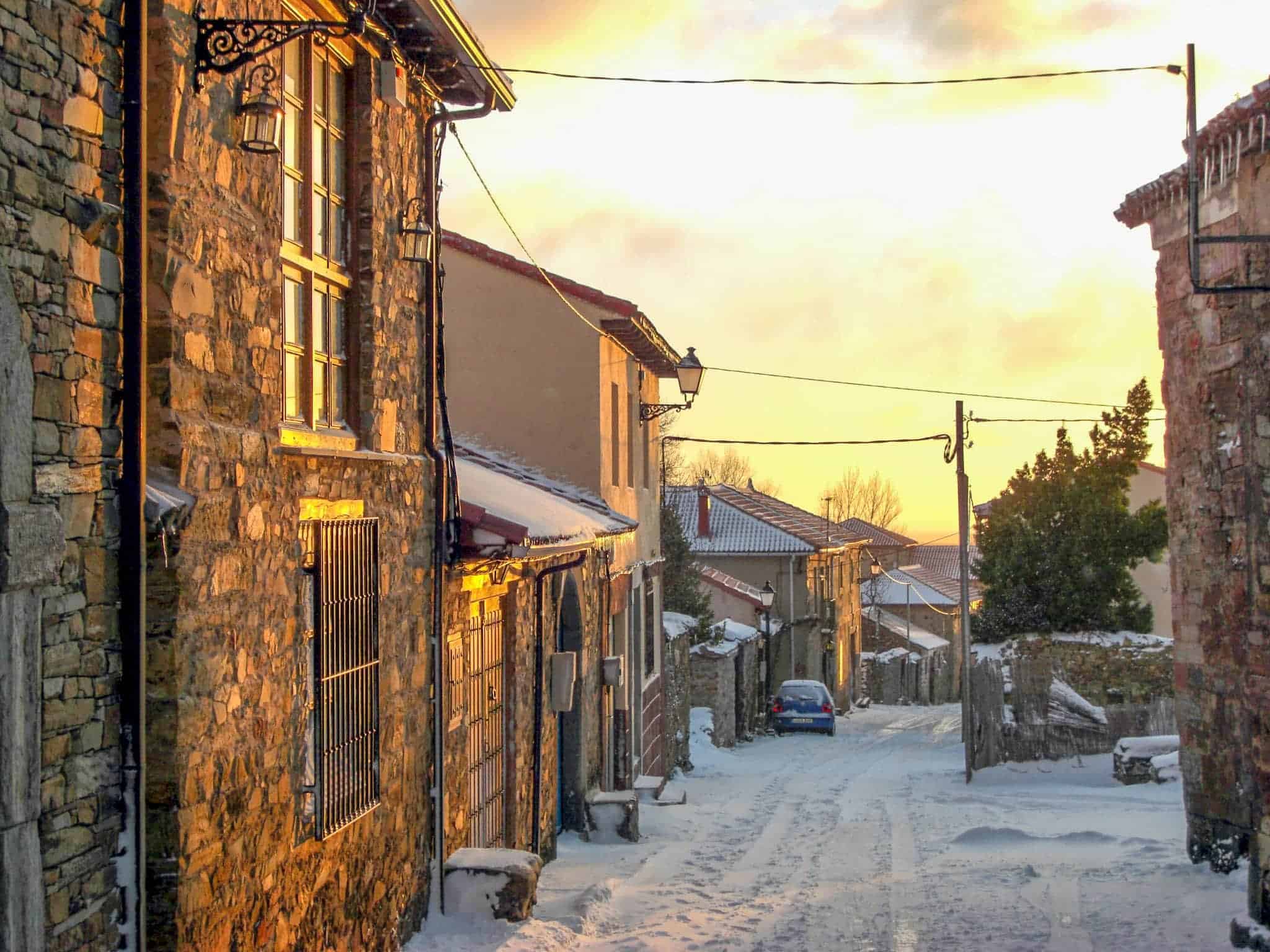 It's cooler in Winter
If you don't handle heat well then you might struggle with the Spanish heat in summer. You won't have this issue in winter, and it's easy enough to put on layers if you need to.
Having enough layers is very important for walking the Camino in winter because of colds and flu on the Camino!
What is the weather like on the Camino in winter?
Naturally, many pilgrims first concern when considering the Camino in winter is the weather. This really depends on the route you decide to take, which stages you walk, and when in winter you go.
It is worth noting that over the last few years the Camino season has lengthened and September is now the most popular month for many travellers! October is also still excellent weather for walking because you can always add more layers to stay warm.
Yes, it can be cold, especially at high altitudes and further north. November is usually the rainiest month, and you might see some snow overnight.
Have a look at the average weather that we would expect on our most popular winter routes below, and check out our weather map for average temperatures.
Which Camino routes are good in winter?
Certain routes along the Way are more popular than others during the winter months. This is for a variety of reasons, including weather and elevation.
Here are our most booked winter routes –
Camino Portugues
The largely coastal Camino Portugues has some of the warmer winter temperatures. Generally, in September the temperature averages at around 25 ºC or 77 ºF, and in October and November they drop to around 20 ºC or 68 ºF. Coinciding with the temperature drop is the rise in rainy days in the area. Changing from autumn to winter then, it can get as low as 14 ºC or 57 ºF, and once February comes around, your rain gear will certainly be put to good use.
Camino Portugues Coastal
The Camino Portuguese Coastal route is typically between 10 and 14 ºC over the winter months, which is still a great temperature for walking. Be prepared with some rain gear, and you can enjoy the solitude whilst accompanied by wonderful scenery along the coast.
Camino Portugues From Tui to Santiago
This route is the inland traditional route and like the coastal route enjoys pleasant temperatures even in the winter for walking. Again, it is a quiet route to walk but one where the towns will provide a warm welcome on the coldest of days.
Camino Frances
Temperatures along the Camino Frances start to cool off in autumn. Starting out at around 23 ºC or 73 ºF in September, it drops to 18 ºC or 64 ºF in October, and then 13 ºC or 55 ºF in November.
Chances of rain increase along the route, too. In Sarria and other areas in Galicia, you may see more rainy days than sunny. This is quite typical throughout northern Spain in winter, and temperatures averaging around 9 ºC or 48 ºF aren't uncommon.
If you are walking the Camino Frances in the coldest part of winter you might want to consider the Camino de Invierno alternative route to avoid the higher peaks. The Winter Way and is a great way to see this historic route from a different angle.
Via de la Plata in Winter
If you are in search of warmer weather, head south. The first section of the Via de la Plata (Seville to Monasterio) is a wonderful and less-explored option. Escape and experience some winter sun and much less rain. From December to February, the weather is mild: the average daily temperature is around 10/11 °C (50/52 °F).
Winter Sun Camino Holiday
Escape the cold, the noise and crowds of the busy city by going on an winter break on the Camino de Santiago.
Best Winter Breaks – From €430
What should I wear for the Camino in winter?
Quality beats quantity when it comes to the Camino. You won't need a lot of clothes, but the ones you take should be top-notch.
Base Layers: Layers are extremely important at this time of year. Synthetic or merino wool is anti-bacterial and keeps moisture away from the skin. Fabric weaving and thickness vary so choose based on the temperatures you expect to encounter.
Fleece: Synthetic materials can act as great insulation to keep the body warm, while still allowing moisture to evaporate. You probably have a fleece already, but make sure it's synthetic since not only will cotton or wool get and stay damp longer, but the wind will be cutting right through them.
T-Shirt: Again, opt for synthetic tees to keep as warm and dry as possible. These can act as a light extra layer over a base layer, and are also helpful for identifying team or group members travelling together.
Jacket: A warm down or synthetic jacket is essential. They can be pricey, but this is what will keep you warm if the temperatures get close to freezing. Ask outdoor clothing store about the best options.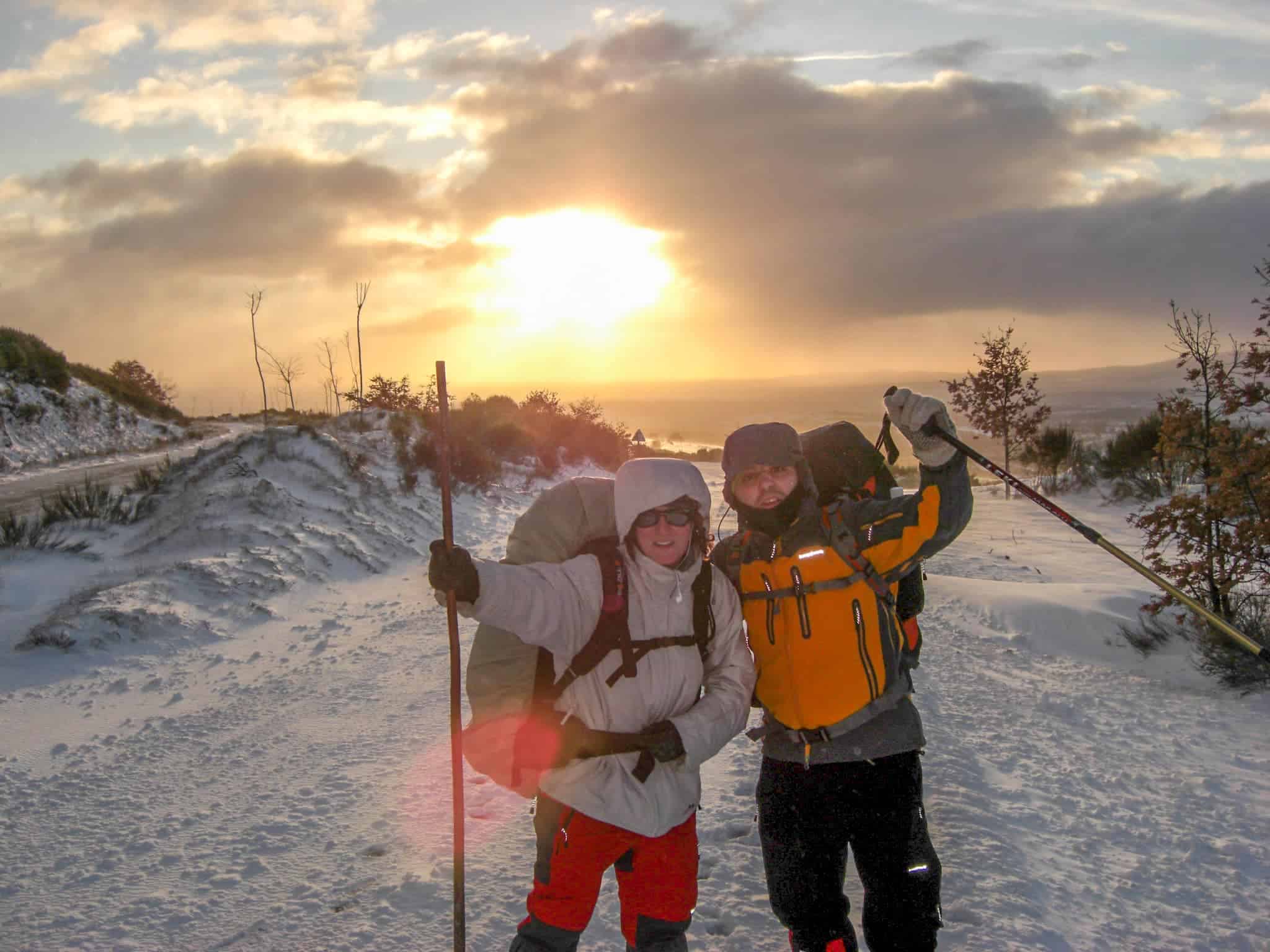 Rainproof: Your best bet includes Gore-Tex and Paramo, but other similar fabrics are easy to pick up. Gore-Tex could well be the most famous brand on the Camino as it is well known for its waterproofing. Paramo is a newer fabric that imitates animal fur to keep water away from the body. Ask in store for the best option for you. Thin plastic ponchos should stay at home, they won't keep you dry and become an awful mess.
Trousers: Consider convertible trousers or softshell trousers for your day-to-day. Think about the temperatures you are likely to encounter and the wind on your chosen route.
Waterproof Trousers: Wet trousers are never pleasant, so having waterproofs where rain is expected is a good idea. You can pick up basic ones at any good outdoor clothing shop.
Hat: Keep those ears warm! You can lose a lot of heat through your head so always have a warm hat with you.
Gloves: Like your ears, your fingers can get cold quickly, so make sure you have decent gloves. You probably don't need waterproof ones, but water-resistant can be a slice of luxury.
Sunglasses: To prevent sun and snow glare. You'll want sunblock too, even if it doesn't feel like you'll need it.
Socks: Last but certainly not least, socks. Our suggestion would be to bring a synthetic or merino wool sock as they don't store moisture. Cotton should be avoided at all costs. There are loads of different types, including 1000 mile and double layer socks, so it's worth trialling some during your training.
Walk the Camino this Winter
Walking the Camino in winter definitely adds a few things to think about, so booking your journey through a Camino provider like Follow the Camino is a great way to keep things simple. We will ensure that you have a warm private room each night and detailed route notes including information specific to winter walking. We can also provide hot meals, airport transfers, and much more.
Travel worry-free this winter with Follow the Camino. Contact us to start planning!
The Camino is Open for 2024 Bookings!
Some of our top accommodation are already booked out for 2023, so get in now to secure the best accommodation for your Camino!
Discover this empowering journey across Spain, Portugal and France for yourself.

Journeys from 3 to 90+ days available.
Flexible itineraries Luggage transfers Private rooms & bathrooms
Contact us