The Camino Ingles, or English Way, is the striking route from the northern coast down to Santiago de Compostella. Although it may not be as well-known as the Camino Francés or the Camino Portugués, it offers its own unique charm and beauty, attracting pilgrims seeking a quieter and more intimate experience.
The Camino Inglés offers pilgrims a diverse landscape, showcasing the beauty of Galicia's countryside and coastline. The route takes you through charming coastal towns, picturesque villages, verdant forests, and rolling hills, providing an ever-changing backdrop for your journey.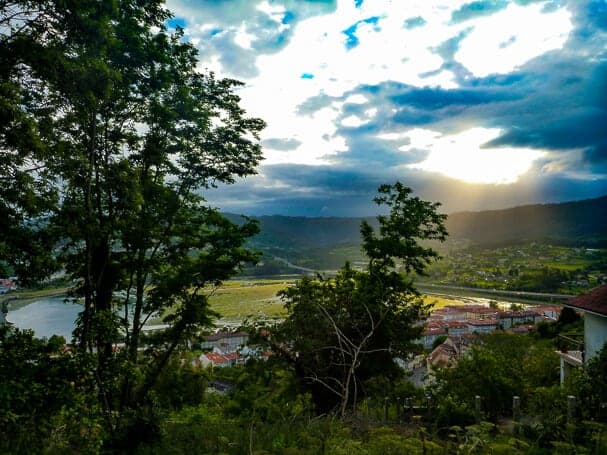 Food culture along the Camino Inglés is an integral part of the pilgrimage experience. As you embark on your journey, you'll have the opportunity to savor the flavors of Galicia, a region renowned for its culinary traditions. From hearty regional dishes to delicious local specialties, here are some highlights of the food culture you can expect to encounter on the Camino Inglés!
Ferrol Delicacies
Ferrol, the starting point of the Camino Inglés, offers a delightful introduction to the culinary delights you'll encounter along the way. The food scene in Ferrol is rich with traditional Galician flavors and fresh seafood. As you explore the city, be sure to indulge in the famous "pulpo a la gallega," a dish of tender octopus cooked to perfection and seasoned with paprika and olive oil. The octopus is typically served atop a wooden plate with a sprinkling of coarse sea salt, creating a mouthwatering combination of flavors. Pair it with some crusty bread and a glass of local Albariño wine.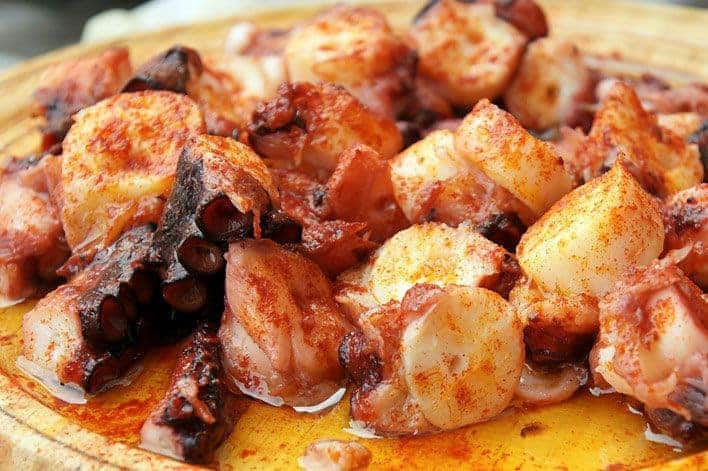 When it comes to enjoying the best "pulpo a la gallega" along the Camino Inglés, there are several excellent establishments in Ferrol where you can satisfy your craving for this Galician specialty. One highly recommended place is O'Galo, located in the heart of Ferrol's old town. When visiting O'Galo be sure to order the the zamburiñas and the croquetas!
Pontedeume
When in Pontedeume along the Camino Inglés, you have the opportunity to indulge in a local seafood delicacy known as "zamburiñas." Zamburiñas are small, scallop-like mollusks that are highly prized for their sweet and delicate flavor. These delectable shellfish are typically prepared by grilling or pan-searing them with a touch of olive oil, garlic, and lemon juice. The result is a mouthwatering dish that showcases the natural flavors of the zamburiñas.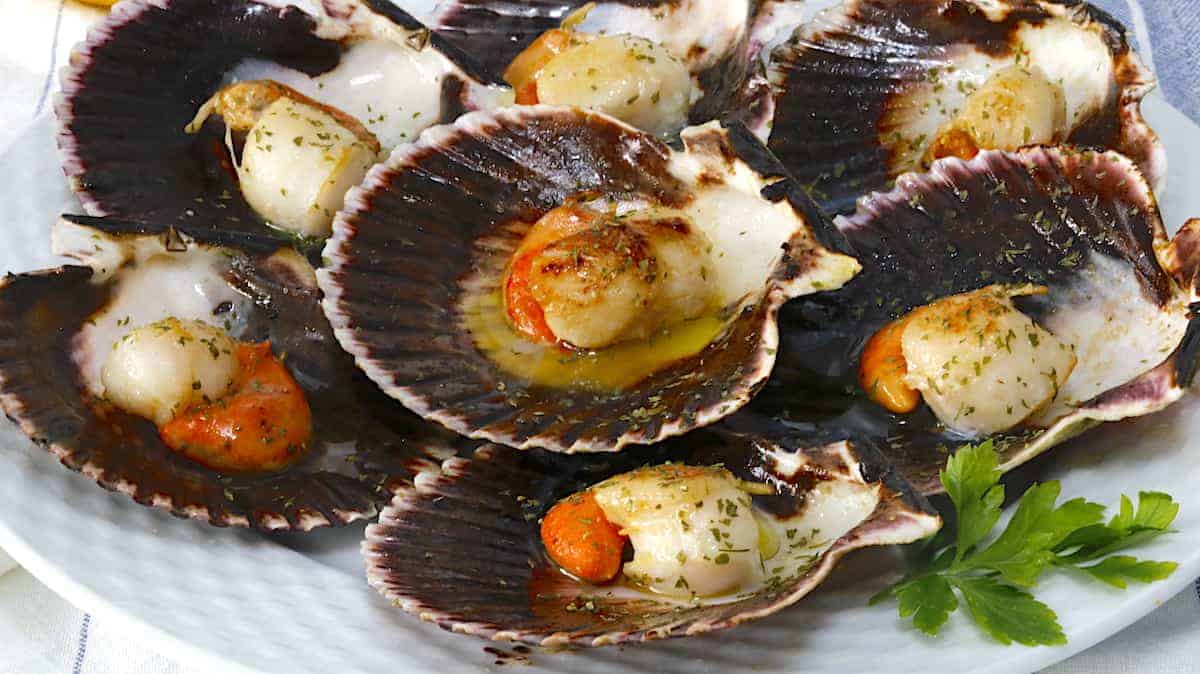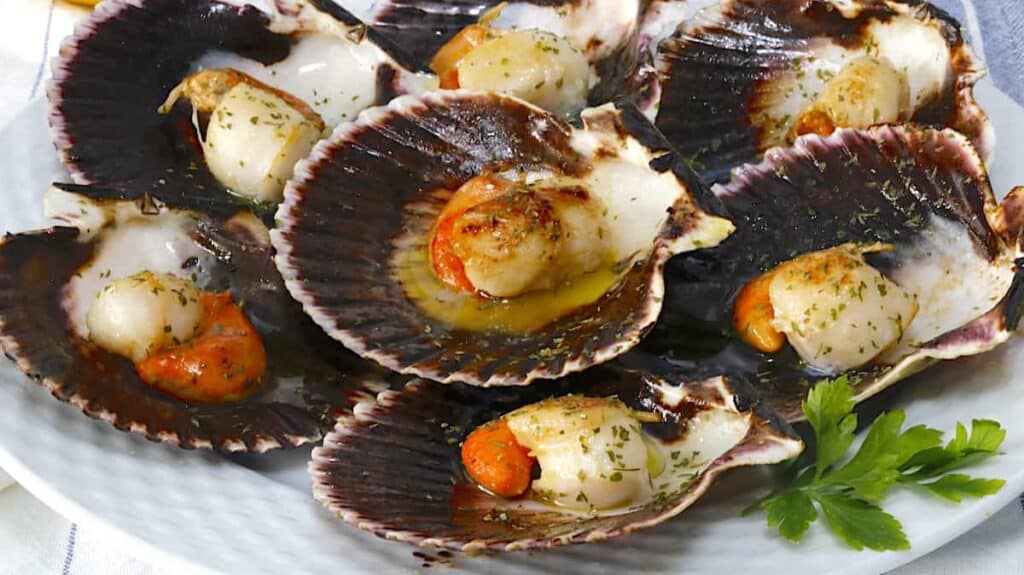 Os Cen Pasos comes highly recommended to indulge in the delicious Zamburiñas! With gluten-free options and multiple 5 star reviews, Os Cen Pasos is our top recommendation to try tradition Galician cuisine in Pontedeume.
Betanzos

When it comes to Betanzos, the undisputed star of its culinary scene is the legendary "Tortilla de Betanzos." This iconic dish holds a special place in the hearts of both locals and visitors alike.
Unlike the traditional Spanish tortilla, which typically includes onions and other ingredients, the Tortilla de Betanzos takes a minimalist approach. It focuses on two key elements: high-quality eggs and potatoes. The result is a sublime marriage of flavors and textures that showcases the simplicity and excellence of Betanzos' gastronomy.
What sets the Tortilla de Betanzos apart is its unique preparation. The eggs and potatoes are cooked slowly and at a low temperature, allowing the ingredients to meld together and develop a creamy and custard-like consistency. The exterior of the tortilla is golden and crispy, while the interior is soft, silky, and bursting with flavor!
Restaurante Os Arcos is a highly recommended dining establishment in Betanzos, a charming town along the Camino Inglés. Situated in a historic building with a cozy and welcoming atmosphere, Restaurante Os Arcos offers a delightful culinary experience.
The restaurant is known for its commitment to using fresh, locally sourced ingredients and showcasing the flavors of Galician cuisine. With a menu that highlights traditional dishes and culinary specialties, Restaurante Os Arcos is a fantastic place to immerse yourself in the local gastronomy.
Sigüeiro

Restaurante El Cortés is a highly regarded dining establishment known for its excellent cuisine in Sigüeiro. While the menu at Restaurante El Cortés may change seasonally or by availability, one of their standout dishes that consistently receives high praise is the "Lacón con Grelos."
This traditional Galician dish features "lacón," which is boiled pork shoulder, and "grelos," which are turnip greens. The pork is tender and flavorful, complemented by the slightly bitter and leafy greens. The dish is typically served with boiled potatoes and a drizzle of olive oil, allowing the flavors to meld together beautifully.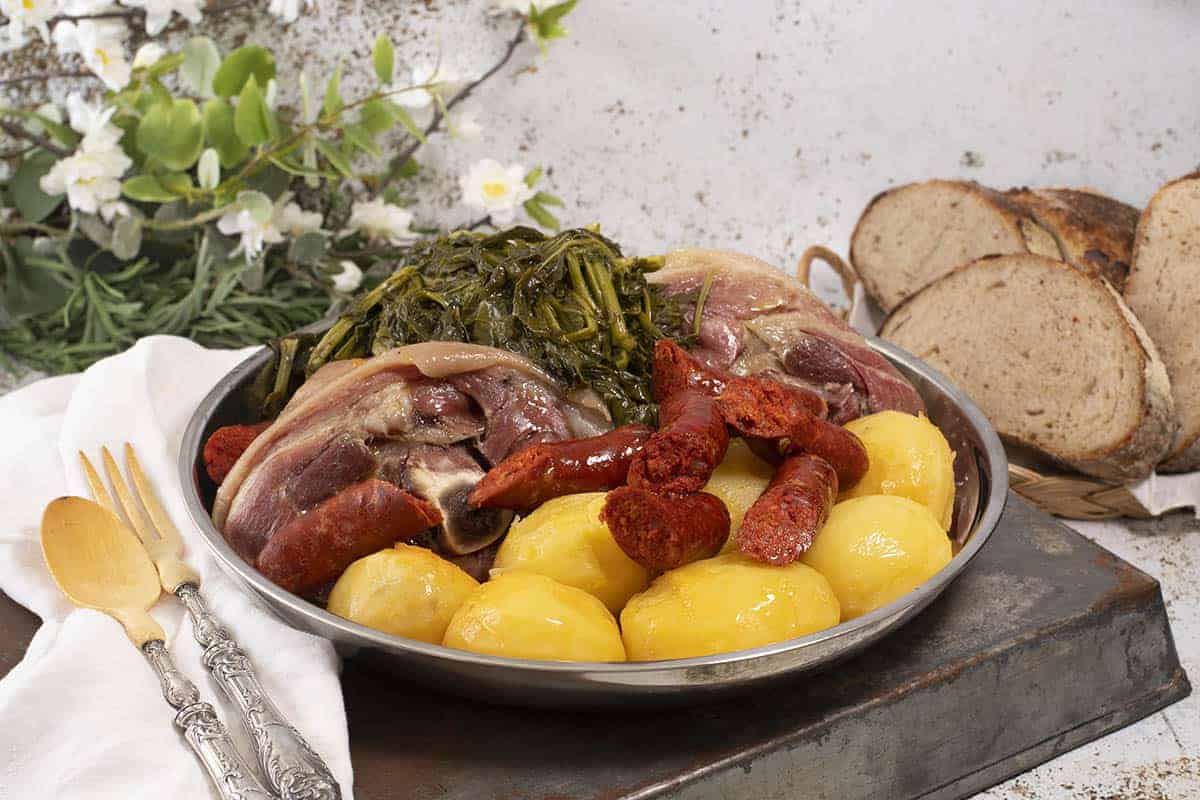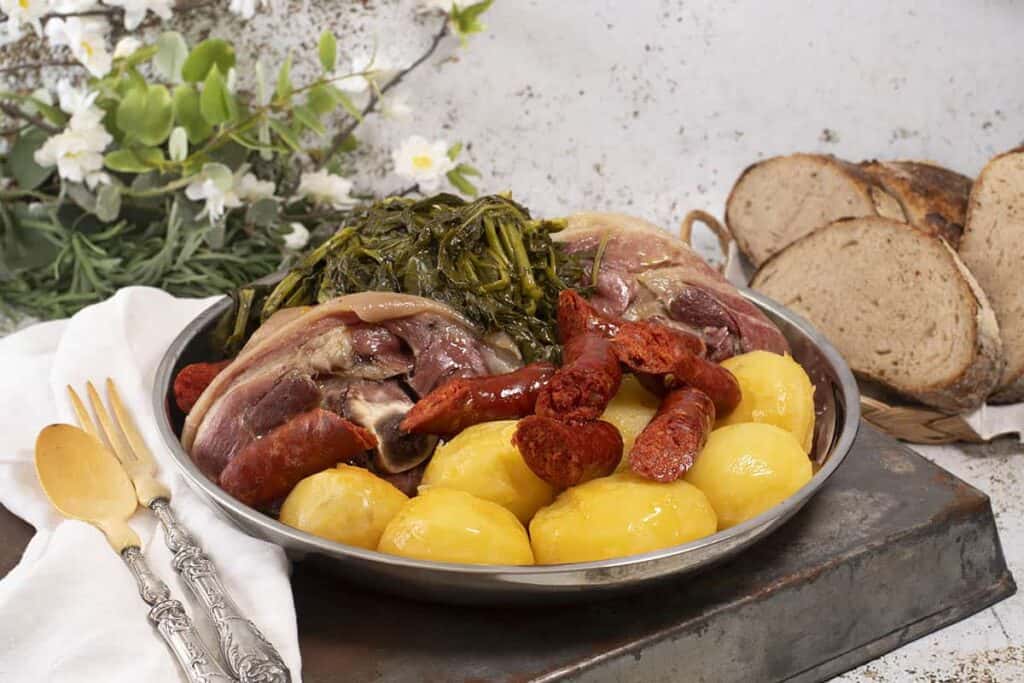 The "Lacón con Grelos" at Restaurante El Cortés embodies the essence of Galician cuisine, showcasing the region's love for hearty and comforting dishes. The combination of the succulent pork, earthy greens, and well-balanced flavors creates a memorable dining experience.
While enjoying the "Lacón con Grelos," take the opportunity to explore the rest of the menu at Restaurante El Cortés, which often features a variety of traditional Galician dishes, including fresh seafood, flavorful stews, and regional specialties.
Also typical from this town? Trouts! Sigüeiro hosts a popular food festivity every year around this fish, and you can always try them in La Cantina, a traditional restaurant near the old train station.
Hungry already?
As we conclude our food series along the Camino Inglés, take a moment to reflect on the culinary journey you've taken through the towns and villages of this historic pilgrimage route. From the flavors of Ferrol to the delicacies of Betanzos and beyond, the Camino Inglés offers a delectable exploration of Galician cuisine.
Get in touch with us to receive a custom itinerary for your trip, we can help you experience all that Camino Ingles has to offer! If you want more information on walking the Camino Ingles feel free to contact us at info@followthecamino.com . For more details on walking the Camino or our other Camino de Santiago tours.
Buen Camino!
The Camino is Open for 2024 Bookings!
Get in now to secure the best accommodation for your Camino!
Discover this empowering journey across Spain, Portugal and France for yourself.

Journeys from 3 to 90+ days available.
Flexible itineraries Luggage transfers Private rooms & bathrooms
Contact us