Kids on the Camino
Avid Camino pilgrim, Max Maximov, has walked the Camino with his daughter twice. Once when she was a 10-year-old kid, and again as a 14-year-old teenager. He talks about the things to consider when walking the Camino with your children – from planning all the way to coming home.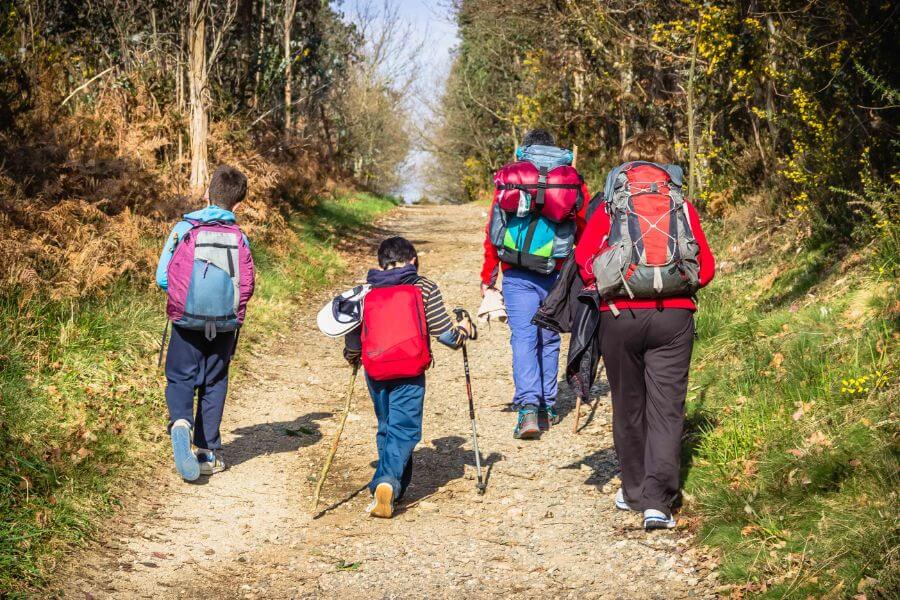 "If you want your child's eyes to light up – get them a new iPhone; if you want to see their soul shine – take them on the Camino de Santiago!"

Max Maximov
I wrote these words (having done both of these things) five years ago, having just walked with my then 10-year-old daughter on her first Camino. Last year, she (now – a teenager) and I walked her second Camino together. I am convinced more than ever that sharing the Magic of the Camino with your child is one of the greatest gifts you can give them and the experience that you both will treasure and cherish all your life!
For all the parents out there, who may be thinking about embarking on the Camino with their kids or who are, perhaps, already making concrete plans of doing so – here are my 8 tips and things to consider.
They are mainly geared toward the readers without previous Camino experience, but they may also be of value to those who have walked the Camino without their children before, especially if that was a while back. Also, these points refer mainly to parents of pre-college-age kids; walking the Camino with young adult children will be treated as a separate topic.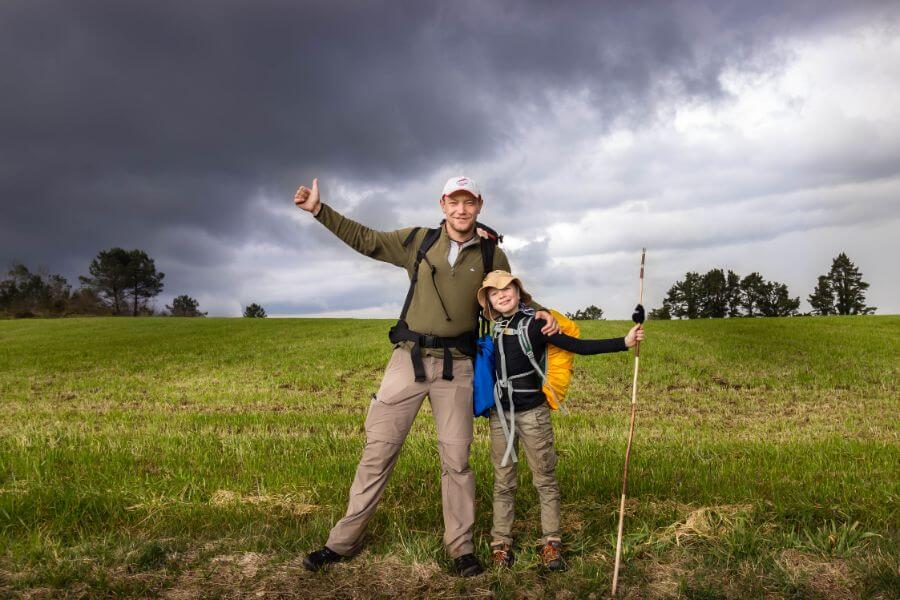 1. Is the Camino a good fit for kids of all ages?
Of course, there is no such thing as an "age restriction" on or for the Camino. One gets to see kids of all sorts and kinds of ages: from newborn babies that Pilgrims carry strapped to their chests or backs, or toddlers pushed and pulled in buggies, all the way to grown adults who walk the Camino with their "even more adult" parents.
But, zooming in on kids in the common understanding of the word, the big question to ask is: is this about you, or about them?
If you want to make this about you, you can go on the Camino with your child of any age. However, if you are interested in giving your kid an impactful, lasting and unforgettable experience, where it is just as much "their" Camino as it is your own, my recommendation would be not to go much younger than the age of 10.
While logistically still fully dependent on You the Parent, starting around this age kids can define for themselves what makes Them happy. I would caution against approaching the Camino experience as something where you would be "showing your kids around."
Know your child's level of ability on the Camino
Instead, the Camino will only have the potential of becoming an amazing experience for your child if they are going to be able to participate in some if not most joint decision-making. Allow them to decide some things for themselves.
In addition, nimble and resilient as most kids are – some, in fact, much more so than some adults! – practice shows that kids of a very young age struggle may struggle on an average Camino day.
There is a clear benefit in the option of transporting backpacks from one destination of the day to the next. However, with or without a backpack, the attention spans and biorhythms of a younger child are different than those of an older child or an adult.
Plus, the physical impact stands in direct relation to the number of steps walked. My daughter and I did this experiment on both of her Caminos: for every 100 steps I took, she had to take 140 at the age of 10 and 120 at the age of 14! Extrapolate that onto 150 miles, and the result will appear quite humbling.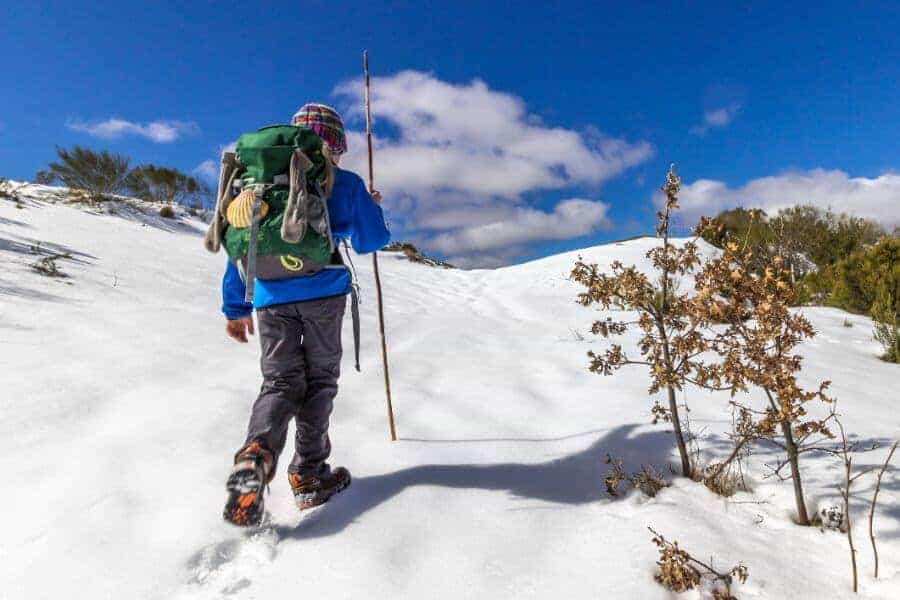 2. Which Camino to choose, and when to go?
This will depend greatly on the age of your child. I would recommend walking the entire French Camino (from St. Jean or Roncesvalles) only of your child is 15 or even 16 or older. If this is the case, and unless your teen is already out of school, the only time to go would be in the summer.
If your child is younger, my recommendation would be to do a portion of the Camino Francés. One way of doing it is to start in St Jean and walk as far as Logroño or Burgos, with the idea of returning and resuming the Camino at some point in the future.
However, I would recommend planning to take 10-14 walking days, and finishing in Santiago. The three logical starting points, in decreasing order of distance to Santiago, would then be León, Astorga or Ponferrada.
My reasoning behind this recommendation is simple: you would want to arrive – and have your child arrive – in Santiago and to receive your Compostela certificate with a due and deserved sense of accomplishment.
Starting in Astorga will have you cross stunning and quite diverse terrains, and having covered a solid stretch of 150 miles (approx. 265 km.) Neither you nor your child will have the feeling of arriving in Santiago "too quickly," even if you end up walking side by side with people who'd started their Camino in St. Jean!
As an alternative, I would recommend the Portuguese Way from Porto to Santiago, also approx. 150 miles, where you would have the choice of the Coastal or Inland Camino.
While the most logical time to do these would also be done during the summer school break, a great alternative to consider is going in the spring or in the autumn, for example, during the spring or Easter break.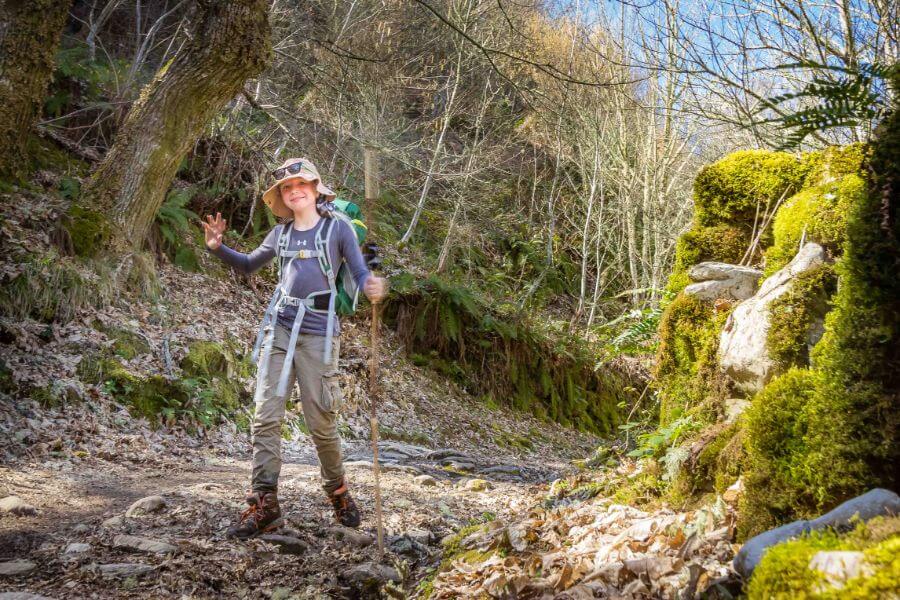 3. On planning and preparation
The ideal case scenario is when the idea of going on the Camino stems directly from your child. This was my lucky case.
I had walked my first 2 Caminos before my daughter was even born, and returned on the Camino regularly as she was growing up. I led Study Abroad programs to the Camino from the university I taught at in the US.
My daughter was growing up meeting my students and hearing not only mine, but also their stories filled with awe, excitement, and inspiration.
She wanted to walk the Camino with me before she could remember and, when she was 5, we made a deal that she would come with me when she turned 10. Her Camino was pre-destined to turn into an amazing experience.
But what if the Camino idea comes from You the Parent, and not the child? What if you – alone, or with your partner – are thinking about this as a family experience? In this case, it is instrumental that you involve your child as much as possible in the decision-making process.
Getting your kids excited about the Camino
To quote my own daughter, the words she said to another adult when asked about this: "The last thing you'd want to do is to tell you child 'So, mom and I decided we're all gonna go backpacking in Spain – isn't that amazing?!'"
The only way to get the kids excited about the Camino is by being not only including but also actively involving them in the process from the get-go. That way, they "own it" as their own experience!
You need to be ready to accept the fact that they may not be as excited about this as you are. They may not be thinking about it is much as you are, not planning it as eagerly as you are. In fact, they may not be excited about it at all! And, since forcing the Camino against your child's interest or will is the last thing you'd want to do, you may have to admit to yourself that the time for your Parent+Child Camino has not come just quite yet.
However, if your child is interested, eager and keen, let them feel included in the preparation process, but without forcing it on them. The Camino grows and unfolds in each and every one of us in a unique, individual way, and children are no exception.
Gauge and match their energies, and meet them where they are at. Be there, ready and available for them not only to answer their questions as they arise but also to show them how to look for and find the answers to these questions on their own.
If your child is a bit older, you may even consider giving them "research assignments". Ask them to help look up and figure certain things out about how things work on the Camino – typical food, average weather, types of accommodation, historic sites. Make sure it is something relevant not just for them, but for both of you.
Remember: every single one of us Pilgrims walks our own Camino. Your aim should be to introduce and present yourself to your child, aside from the known parental figure, in an additional, new capacity: that of his / her fellow Pilgrim. Someone who will have their own backpack to carry, and prior to that – to decide what to put in that backpack!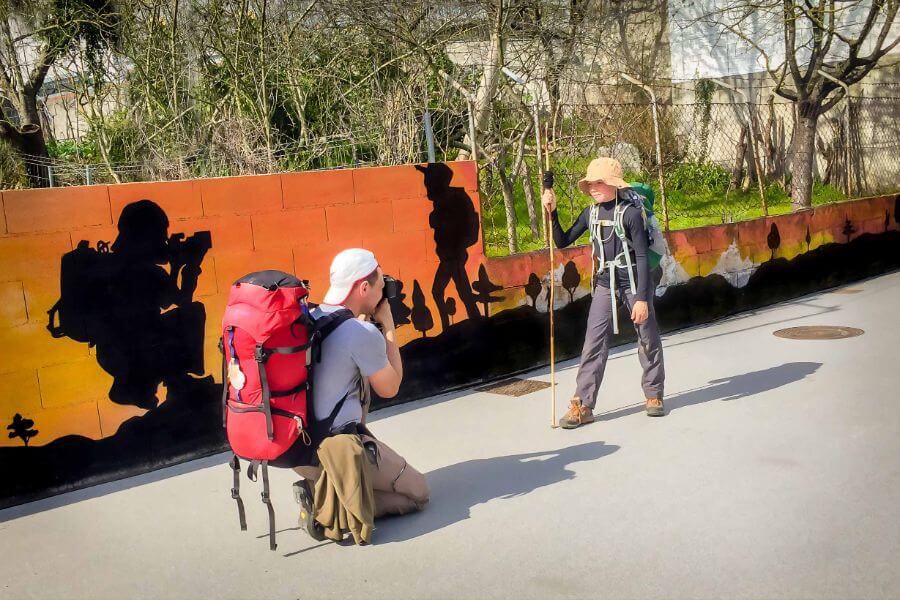 6. What is the Camino about?
The essence of the Camino is: Walk. Eat. Sleep. Repeat. And, frankly, very little else – and yet so much more!
And I don't mean it as a joke: the Camino gives us an amazing opportunity to really, really slow things down, to bring life down to an unusually comfortable, almost scarily-pleasant pace. It limits the number of choices we have to make on a daily basis to a bare minimum.
Continued physical outdoor activity, and re-learning to perceive life at a walking pace sharpens our senses and heightens our sensations. All these things comprise a wonderful mix of ingredients for both self-(re)discovery as well as for living a truly deep, memorable, and lasting experience with your child.
The Camino with your child is a great place to talk, feel, share and express. To talk about anything. About everything! To think aloud, to sing, to laugh, even to cry if that's something that surfaces up. And to live a human experience, and to celebrate our own humanity.
It is to do all these things that we normally do not have the time, the discipline, the motivation or, perhaps, even the very opportunity for in our daily lives back home. The Camino is a journey in our own minds and hearts as well as in our relationship with our child.
And, in addition to this immense, invaluable possibility for reconnecting, the Camino offers us the gift of meeting other pilgrims from allover the world. Making new friends together with your child, interacting together in new, unplanned but amazingly rewarding and pleasant friendship circles while within the comfort and beauty of the Camino setting is, truly, an indescribably beautiful and unforgettable experience!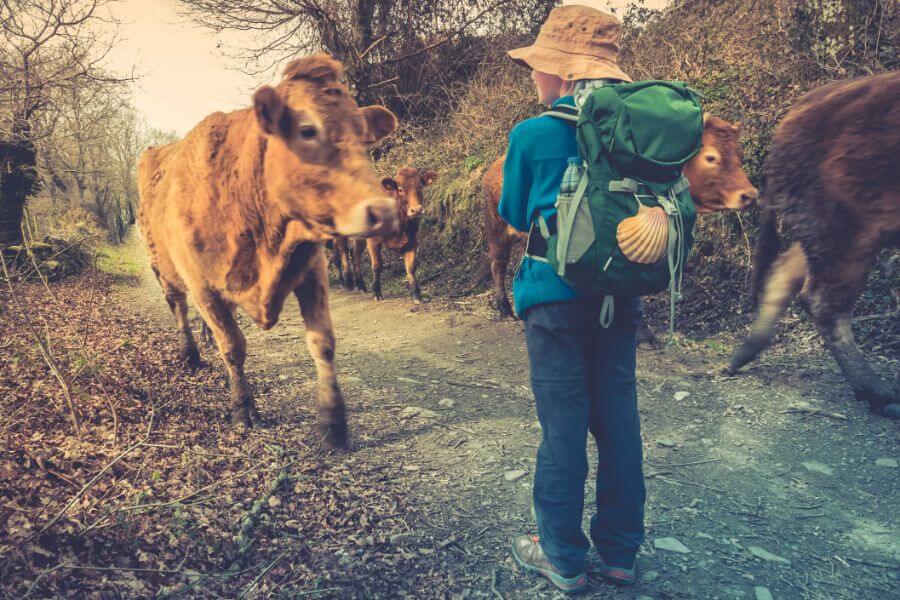 5. On logistics and infrastructure for kids on the Camino
One of the many aspects that makes the Camino de Santiago unique is the fact that it constitutes a dynamic blend and mix of nature and culture, of landscapes and urban areas, of beautiful outdoors with the convenience of full, modern infrastructure. Traversing northern Spain, its location is anything but remote.
Unlike such well-known outdoors destinations as the Appalachian or the Pacific Trail or hiking tours in Asia and Africa, the accessibility of all comforts and amenities on the Camino is always given. This translates into a high degree of peace of mind one can enjoy while on the Camino.
Accommodation of all sorts is abundant and bookable in advance. Even options to take transport – should it become desired or necessary – are always available. The same goes for food options – in fact, at times so much so, that some make the Camino also about the culinary experience.
All this makes the Camino an ideal experience for travelling with children without having to worry about anything logistics-related and being able to focus on the essential: the journey, and the wonderful experience of togetherness.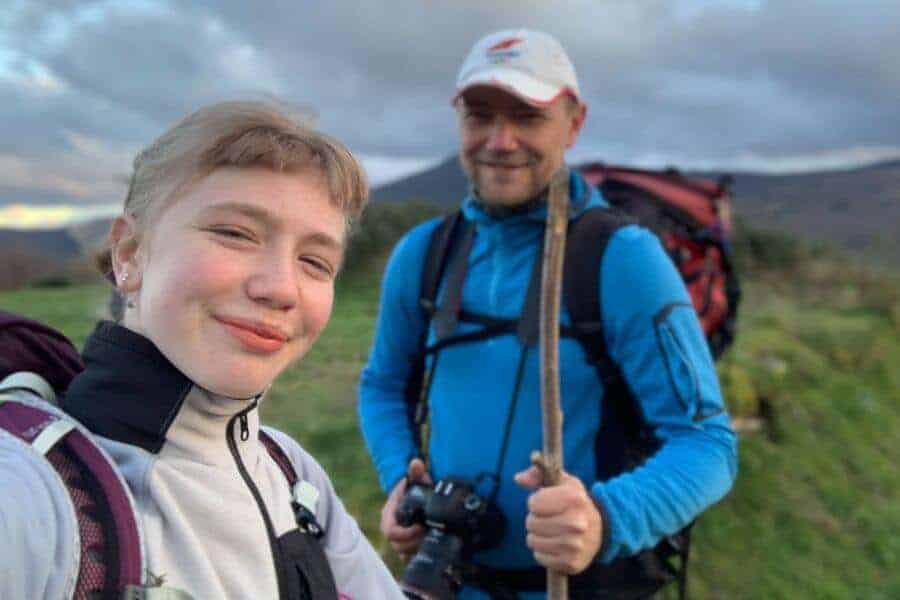 6. Is the Camino safe for kids?
To put it short and simple: yes, the Camino is absolutely and totally safe for children! In addition to all the logistical aspects listed above, medical help – should it become necessary – is also easily accessible and within reach.
The Way itself is very well-marked and maintained. When traversing mountains and forests, it constitutes a wide and comfortable enough path so as to be walkable by anyone with reasonable physical fitness. There is no need for any special equipment other than basic hiking gear.
The challenges – if any – lie not in any particular stretches of the trail as such, but rather in the repeated, daily walking for considerable distances. However, this is something that, thanks to the above-mentioned accommodation choices and transport availability, one has full control of. You can walk as much or as little as you want!
Rare cases of inclement weather are usually limited to winter snowstorms in the mountains, and local authorities take adequate measures to keep the Way and the Pilgrims safe at all times. The same applies to public safety. Local communities rely heavily on pilgrim traffic as their source of revenue to sustain them so that it is in their own greatest interest to keep things safe and sound.
The Camino intersects a number of traffic roads and traverses a few larger urban areas. This calls for basic, common-sense safety precautions on the part of the pilgrims, but even in these areas issues of public safety have no reason to be of any more concern than in comparable settings back home.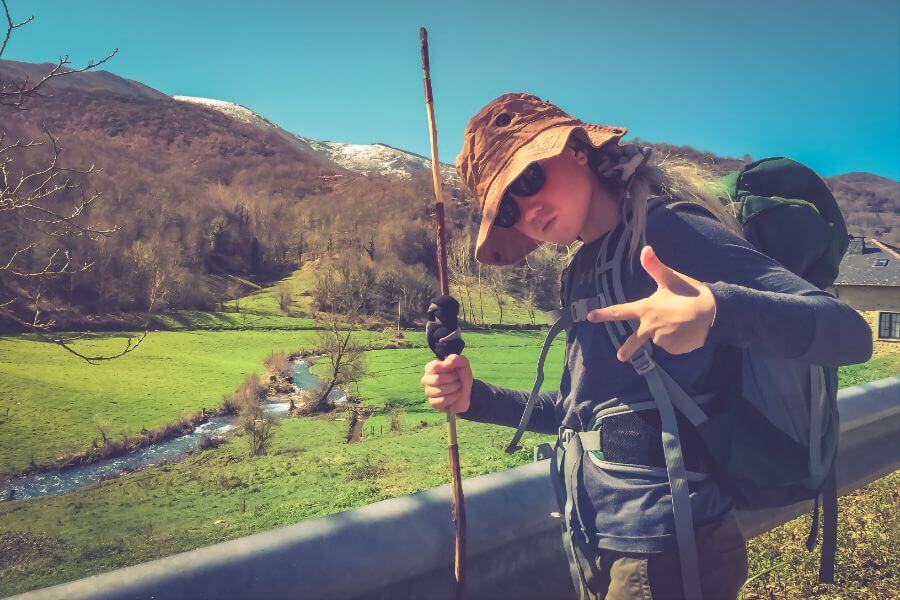 7. On devices: staying connected vs. going unplugged
We live in the day and age where life without gadgets and devices is hard to imagine, and the Camino is no exception. Of course, there are occasional people that choose to "rough it", go completely unplugged, and they manage just fine. On the other hand, there are those who spend more time looking on their phone screens than at landscapes they're passing by.
In my opinion, a healthy and sound approach lies somewhere in the middle, and this is also a point of discussion and joint decision-making together with your child.
Having a working device such as a smartphone is definitely a good idea at least in view of the reasons above, such as logistics, transport, safety etc. In addition, it is important to stay connected with friends and other family members back home. However, the Camino renders a perfect opportunity for kids and parents to experiment with reducing dependence on and use of devices, apps etc.
What has worked very well for me and my daughter, and what I can wholeheartedly recommend, is to start by opening this as a topic for discussion and for brainstorming the different scenarios. I was surprised that it was, actually, my daughter who told me that she would like to go unplugged on the Camino and that it was I who had to tell her that staying connected is a good thing if done in an organized manner.
Make it a conversation and find what works
We talked a lot about this, and she ended up agreeing with her friends – those she cared to keep in touch with during the Camino – that she would be online and checking messages once a day for about an hour.
Instead of posting on her Instagram Story throughout each walking day, she decided to do so also once per day, in the evening, during her online hour. Otherwise, her phone was on aeroplane mode and she used it mostly for taking pictures and videos and, a few times, for listening to music.
This worked very, very well for her, and I know many people who employ a similar tactic. Ultimately, it is everyone's personal (and parental) choice, but I believe that redirecting and transforming energies works better than trying to block and repel them.
Kids will generally be all over the idea of keeping using their devices but in a way different from the usual. For example, for documenting the journey via pictures, videos, Vlogs and other creative projects.
This is something that can be quite naturally inclusive of us parents, as well as new friends we make on the Camino, as a wonderful joint project. It can also come in handy for the post-Camino re-entry and for validating the experience for your children.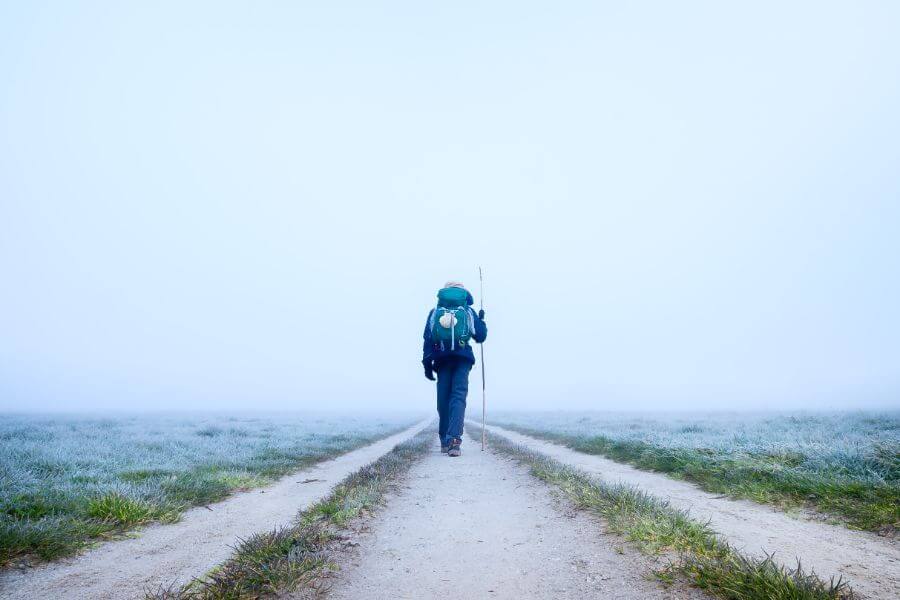 8. On "validating" the experience: the Camino is different, Spain is different… I am different!
One of the hardest things about the Camino experience lies in trying to explain it to those who haven't been on it.
Our friends and loved ones ask us with genuine curiosity how it was, what the journey was like, referring mainly to sights, weather, food, and activities.
We, on the other hand, come to a profound understanding that the farther we've walked, the deeper we've walked inside ourselves and when asked: "How was it?" we struggle to find ways of expressing it.
Pictures and videos do come in handy but, again, the Camino is about so much more! Kids and teens, for whom the importance of their social circles is on a whole different level, may find this struggle of inability to adequately express it even more frustrating.
Prepare for re-entry
Therefore, it is important for both the parents and the kids to talk about this before re-entry, and to at least become aware of this upcoming challenge. You both will see that you have made this wonderful experience of the Camino together. You have created something new that connects you, binds you, and that only you (and, perhaps, your fellow pilgrims) will fully understand. And that it's okay for it to be just like that.
Your kid might be asked: "Wait, what?! You spent your spring break going to Spain, with your dad, and all you did was walk 15 miles every day in the middle of nowhere? What was THAT like?!"
Tell them, the smartest way to answer questions like that is a short and wholeheartedly genuine "it was AMAZING!" And that might be just it – because most people, even those who we consider good or close friends, will not go on asking for further details, and you save yourself the frustration of explaining the unexplainable.
And the beauty of the experience, the shared adventure, the Camino bond is just for you – the Parent and the Child – to look back at, to cherish and carry with you for years to come… Until your next family Camino!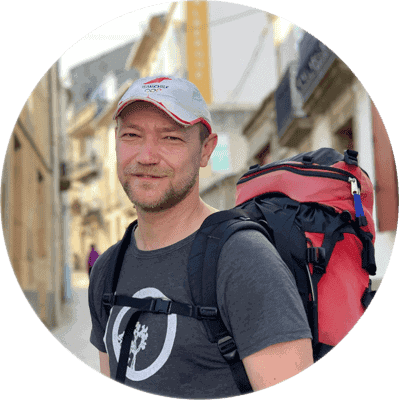 Max Maximov is an international educator, pilgrim, Camino photographer and travel coach. He was born in Russia and spent his formative years in Germany and, eventually, the US. Starting with his first Camino in 2005, Max has been on different Caminos 14 times, including twice with his daughter – first, when she was 10, and then again, when she was 14 (in 2016 and 2020). While working as Lecturer and International Programs Coordinator in the US, he also organized and led dozens of American university students on Study Abroad programs to the Camino, annually from 2011 until 2015.

Presently, Max lives and works in Germany and he continues to dedicate time to helping people plan their Caminos. Max's photography gallery, online shop and contact options can be accessed at https://www.caminographer.com and Max is also active on Instagram: @caminographer

The next Camino in the planning for Max is the Coastal Way – Camino del Norte – in early Fall 2021.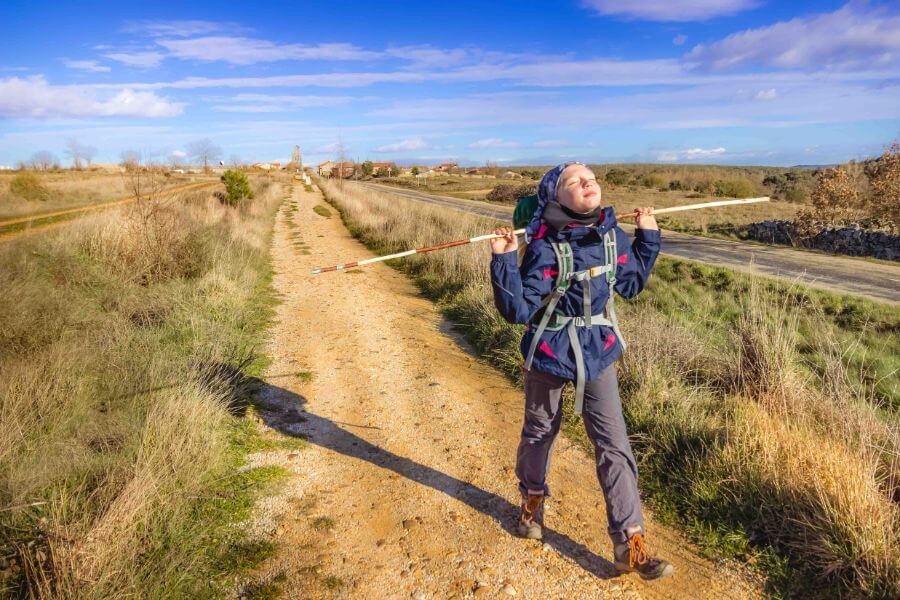 Thank you for sharing your experience of walking the Camino de Santiago with your daughter with us, Max!
Travelling with your kids is fun but the journey can sometimes be a little stressful. Especially for kids with autism and that's why we prepared for you 7 tips for travelling with kids with autism.
To start planning your family Camino with your children – get in touch with us! We have plenty of experience with helping families to plan their trip. Whether you are looking for a taste of the Camino on the last 100km of the trail or the full French Way – we have tips and tricks to help you.






Take the School Trip You'll Never Forget!






The ULTIMATE Educative Adventure Across Spain, Portugal, or France.






Connect with your students as you share this incredible experience.



From accomodation to airport transfers, we can plan the ideal Camino for your class.






 Flexible itineraries    Luggage transfers   Private rooms & bathrooms




Contact us