Halloween in Spain is more of a traditional festival closely related to the religious holiday of All Saints Day. All Saints Day honours the dead and celebrates the perpetuation of life. If you are travelling on the Camino de Santiago in late October or early November, you will get to witness Halloween on the Camino.
Galician Halloween Traditions
Halloween in Spain is a three-day celebration starting on October 31st with Dia de las Brujas (Day of the Witches). Followed on the 1st of November with Dia de Todos los Santos (All Saints Day). And finally, on the 2nd of November, it concludes with Dia de los Muertos (Day of the Dead). Spaniards and Mexicans often go to see the play "Don Juan Tenorio" one week before, the main topic revolves around death.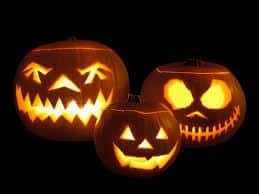 In the North of Spain, the Celtic tradition of Halloween still has a major influence on modern celebrations. Therefore, October 31st is renowned for its rich folklore and ghostly legends in Galicia. Galicians celebrate Noite dos Calacús (Night of the Pumpkins). Festivities on this night include carving pumpkins, throwing a costume party or even lighting a bonfire. In some cities, people walk around, some holding candles, in the memory of the dead. Kids will also go trick-or-treating but this isn't as popular.
Food and Drink Traditions during Halloween
Dia de Todos Los Santos or All Saints Day falls on November 1st. Locals in Northern Spain prepare pastries called Huesos de Santo (Bones of the Holy). It is a traditional pastry roll delicacy made with egg yolks, stuffed with marzipan. On this day families will take these treats with them when they visit their loved ones' graves.
Another highlight of the celebration is a special tradition unique to Galicia, the Queimada. It is a punch drink made from the Galician spirit aguardiente. The drink is flavoured with unground coffee beans, sugar, and lemon rind or orange peels. The tradition dates back to the 11th century. See the Queimada recipe here.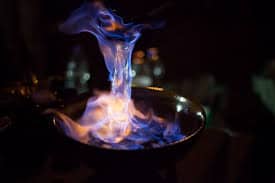 Many people prepare the drink in a specially designed clay pot that comes with cups to drink from. When set alight a pretty blue flame is produced. The best time to do this performance is during the night after dinner.
The preparation ritual includes a theatrical chanting spell known as the esconxuro. Reciting the spell warded off bad spirits.
The esconxuro spell ends with:
And when this beverage goes down our throats, we will get free of the evil of our soul and of any charm.  Forces of air, earth, sea and fire, to you I make this call: if it's true that you have more power than people, here and now, make the spirits of the friends who are outside, take part with us in this Queimada.

Extract of the esconxuro spell.
You can read the full esconxuro spell in our blog post about the Queimada ritual.
Learn more: Download your FREE Camino e-book!
Discover the routes and sections of the famous Camino de Santiago pilgrimage.
Download
Santa Compaña – The Procession of the Dead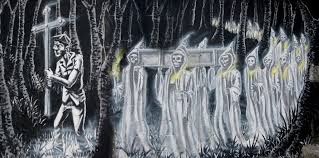 Another mystical belief is that of Santa Compaña, the procession of the dead. This particular procession is led by a cursed local person who carries a cross or a cauldron of holy water. Then, the souls of several of the dead holding lit candles follow. These souls can only be seen, it is said, by some.
Similar to the Banshee in Ireland, the purpose of the Santa Compaña is to visit the homes of those who have a death due in the near future
If you come across the procession in Galicia, there are actions you can take to avoid getting the curse. Read our blog about how to avoid the curse of the Santa Compaña.
San Sebastian Horror & Fantasy Film Festival
If you find yourself on the Camino del Norte in late October or early November, you could catch the San Sebastian Horror & Fantasy Film Festival. This festival has been running since 1990 and as the name suggests this is no ordinary film festival. It is an enormous horror and fantasy fiesta that is packed with performances, music, street shows and exhibitions.
Here are some Spanish October festivals you can go to before, during or after your Camino de Santiago tour in October. Buen Camino!
Spend your Halloween Vacation on the Camino!
How would you like to spend your Halloween holiday or vacation walking the infamous Camino de Santiago? We at Follow the Camino can help you bring that dream to life with our personally customized walking holidays. Our Camino Planners can recommend some of the most interesting gems to see on your selected Camino route! Get in touch with us for more information or a custom made itinerary tailored for you
Happy Halloween!
The Camino is Open for 2024 Bookings!
Some of our top accommodation are already booked out for 2023, so get in now to secure the best accommodation for your Camino!
Discover this empowering journey across Spain, Portugal and France for yourself.

Journeys from 3 to 90+ days available.
Flexible itineraries Luggage transfers Private rooms & bathrooms
Contact us