2016 was an extra special year for Pilgrims walking the Camino and Catholics everywhere because Pope Francis declared that 2016 was the Holy Year of Mercy.
What are Holy Years?
During a Holy Year or Jubilee Year, people can ask for remission of sins and universal pardon. In essence, they can wipe away their sins with God's mercy. This process is also called an indulgence.
There are Jacobean, or Camino Holy Years when the Feast of St James (25th July) falls on a Sunday. Regular Holy Years fall every 25 years. Alternatively, the Pope can call an Extraordinary Jubilee, such as the one in 2016.
A number of very special events and celebrations take place on the Camino de Santiago and all across the world during Holy Years. Many churches and cathedrals put on extra services to celebrate the forgiveness of sins and universal pardon. They will also open their Holy Doors (if they have one), which are part of the indulgence process.
What is a Holy Door?
A Holy Door is a special door found on some major churches and basilicas. The cathedral in Santiago has a Holy Door, as do many prominent churches in Rome. The doors are normally sealed by stone or mortar from the inside so that they cannot be opened.
During Jubilee years the seal will be ceremonially broken and the door opened. Pilgrims who enter through those doors can receive the indulgences attached with the Jubilee year celebrations.
Usually, there are only a small number of Holy Doors around the world, mostly in Rome. One of the special things that happened for the 2016 Holy Year is that other doors (one in every Roman Catholic diocese) were declared to be 'Doors of Mercy'. Walking through these doors also granted the indulgence.
Opening the Holy Year of Mercy 2016
On 8th December 2015, Pope Francis opened the Holy Door at St Peter's basilica.
This important symbolic act is part of the opening of the Holy Year. Christ identifies himself as "the door" and Pope John Paul II stated that the holy door "evokes the passage from sin to grace. It was opened to remind us to retain humility. He then declared 2016 to be the Holy Year of Mercy 2016.
In Rome, many doors to cathedrals, shrines, and churches were opened. They all had a special meaning at this sacred time.
On 13th of December, the Holy Door of the Cathedral of Santiago de Compostela was opened for 2016 for all those travellers and pilgrims who come to the Apostle Saint James seeking his intercession.
Learn more: Download your FREE Camino e-book!
Discover the routes and sections of the famous Camino de Santiago pilgrimage.
Download
Thousands of extra pilgrims chose to walk during the Holy Year
Walking the Camino de Santiago during a Holy year undoubtedly adds something extra special to an already truly unique experience. The energy is different, you'll meet more people, and there are loads of things to do and see. You have a number of different paths to choose from that all lead to Santiago, where a Holy Door waits for you at the Cathedral. The French Way, The Portuguese Way, The Original Way, The English Way, and the Via Francigena Way, are all incredible journeys filled with extra energy during special religious times.
Via Francigena is another ancient pilgrimage route. It travels from the English cathedral city of Canterbury to Rome. People often walk the last 150 km from Acquapendente to the eternal city of Rome, and these numbers also peak during Holy Years.
The Next Camino Holy Year is in 2021 and 2022
2021 and 2022 were expected to be even bigger years for the Camino de Santiago. Pre-COVID, the statistics all showed an increasing number of people walking the Camino each year, with additional surges on people using Jacobean Years.
Due to the pandemic, the 2021 Holy Year was extended into 2022 to allow more people to make the pilgrimage. Along the Camino routes, people are hopeful that 2022 will see plenty of pilgrims travelling to Spain and Portugal. To make sure that our clients are supported if things do change, we offer free date change on all trips affected by COVID-19 restrictions.
When you arrive at La Plaza de Obradoiro in Santiago, you can walk through the Holy Door to the glorious Santiago de Compostela and seek your indulgence.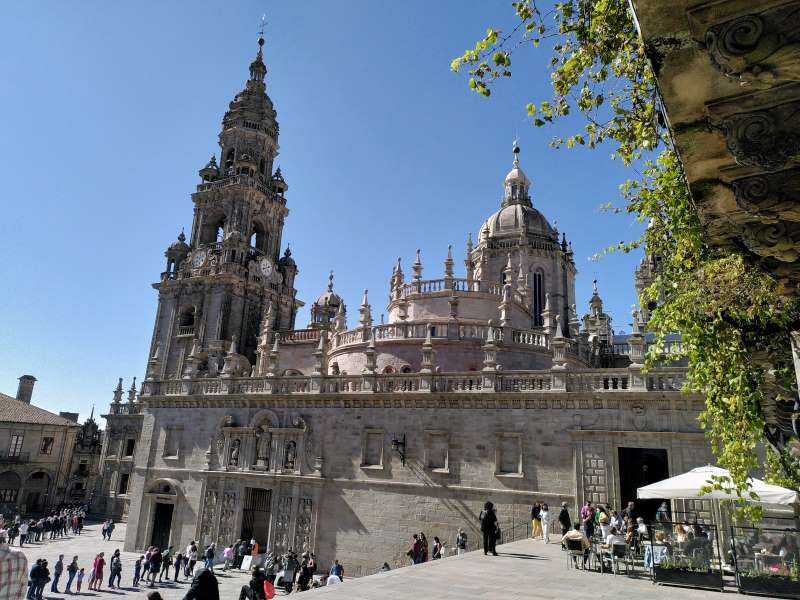 Planning for your Camino de Santiago Holy Year walk
During Camino Holy Years it is more important than ever to plan your Camino with local knowledge and book ahead.
Our friendly experts are here to answer any questions you might have about walking during a Holy Year. All of our bookings include guaranteed, high-quality accommodation and full support through your planning process.
You will be well-fed and well-rested, allowing you to concentrate on your journey. Meet fellow travellers from all around the world and enjoy the natural beauty of the routes.
Follow the Camino has been supporting pilgrims on the Camino since 2006. We were the original Camino tour provider, with clients from all over the world. Walk the Camino with us, knowing that your expert Camino Planner will support you every step of the Way.
Contact us today for a free quote!
The Camino is Open for 2024 Bookings!
After unprecedented demand in 2022 and 2023, 2024 is going to be an amazing year to walk the Camino de Santiago.
Start planning today to lock in the best accommodation for your journey.

Take the journey of a lifetime.
Flexible itineraries Luggage transfers Specially selected hotels
Enquire now!