The Camino de Santiago attracts millions of travelers from all over the world each year. While the journey is often associated with spiritual and religious significance, it's also becoming increasingly popular as a family adventure destination.
Walking the Camino with kids can be a transformative experience for families, offering a unique opportunity to connect with each other, explore new cultures and landscapes, and create lasting memories. Whether it is parents walking with their children, a solo parent with their kids, cousins, siblings, father-son bonding, or grandparents taking their grown-up children – the Camino is for all types of families!
In this article, we'll provide you with some tips and advice for planning a family Camino adventure that everyone will enjoy.
Finding the Right Camino for Your Family
Once you've made your decision to walk the Camino with your family, a myriad of options arise. The first one being – which route is the perfect option for your family's abilities and interests? One of the great things about the Camino de Santiago is that there are many different routes to choose from. Feel free to reach out – we will be happy to help you choose the perfect one for your family Camino!
In general terms, the most popular routes for families with children include the Camino Frances, the Camino Portugues, and the Camino del Norte. They are not the only ones you can choose, but they definitely offer a good balance of stunning scenery, cultural experiences, and manageable distances.
You should also consider your time availability since the Camino changes with every season. The summer months can be hot and crowded on some routes, while spring and autumn offer cooler temperatures and fewer crowds. Certain routes may be more challenging during the winter months when snow and ice can make walking more difficult.
Making the Most of Your Family Camino Adventure
Walking the Camino with kids is not just about getting from point A to point B – it's about experiencing new cultures, landscapes, and perspectives together as a family. Although reaching Santiago may feel like the most important goal, make sure to embrace the slow pace and discover the beauty in every moment. Remember: the Camino is not a race!
It's totally up to you to decide how to enjoy your time together. Some families will choose to talk, play games or just enjoy nature and the scenery along the way. Other might prefer to focus on the rich cultural experience, exploring the different towns on the way, tasting the local cuisine or interacting with people – locals or other international pilgrims.
It doesn't matter your preferences – you will find your unique balance on the Camino!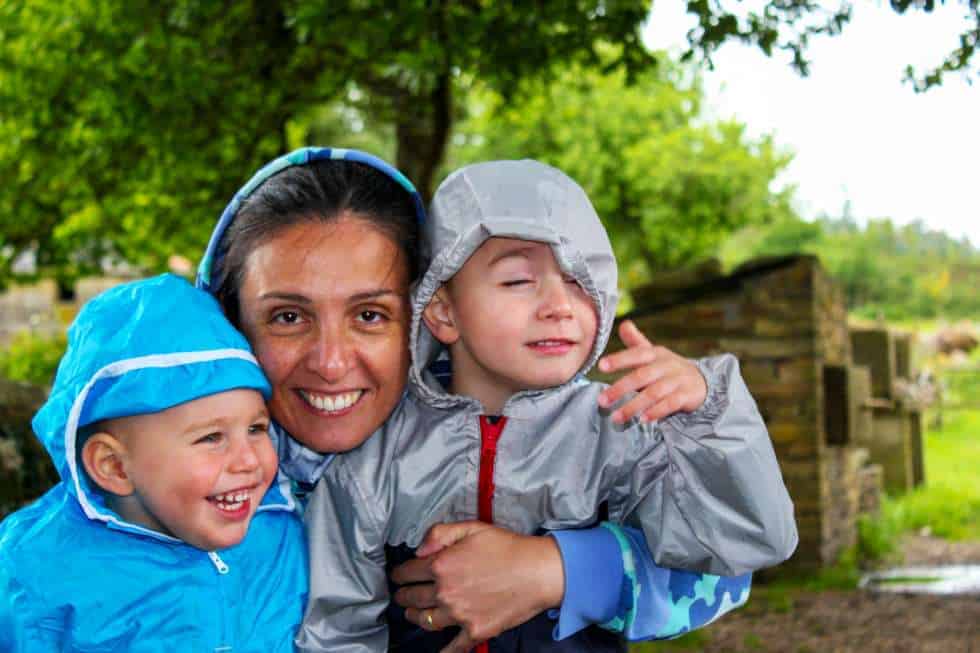 Benefits of Walking the Camino as a Family
Walking the Camino as a family can have numerous benefits, both physically and mentally. Here are just a few:
Physical activity: Walking the Camino is a great way to get in some physical activity while spending time with your family. It's a low-impact exercise that can be enjoyed by all ages and abilities.
Quality time: In today's busy world, it can be difficult to find time to spend with your family. Walking the Camino allows you to disconnect from technology and distractions and spend quality time with your loved ones.
Cultural experience: The Camino is not just a physical journey, but also a cultural one. It's a chance to learn about the history and traditions of the region and meet people from all over the world.
Confidence-building: Walking long distances can be challenging, but completing the Camino as a family can be a huge confidence boost for kids and adults alike.
Bonding: Spending several weeks walking together can create a deep bond between family members that can last a lifetime.
Spirituality: For those who are religious or spiritual, walking the Camino can be a deeply meaningful experience. It's a chance to reflect and connect with a higher power.
Preparing for the Journey
Once you've chosen your route and travel dates, it's time to start preparing for your family Camino adventure! How exciting! Here are some things to keep in mind:
Physical Fitness: Walking the Camino can be physically demanding, especially for children. It's important to start training and building up your family's fitness level well in advance of your trip. Check these tips on how to train with children!
Gear and Equipment: Of course, proper gear and equipment are essential for a successful Camino adventure. Make sure everyone has comfortable, well-fitting shoes, as well as lightweight, breathable clothing. We've written a blog post to help you pack for your Camino. It includes recommendations and some tips and tricks from years and years walking the Camino. Make sure to check it!
Accommodation: The Camino offers a range of accommodation options, from simple pilgrim hostels to luxury hotels. Choosing the right one for your family is especially important when traveling with children!
Food and Water: Keeping everyone well-fed and hydrated is essential for a successful Camino adventure, and it will definitely make it easier to walk with children. Pack plenty of healthy snacks, such as fruit, nuts, and granola bars, as well as a reusable water bottle for each family member.
Let us Make Your Family Camino Easier
By carefully planning your Camino trip with your kids we can ensure that it will be fun, hassle-free and rewarding for the whole family.
Your dedicated Camino Planner will learn about your family so that they can create the ideal trip for you. They can add extra rest and exploring days, recommend the best route, and make bookings a breeze. If you need anything extra – they know all the best additional experiences and upgrades too!
Request a free quote today and start training for your family Camino!