Can you walk the Camino with your kids? Is the Camino a good choice for families? Will my teenagers, children, or toddlers be able to walk the Camino? Plenty of people ask us if they can walk the Camino with their children, and yes, it is completely possible!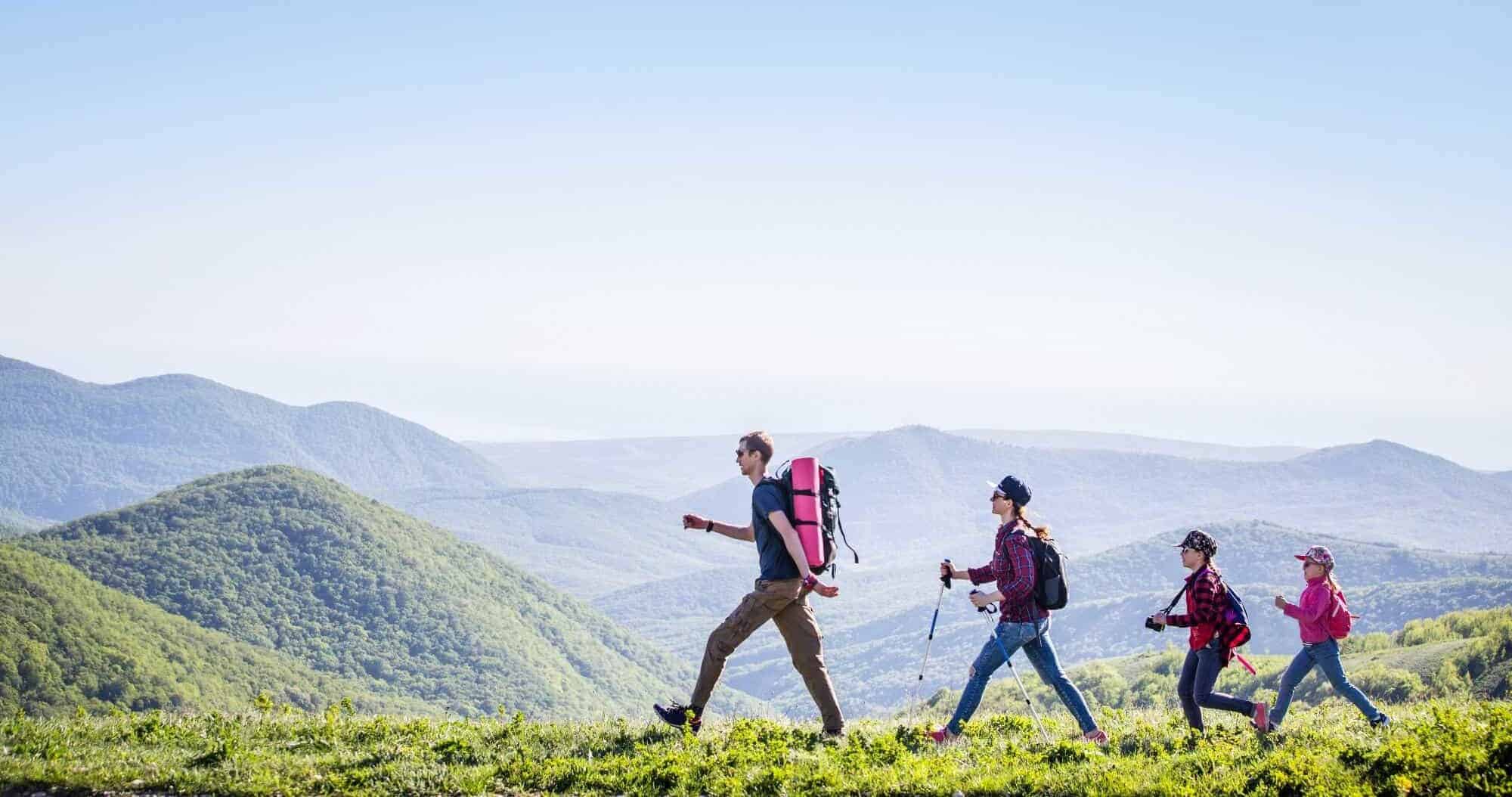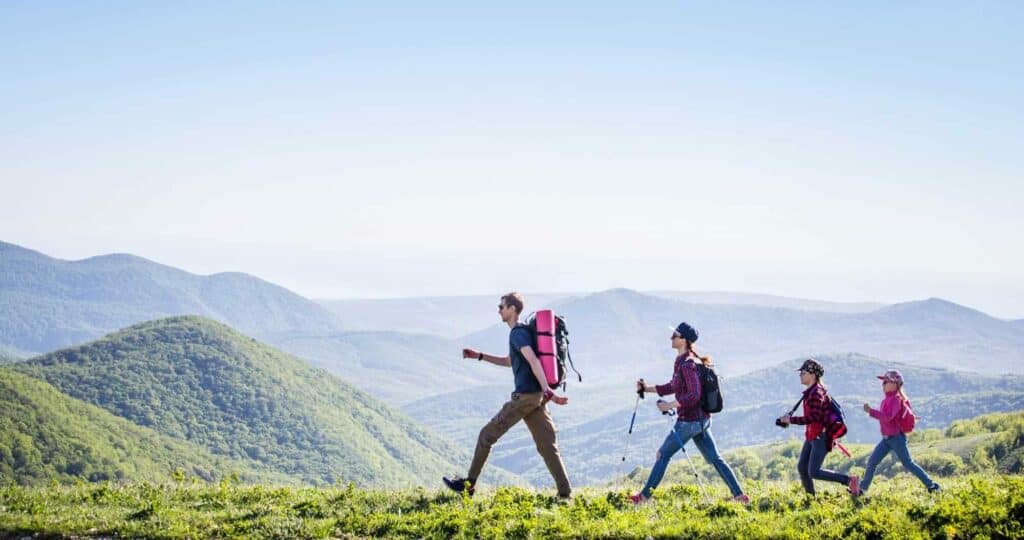 The Camino de Santiago is an excellent holiday for the whole family!
Many people are walking the Camino as a family, taking their children and teenagers along with them. Walking the Camino with your kids as a family holiday is a great way to open their minds to Spanish culture in an engaging and hands-on way.
Create lifelong memories and spend real quality time with your kids, without the distraction of technology and your normal busy lives. Disconnect from the every-day and connect with them as they learn and develop.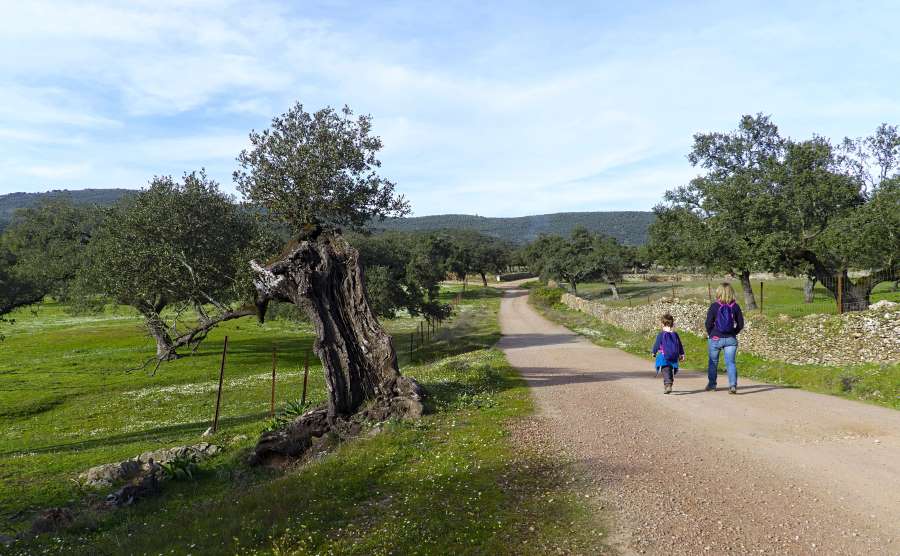 What You Should Know Before Your Family Camino
If you decide to walk the Camino with your children there are few practical steps to take to ensure everybody has a fun and safe experience.
The first thing to note is that the Camino can be quite physically demanding with long walking days in the sun. Teenagers should be absolutely capable of the exertion required, but younger children will find some Camino routes or sections too challenging.
Follow the Camino will help you choose a route that is appropriate to your family's capabilities and can arrange shorter days in some places. We will also make sure that all of your accommodation is appropriate for children, and take care of any added requirements for you!
Preparing Your Children for the Camino de Santiago
Before you set off, we recommend talking to your children about the significance, religious and otherwise, that the Camino has for many walkers. There are some great kids books that you can read to them to help with this!
Get your children motivated and excited from the beginning. Build up their awareness and create a sense of adventure in advance of leaving. Everyone finds the first few days hard and kids are no different. But once they've gotten over their initial doubts they'll start to really get into the swing of things. Giving them challenges, playing games, and keeping their minds busy will help, so talk to them beforehand about what will work for them.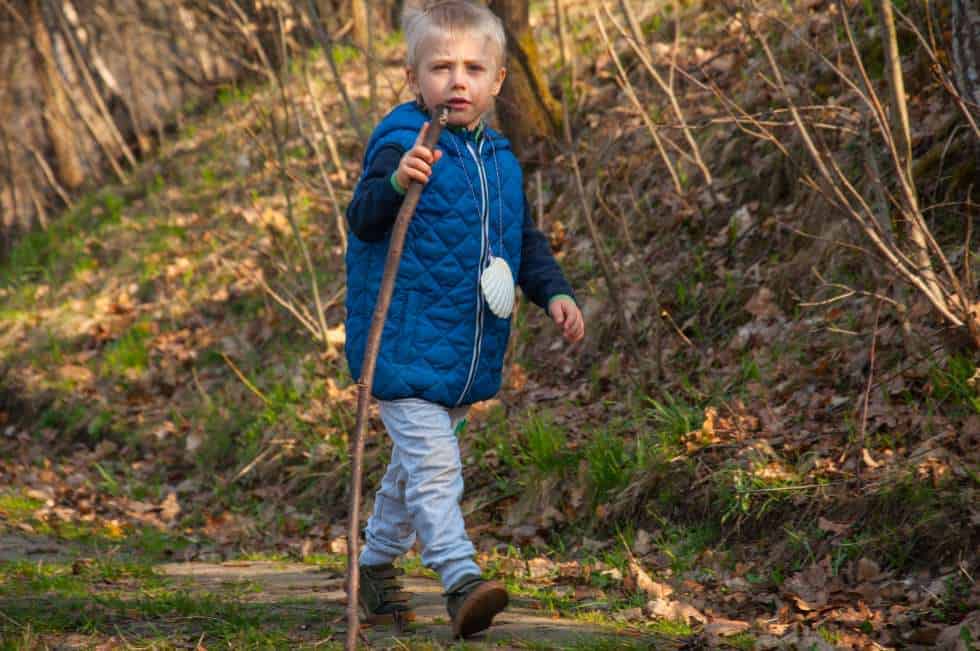 Make Things Easier with Luggage Transfers
Carrying a pack on the Camino can add a lot of extra difficulty on the Camino, and if you have children with you the bags will be extra heavy! This is why we offer a luggage transfer service that ensures your bags will always be waiting for you at your next hotel. Taking the extra weight off will make your journey much more enjoyable and give you more energy to spend on your family!
All you will need to carry each day is a light bag with your daily supplies. There are some great bags for children too, so they can be responsible for their own snacks and water bottle or so that you can carry them if needed.
You might also want to add a scooter for some sections (we will let you know which ones!), which can help your kids to have fun AND cover more ground!
Kids Clothing on the Camino
Make sure that you pack the right kind of clothes for your family journey on the Camino. We recommend quick-drying clothing that won't rub – try it out on training walks to make sure, and a few layers to manage temperate while you walk. Make sure your children have sturdy, comfortable footwear that has been broken in ahead of time – blisters are no fun.
You can bring some 'normal' clothes for the evening as you won't need to worry about carrying them. You can also bring swimming clothes if your hotels have a swimming pool, or if you are walking the lovely Camino Portuguese Coastal route!
Staying Sun Safe
Spain is lovely and warm, but younger people may not have the experience to know when they need to rehydrate. When packing for your day on the Camino with your kids, pack lots of water and make sure you are all carrying water bottles. There are fountains scattered along the way where you can fill these up. Make sure the kids drink at regular intervals. You can also use drink breaks to help keep your family motivated. "We'll stop for a drink break and a treat at the next big tree!"
There is very little shade on some sections of the Camino, so ensure that your children wear full brim hats and strong sun-block. If your children are very young you can also carry them in covered baby backpacks. Sunglasses can be useful along the bright trails. Make sure to check for UV protection!
Many walkers will wear a light long-sleeved top as well for extra sun protection. An old long-sleeved cotton shirt can be a great option for this, and the kids can decorate them and get them messy without worrying about messing up new clothes.
When Is the Best Time to Walk the Camino with My Family?
Many families choose to walk the Camino in April or September when the weather is pleasant but not overly hot. You can see more detail on the weather along the Camino routes here.
We suggest walking the Camino with your children during mid-term breaks, as this is the preferred time to go for many families. If your holidays are a bit different, we can recommend a route that is likely to have more moderate weather for whatever time of year your family wishes to travel.
Learn more: Download your FREE Camino e-book!
Discover the routes and sections of the famous Camino de Santiago pilgrimage.
Download
How Far Should I Walk Per Day With My Family?
The number of kilometres that you cover each day on the Camino can be customised to suit your family. If you have younger children they may get tired more quickly and need to walk fewer kilometres and rest more. We can easily make sure that all of your days are a manageable distance for your children – usually under 20km per day.
You can also check at your accommodation each morning to find out if there is a town along the way that you could take a taxi or bus from if your family gets tired. Some families will choose to split into two groups after a few hours of walking and have younger kids take a taxi the last few kilometres of the day. This way older children, teenagers, and fitter parents can keep walking and younger children can still be part of the Camino experience.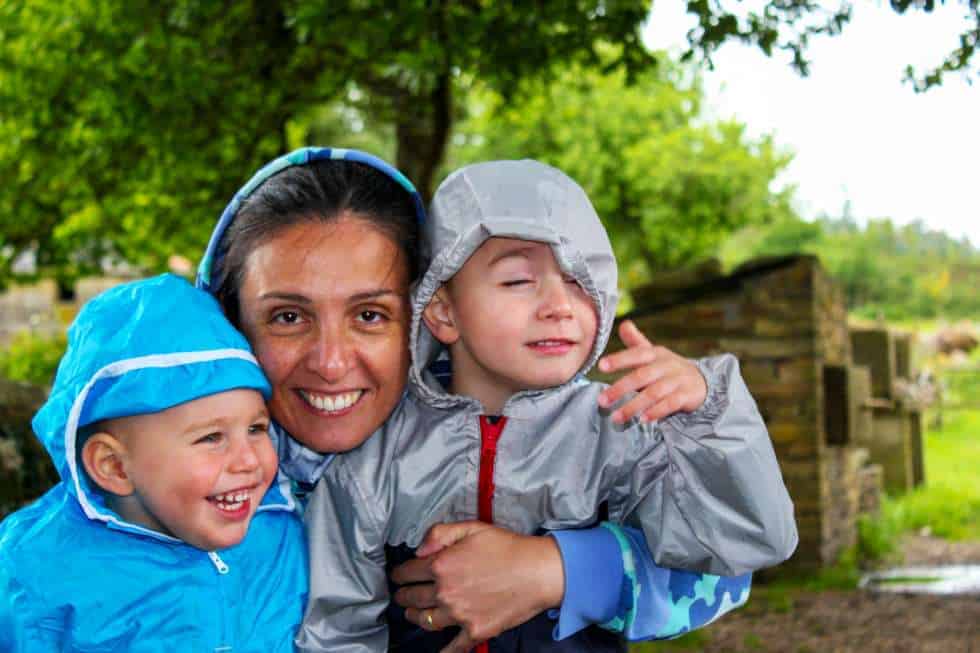 Keeping Families Motivated on the Camino
Young children, in particular, can have shorter attention spans and lose enthusiasm for walking after a couple of hours. It's important to set them reasonable targets for the day (for example, say the group will walk six kilometres and then have lunch) to keep their motivation up.
A pack of cards, reading material or something similar also helps to give them something to look forward to and keeps them happy during downtimes. There are plenty more ideas on our blog for keeping children going on the Camino.
Which Camino Route is Best for Your Family?
There are plenty of different routes and start points on the Camino so you can customise the walk to your kids' exact needs. Here are a couple of our favourite Camino routes for families with children:
Camino Frances from Arzua to Santiago de Compostela
This route gives you the chance to walk the final stretch of the Camino into Santiago de Compostela. It covers 37 kilometres over four days, so it shouldn't be overly demanding for the little ones. The French Way of Saint James is the most popular and well-known route, so it has an abundance of services and places to stop. The well-marked trails take walkers through the green hilly landscapes of Galicia, eucalyptus woodlands and typical rural villages.
If you are looking for a longer route, the last 100km into Santiago can be completed in 11 days and the kids can also receive their Compostela!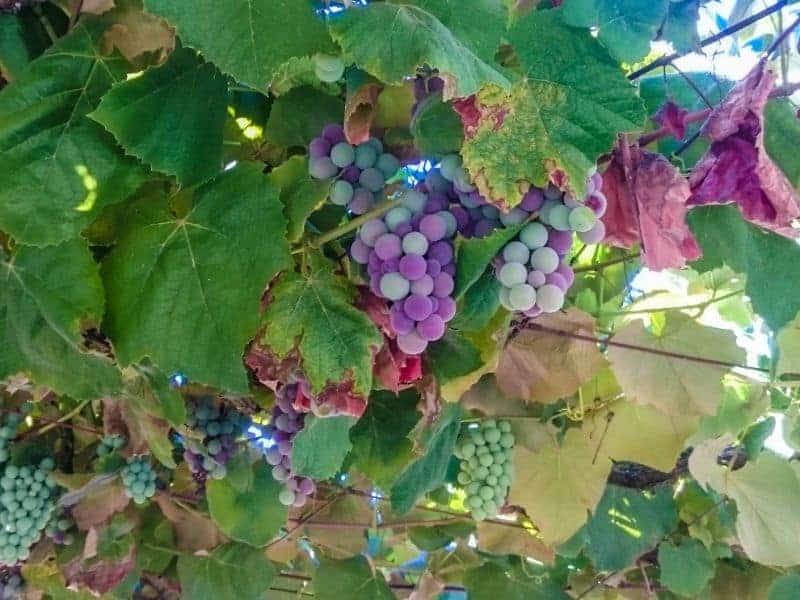 Camino Portuguese Coastal from Oia to Santiago
The last section of the Portuguese Coastal Way is a great option for older children. The days are a bit longer, but there are loads of options for ice cream breaks and picnics on the beach. The paths are very well marked and easy for shorter legs, too!
This route is wonderfully diverse and you will walk along promenades, through forests, and over hills. There is so much for little eyes to see!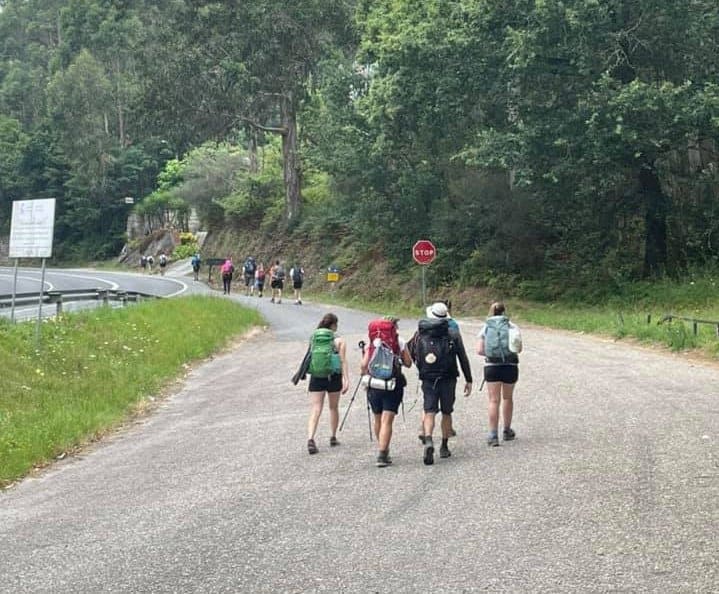 Camino Portuguese from Tui to Santiago
Our short walking days itinerary on the Camino Portuguese Central route has plenty to offer. This itinerary is relatively easy and gives the whole family a taste of both Portugal and Spain in 11 days. Some of the highlights include ruined castles, yummy custard tarts, old stone bridges, passing trains, hot springs, and of course Santiago.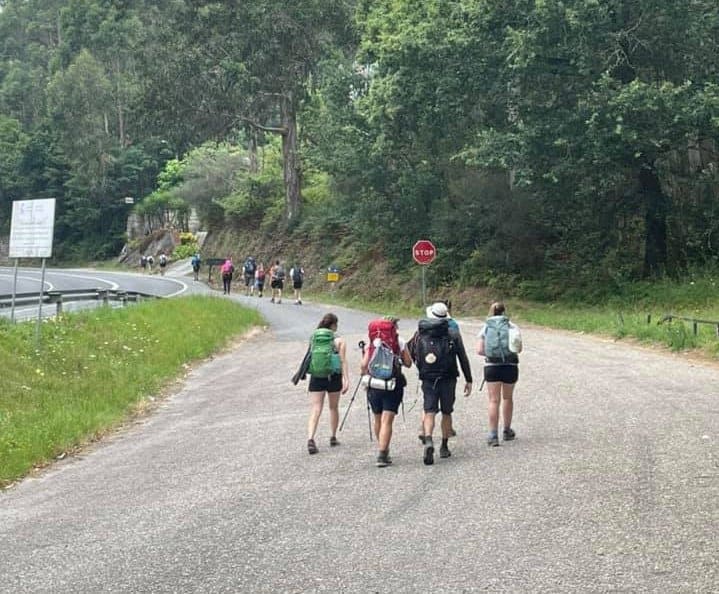 Teenagers may enjoy cycling one of these routes, the choice is yours! Click here to view our various route options available. You can also find them by clicking on the "Camino Tours" tab at the top of the page.
Family Friendly Accommodation
When you book your family Camino holiday through us, you can relax knowing you're guaranteed specially selected accommodation that will suit your family's needs.
Usually, you will arrive at your lodgings in the afternoon, giving you and your family plenty of time to rest, have a refreshing shower, enjoy dinner or visit the local village. Your young ones should be tired enough to leave you to enjoy a couple of hours of "free time".
In some towns and cities, we can book hotels with extra family-friendly facilities such as swimming pools. We will let you know what is available along your itinerary.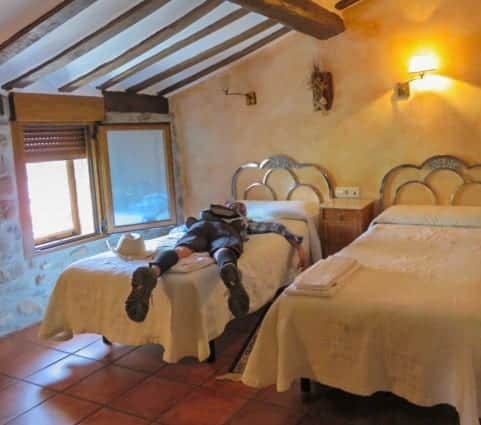 Let us make your Family Camino easier
By carefully planning your Camino trip with your kids we can ensure that it will be fun, hassle-free and rewarding for the whole family.
Our past clients who have walked the Camino with their kids loved the experience. Here is what a father who walked the first section of the Camino Frances with his 10-year-old son said about his trip with us:
"A spectacular trip. Thank you for setting this up on short notice — literally one of the best things I've ever done. Joaquin had an amazing time and we loved the journey, the people and of course the time together. He wants to finish before he is 18, so that means a few more trips."

John and Joaquin Stubbs, USA
Have a look at our blog for more information and advice on planning your family Camino! We have plenty of articles to help you prepare, and we are happy to answer any of your questions.
For all the parents out there who may be thinking about embarking on the Camino with their kids. Max Maximov walked the Camino with his daughter and he talked with us about tips and things to consider before you do so.
Camino de Santiago is a great way to bond more with your family members and here are some more reasons why you should walk the Camino de Santiago!
If you decided to go on the Camino adventure with your family and you're looking for some tips that could be useful on your walk, go check out the interview with Camino author Bennett Voyles who went on an epic journey along the Camino de Santiago with his wife and three children!
If you have any more questions about any of our walking holidays or our services, please don't hesitate to contact us at info@followthecamino.com
The Camino is Open for 2024 Bookings!
Get in now to secure the best accommodation for your Camino!
Discover this empowering journey across Spain, Portugal and France for yourself.

Journeys from 3 to 90+ days available.
Flexible itineraries Luggage transfers Private rooms & bathrooms
Contact us