Oct 16 · Alia
Queimada: Make The Drink That Protects You From Evil Spirits
Ward off evil spirits this Halloween with the traditional Galician fiery drink of Queimada.
Halloween in Spain is not the consumer candy and costume-filled holiday that is usually associated with Halloween. Each region of Spain has its own customs and traditions for this holiday – which generally is a three-day event celebrating the lives of those who have passed away. In Galicia, due to the region's Celtic roots, Halloween is more popular and celebrated. It is called Noite dos Calacús (Night of the Pumpkins) and usually celebrated with pumpkin carving, costumes, and trick or treating.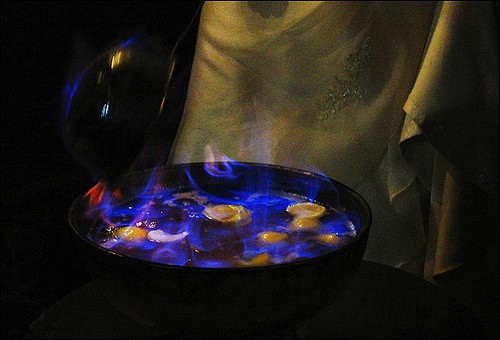 One of the Halloween highlights in Galicia is the strong alcoholic beverage of Queimada. It is made with orujo, unground coffee beans, sugar, and lemon rind or orange peels. Traditionally, the Queimada is prepared within a pumpkin and consumed after reciting a spell (esconxuro). Now, many families have a specially designed clay pot that comes with cups, to prepare the drink. Tradition calls for chanting spells while making the Queimada.
The spells ward off evil spirits that want to curse the unfortunate souls that cross their path. It is best to make the drink at night or with the lights off because the caramelised sugar produced a pretty blue flame popular with tourists and kids alike.  
Note: This drink is not for the faint of heart, drink with caution.
Need:  


Fireproof clay pot




Long wooden ladle 




¼ cup of coffee beans




4 tablespoons sugar




A bottle of oruju (or Italian Grappa)




Coffee beans




Lemon rind or orange peels




Gloves (as a precaution) 
Instructions: 
 (a little bit dangerous to make so be cautious)



Wear gloves




Place all ingredients in the clay pot




Pour some of the alcohol and put some extra sugar, wait until sugar is dissolved




Set alight




Place some of the alcohol and sugar in the ladle and drop it in the pot and repeat until spell complete
Follow the Camino organises walking and cycling holidays in Europe for adventure seekers from all over the world. Since 2006, we've offered a great range of manageable walks and cycles for all age groups, in particular on the famous Camino de Santiago. We were the first ever tour operator to operate the Camino de Santiago by creating manageable sections along the main routes to Santiago de Compostela. We are often copied but never equalled!
To find out which route might be best for you, contact our Camino Planners through the form on the top-right-hand side of the page to get your free customised Camino itinerary.