The Camino is more popular than ever, both in terms of pilgrims walking the Ways and in terms of people talking about them! With travellers coming from all around the world, telling stories, reading books, and watching movies, you might hear some Camino myths and things that are not correct or won't happen to most people.
Remember that everyone's Camino de Santiago pilgrimage is different. Your journey will depend on you. Your preferences, your choices, when you go, where you go, how your body responds, and how you travel.
Here are some of the most common myths about the Camino – BUSTED!
Myth: The Camino Frances is the "Real Camino"
The Camino is the Way of St James or the Way to the tomb of St James. Over thousands of years, people have walked hundreds of different routes to the tomb of Saint James and each of those walks was a "real" pilgrimage. The Camino is a whole network of pathways that lead to Santiago, with nine main routes.
In recent years, the French Way, or Camino Frances from St. Jean-Pied-De-Port has become the most popular and most widely known route, but it is still just one of many.
MYTH BUSTED! All pilgrimages towards Santiago are real Caminos.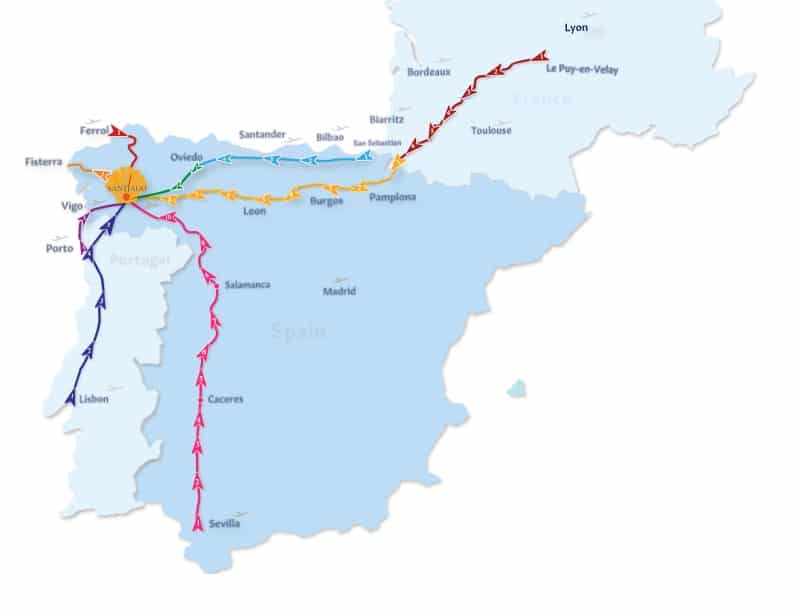 Myth: You Need to Walk for a Long Time on the Camino
While it is true that many pilgrims do walk for weeks or even months to get to Santiago there is no requirement to do this to call yourself a pilgrim. The Camino is a network of pathways that you can walk, and pilgrimage is different for everyone.
Pilgrims do say that they feel that they connect more with the walk the longer they are on the trails, but there is no shame in going for a week at a time. If you are walking the Camino de Santiago then you are a pilgrim!
It is also worth noting that you only need to cover 100km of the Camino by foot or 200km by bike to gain your official Camino certificate – the Compostela.
MYTH BUSTED! You can walk for as many or as few days as you like.
Myth: You Will Lose Weight on the Camino
The common thinking is that if you walk the Camino, you will be out on the road 5-6h every day exercising, and burning loads of energy. For some people, this might mean that they lose weight, but there are plenty of other things to consider!
The Camino offers plenty of food and drinks that we all want to taste and enjoy. You tend to increase your reach food when you are abroad, especially when you are also being physically active. This means you are likely to take in more energy too.
Of course, it also depends on your body. Men are slightly more likely to shed extra fat, women are more likely to keep it on. If you always do lots of exercise, then the Camino across Spain won't be much of a change so your body won't change. Some bodies are more prone to fat storage and shedding than others.
If you would like to learn more about weight loss on the Camino check out our blog. Always remember that your weight is not necessarily a good way to judge health and fitness and walking is good for your cardio and strength, regardless of your weight.
Don't think too much about it. You are going on a great journey to experience, learn and enjoy yourself. Gaining or losing weight might happen, but it is not the main focus of the Camino.
PLAUSIBLE! But, it is not the same for everyone!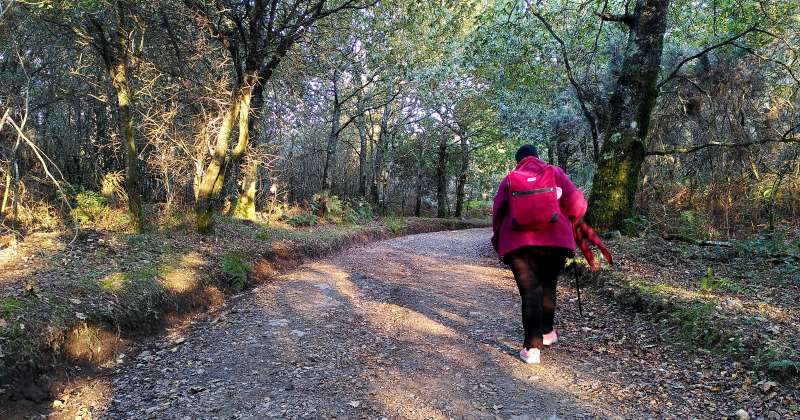 Myth: You Need to Walk 20-30km Every Day
You can walk as much as you like! There are a number of different options for how long you walk each day. Many people find that 20-30km (12- 19 miles) suits them, so this has become very common, however it is definitely not a rule!
Plenty of our clients split longer sections into more pieces, add extra nights, and walk much less each day. This has plenty of benefits, especially the extra time each day to relax and explore! Check out some of our Short Walking Day itineraries!
There is usually accommodation every 10 to 15km on the Camino Frances and the Camino Portuguese. In a few of the more rural areas, there may be slightly bigger gaps so you will need to walk a bit further on those days, but there is always the option of taking a taxi to your next stop if needed. If you are interested in shorter walking days – just ask your Camino planner!
MYTH BUSTED! You can walk whatever length suits you each day.
Myth: You Need To Suffer and Forgo Comforts
Some people associate pilgrimage with suffering and struggle. This is not a requirement. Everyone comes to the Camino with their own intentions, past experiences, and desires. You will occasionally still see pilgrims who walk the Camino barefoot, with huge crosses, with full bags and sleeping under the stars. Some pilgrims insist on sleeping in church halls, pilgrim hostels, and very rudimentary shelters.
All of these are their own choices and are not requirements for the Camino.
You can choose the level of comfort that suits you! Many pilgrims walk short distances, most wear comfortable and modern shoes and clothes, and plenty stay in nice accommodation. Some pilgrims on the Camino de Santiago even stay in luxury hotels along the way and eat at Michelin star restaurants!
MYTH BUSTED! It is your Camino and you can travel in whatever level of comfort suits you.
Myth: You Need To Carry All of Your Gear
A few hundred years ago, people did carry what they needed the whole way. But that was a long time ago, before baggage transfer companies started! There is no requirement to carry your own bags. Many people have their main luggage transported for them and only carry a small bag with water and snacks.
You can have your bags transferred between your accommodation on all of the main routes. We include luggage transfers between accommodation on the Camino in all of our trips. We use reliable local companies, so your bags are safe and arrive every time.
You don't need to bring much. We have a comprehensive packing list, and anything that you do find yourself needing can be bought along the way too.
MYTH BUSTED! There is no reason that you need to carry your own bag.
Myth: The Camino is Only for Religious People
The history of the Camino is based in religion. The pilgrimage is was a walk of the faithful to the remains of St James. However, there is no requirement for pilgrims to be Christian or even religious to walk the Camino.
As it has gained popularity, more and more people walk the Camino for more broadly spiritual reasons, as a journey of self-discovery, for fitness and physical challenge, and other reasons. The Camino de Santiago is for everyone.
You can enjoy the values, camaraderie, scenery and amazing experience of the Camino even if you do not believe in a religion.
MYTH BUSTED! The Camino walk across Spain, Portugal and France is for everyone – whether you have a religion or not.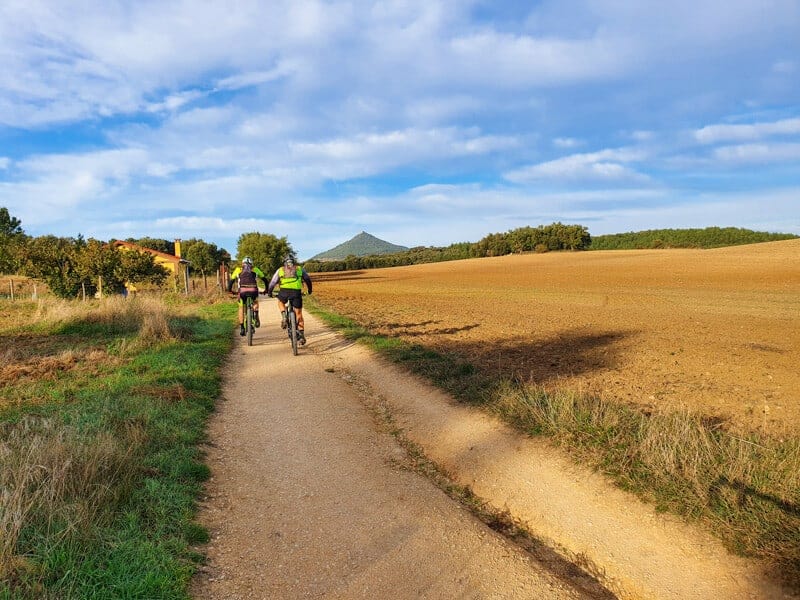 Myth: The Camino is Difficult
The Camino consists of 9 main routes that cover Spain, Portugal and France. Each of these routes covers a wide range of terrain with varying difficulty. Some sections are better suited to more experienced hikers and off-road walkers, others are wide and well-marked footpaths with easy terrain.
While it is true that some sections of the Camino may be more challenging for inexperienced or unfit walkers, there are plenty of options that are very easy to walk.
There are also ways to make even the most challenging sections more manageable. You can split more difficult days into multiple days, add taxi transfers if needed, or hire a bicycle for a few days to take a different route. When you are planning your Camino, talk to your Camino Planner about your level of fitness and any injuries that you are concerned about and they will help you to make the route work for you.
A bit of training before you leave will also help to make things much easier.
MYTH BUSTED! The Camino routes may have challenging sections, but there are ways to make your route suit you!
Walk Your Own Camino Pilgrimage
With these Camino myths busted we hope that you will feel more comfortable walking the wonderful Way of Saint James! We have plenty more interesting information and news about the Camino on our blog, so have a look and read more.
Follow the Camino are the Camino experts, with over a decade and a half of experience creating customised walking and cycling experiences on the Camino de Santiago. We would love to help you to plan the ideal Camino for you, so get in touch for a free custom itinerary!
The Camino is Open for 2023 Bookings!
Some of our top accommodation booked out in 2022, so get in now to secure the best accommodation for your Camino!
Discover this empowering journey across Spain, Portugal and France for yourself.

Journeys from 3 to 90+ days available.
Flexible itineraries Luggage transfers Private rooms & bathrooms
Contact us