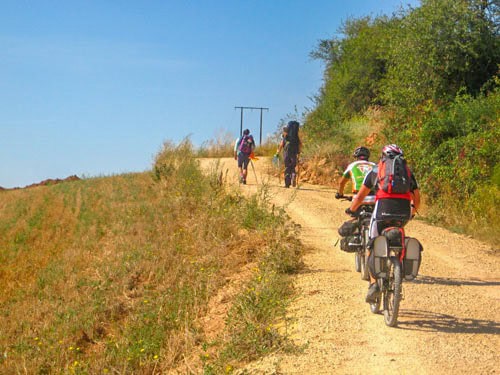 Walking may still be the most common way of travelling the Camino de Santiago, but a growing number of pilgrims are cycling the Camino. In fact, they even have their own name – 'bicigrinos'.
If you are thinking of joining them on a cycling adventure like no other – we can help.
What do you need to know before cycling the Camino?
You'll see more
Cycling is faster than walking (usually… some hills might not be!) so you can cover more ground each day. In general, our cycling trips will have you covering about 2 times the distance that you would be walking. This means you'll see twice as many towns, and you'll see twice as much variation in the countryside.
Having a bike with you on the Camino also opens up more opportunities for side trips. A vineyard that would be hours away by foot may only take an hour to get to by bike. Therefore, you have more time to explore.
We can organise your bicycle for the Camino
You are welcome to bring your own bike over to cycle the Camino de Santiago. However, if you are coming from far away or if you are flying in this can be a bit of a hassle. We can make it much easier by arranging bike rental for you.
We work with local suppliers who know the Camino and specialise in bicycles that are best for this kind of active holiday. Renting through them, you are guaranteed the best bike for the Camino de Santiago. They also have e-bikes! Our suppliers will make sure you have the right bike for you and for your stage of the Camino. They also offer breakdown assistance as you go, just in case you need it.
On the topic of e-bikes…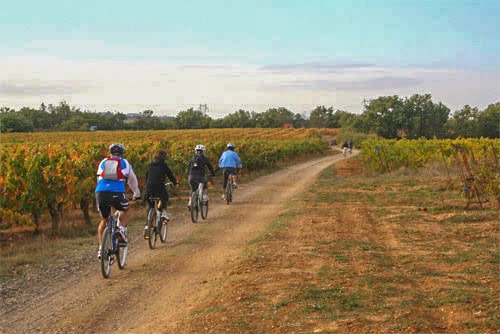 E-bikes can be a lot of fun and can make you go faster with less effort. However, these may not be an easier option for everyone. They are much heavier than a standard bicycle. They can be harder to handle when you are going slowly or pushing them around.
Our Camino Experts can give you the run-down on the different options and what might work best for you.
You'll need some special gear for cycling the Camino
Lycra, lycra, lycra! What a wonderful invention. It may not be your normal fabric of choice but something stretchy and close-fitting is important for cycling. You definitely want to invest in some good padded cycling shorts – your body will thank you. Most cycling shorts are designed to be worn without underwear, so bear that in mind.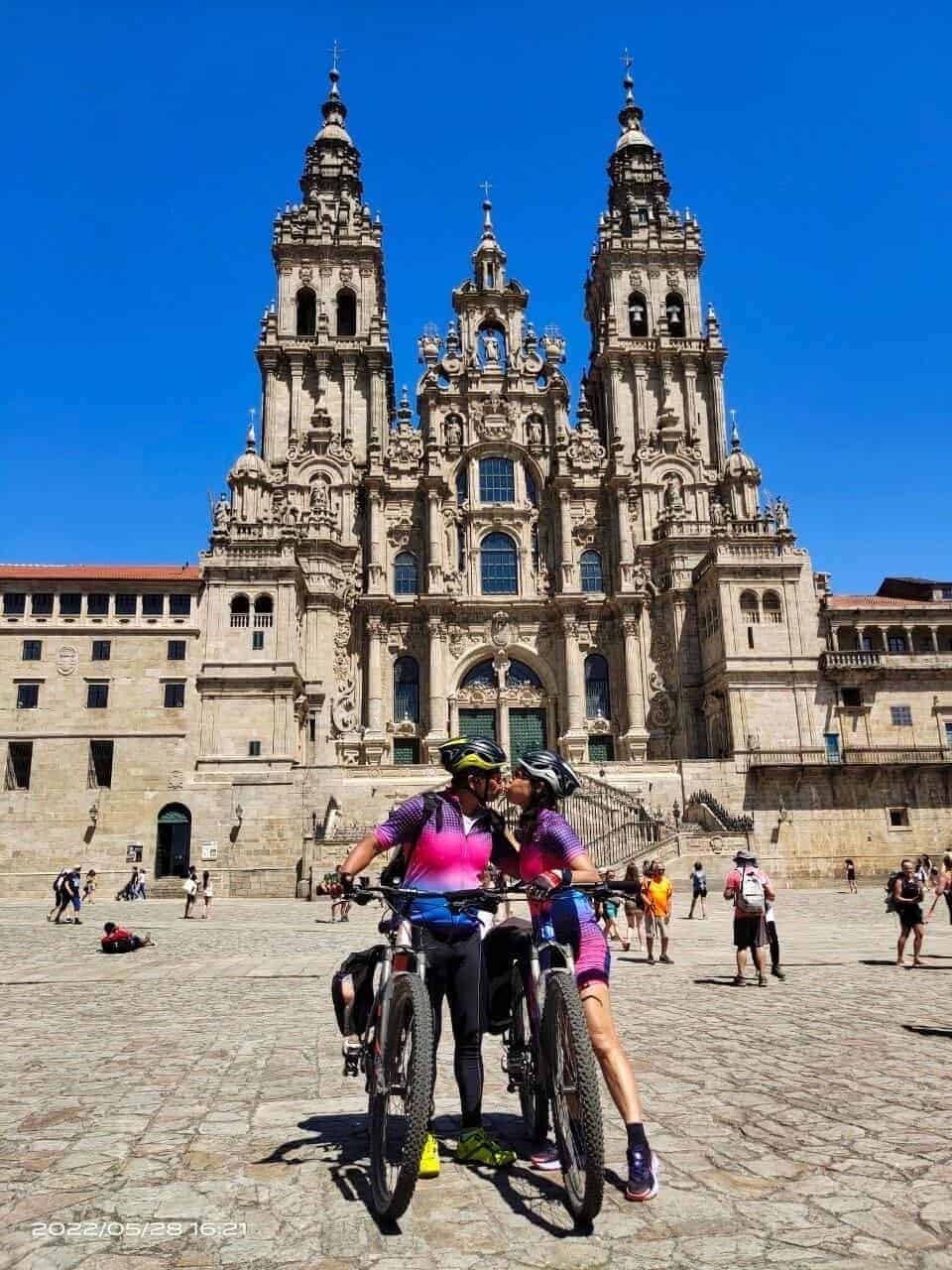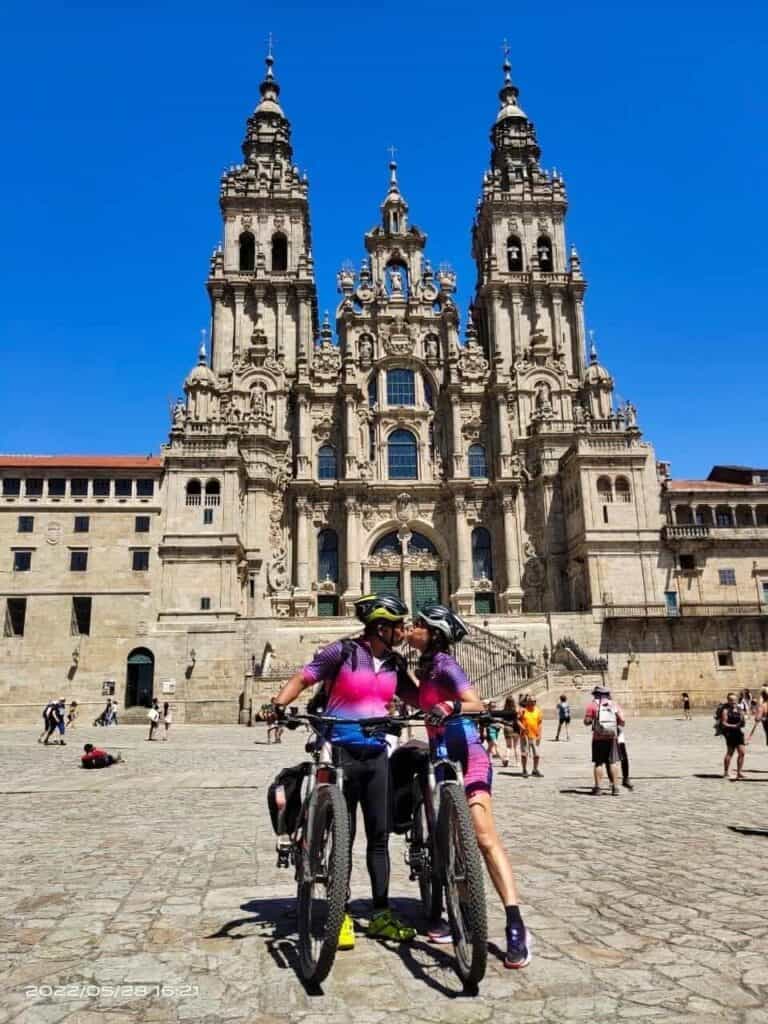 Aside from the shorts, you'll want good, moisture-wicking tops. Depending on the season you go in, this could include thin merino wool tops or just synthetic sports tops.
Those with something more in the chest department will want bras that are also made for exercise and have been tested on long-distance cycles while training. Your body is in a different position while cycling compared to running and this can result in rubbing.
A helmet. Obviously. There are some that have extra ventilation or that you can add more sun protection to, so have a look around.
Comfortable shoes with a good grip will keep you upright, even if there is a drizzle of rain or a splash of mud. You'll also be getting off your bicycle pretty regularly for sightseeing stops and getting your Camino pilgrim passport stamped. So it is important that they work for walking as well as cycling on the Camino.
Here is our packing guide for your Camino by bike.
All the other bicycle basics, like a puncture kit and little pump, are included in your bicycle rental when you rent your bicycle through us.
It isn't necessarily the easier option
You will need to cycle 200km to get your Compostela. Walkers only need to do 100km to get the same pilgrim certificate. The trail is often hilly and you will be on dirt tracks for at least part of the time.
If you aren't already used to being in the saddle for up to 5 hours per day this could be a bit uncomfortable. It will take a while for you to settle in.
You'll need to do just as much training for cycling the Camino as you would for walking the Camino. If you've never cycled before you might even need to do more.
Here is our recommended training plan if you are planning to do the Camino by bicycle.
You'll need to know simple bicycle "first aid"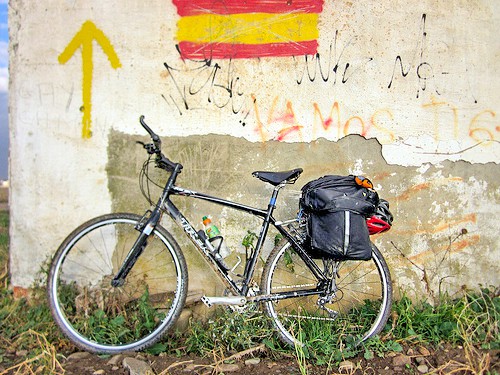 Fixing a puncture or changing a tyre, and putting your chain back on your gears. These skills are very easy to learn and will mean that you can get to where you are going. You'll be supplied with all the tools to keep you cycling, you'll just need to learn how to use them. The Camino de Santiago routes can be a bit rough on your bicycle, so these things are bound to happen. Of course, if something bigger happens – you have full break down support.
Want to know more about cycling the Camino?
Read about our fantastic cycling routes along the ever-popular Camino Frances (the French Way) and the picturesque Camino Portuguese (the Portugueses Way). Or get in touch to ask about booking your 2020 Camino de Santiago cycling adventure!
Cycle the Camino in 2023!
Discover the Camino by bicycle.
Cycle the iconic routes through Spain and Portugal on the cycle tour of a lifetime.

Book 3 months in advance to recieve a 5% discount!
Flexible itineraries Luggage transfers Private rooms & bathrooms
Contact us