Plenty of people ask us every day about the length of the Camino de Santiago, or Way of Saint James. The short answer is that the Camino is 500 miles or about 800 kilometres long.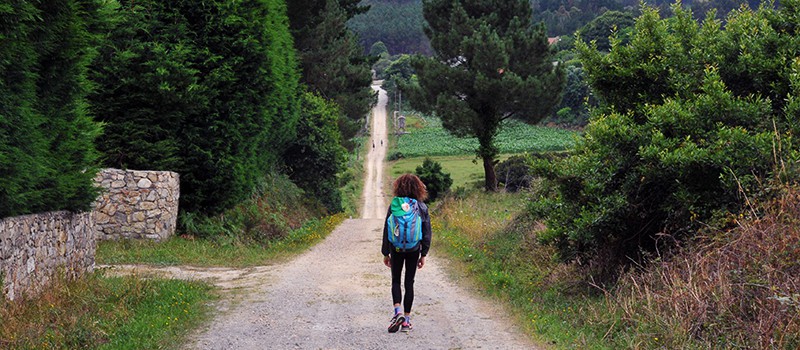 How long is the Camino de Santiago?
The longer answer is that this is just the length of the Camino Frances – the most popular Way of Saint James on the Camino network. This particular route runs from St. Jean-Pied-De-Port in France to Santiago de Compostela in Spain.
There are 9 main Camino routes, many of which have a few variations. You will also walk a little bit further by the end, with all the extra sightseeing, detours to cafes and vineyards, and walks to your accommodation from the trails.
How long are the different routes of the Camino de Santiago?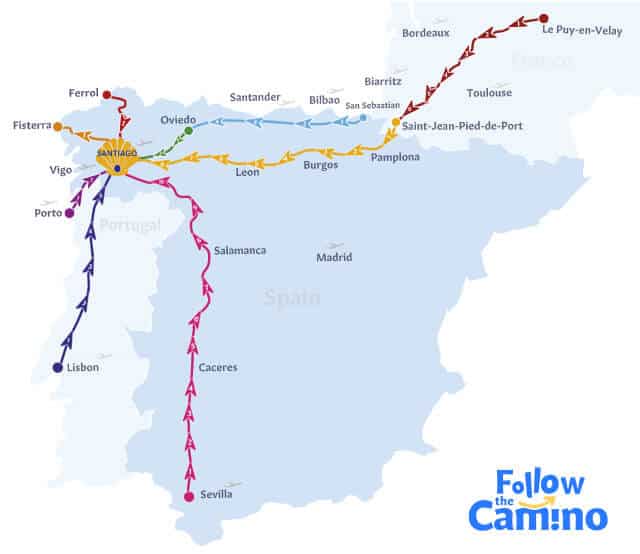 The Camino Frances is 500 miles or about 800 kilometres long.
The Camino Portuguese Central route is 620 kilometres long from Lisbon. That is 385 miles.
The Camino Portuguese Coastal route runs from Porto to Santiago and is 280 kilometres or 175 miles. You can also add this to the end of your walk from Lison which would make the route about 630 km – 390 miles.
The Camino del Norte runs from San Sebastian to Oviedo and then joins the Camino Primitivo route to Santiago. It is 400 kilometres, 250 miles.
The Camino Primitivo from Oviedo to Santiago is about 315 kilometres or 195 miles. That means that the combined distance from San Sebastian to Santiago is 715km (445 miles).
The Camino Mozarabe or Via de la Plata through Spain from Seville to Santiago is one of the longest routes at about 1000 kilometres! That is a massive 620 miles.
The Camino Ingles is the shortest Camino trail at only 120 kilometres (75 miles) from Ferrol or 75km (46 miles) from A Coruna. You can choose to add on 25 kilometres of walking in the UK or Ireland on one of the Celtic Caminos if you need to top up your miles to achieve your Compostela certificate.
Le Puy Camino is another route that is a little bit different because it starts in France and runs from Le Puy En Velay to Saint Jean Pied De Port where you can begin the Camino Frances. Le Puy route is 730 kilometres long or 453 miles.
Finally, we have the only Camino that leaves from Santiago – Camino Finisterre. The Camino Finisterre is 90 kilometres long and runs all the way to the west coast of Spain. You can add this extra 55 miles on after you get to Santiago or walk it as its own journey.
How long does it take to walk the Camino?
It takes about 30 to 40 days for the average person to walk the entire Camino Frances, walking about 12-15 miles per day or 20-25 kilometers. Of course, you can go at a more leisurely pace, or combine days to make it shorter, but we recommend around 36 days for most people to walk the full French Way. You can also walk just a section or just the last 100 kilometres of any route – you don't need to do the whole thing!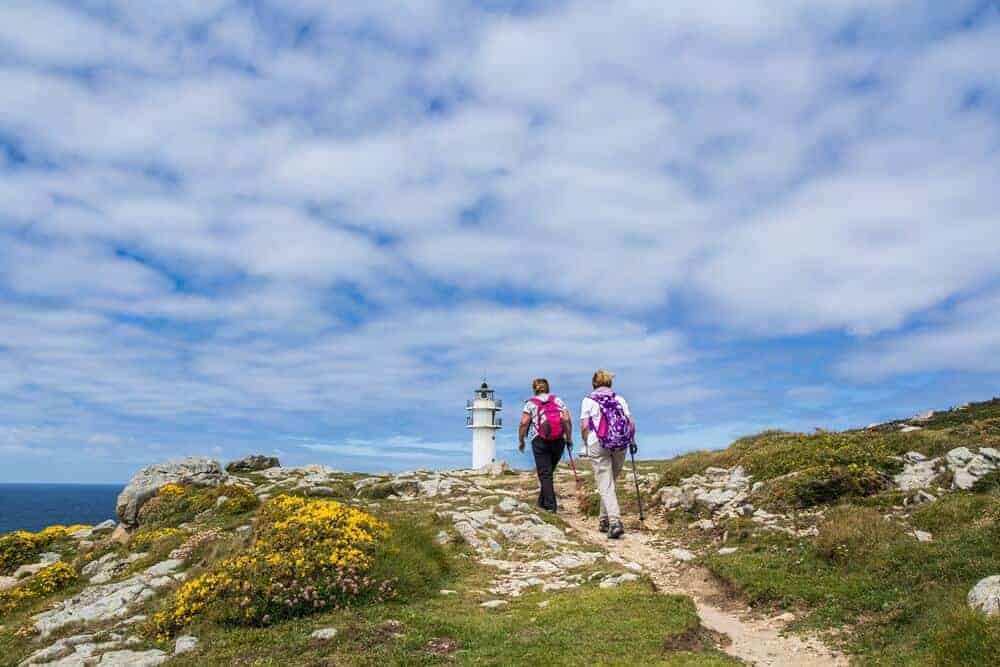 The other routes take:
29 days for the full Camino Portuguese
23 days for the full Camino del Norte
16 days for the full Camino Primitivo
at least 40 days for Via de la Plata (you will want some extra rest days on this one!)
5 days for the full Camino Inglese
at least 30 days for the full Le Puy Camino
6 days for the full Camino Finisterre
Many people will add at least a few extra days along the way to soak in the culture of Spain at a slower pace, fit in some sightseeing, add a visit to a vineyard or two, and rest your feet.
Learn more: Download your FREE Camino e-book!
Discover the routes and sections of the famous Camino de Santiago pilgrimage.
Download
How long is each day on the Camino?
Your average Camino day will be about 20 kilometres – which usually takes about 5 hours of walking excluding breaks. Some days will be longer or shorter, ranging from 10 to 15 miles. The length of time that you spend walking depends on your speed, the terrain, and the weather. It could range from 4 hours some days to 8 or more hours.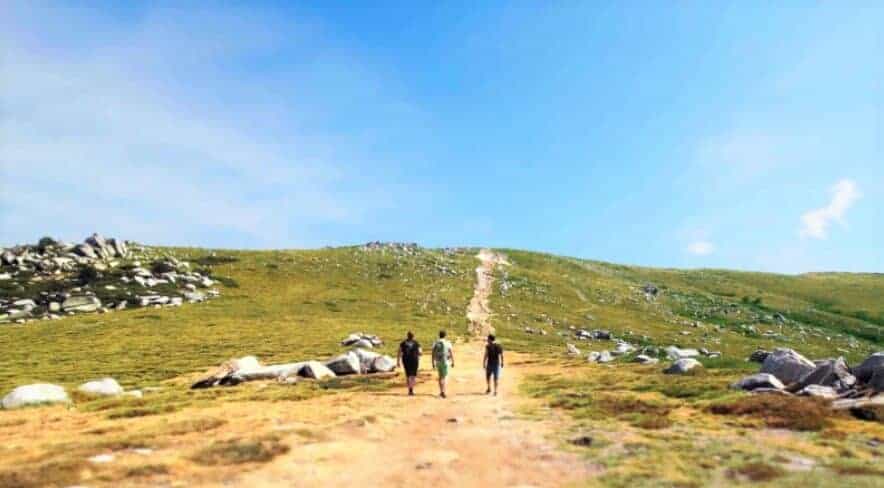 You can always take it slower if you would like to spend more time exploring or resting on your pilgrimage to Santiago. Look for Camino Short Walking Days itineraries that will give you a more relaxed pace.
How long does it take to cycle the Camino?
You can cycle the Camino about a third faster than you can walk it. That means that to cycle the Camino Frances will take you about 21 days. Cycling the Camino Portuguese will take about 7 days from Porto to Santiago.
Cycling the Camino is certainly easier on your joints, but you will want to get used to spending 5 or more hours in the saddle each day to make sure you are comfortable with a journey this long.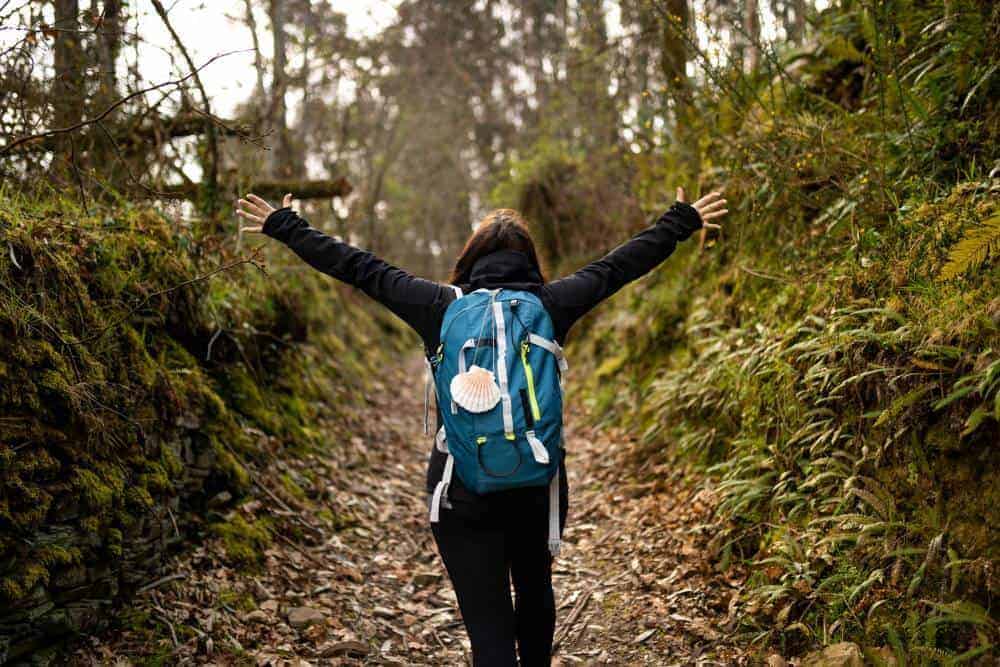 Your Camino can be any length you want!
Remember that you can always customise your Camino de Santiago pilgrimage to the time that you have available.
How long the Camino is for you is your choice. You can do as many kilometres as you are comfortable with over as many days as you have. There are plenty of beautiful places to stop for an extra day if you would like to take things slower, and there are options for skipping some sections by train, bus, or taxi if you need to.
If you have your accommodation booked in advance, this will allow you even more flexibility in the length of your walking or cycling days. You can enjoy a long lunch or take a detour to visit an interesting monument, without having to hurry to secure your bed for the night!
We help hundreds of pilgrims to plan their Caminos each year – from choosing the best length for you to booking hand-picked accommodation – we have you covered. Get in touch with us to chat about what you are looking for in your next Camino and have an itinerary customised for you – whatever the length of your Camino!
If the Camino de Santiago caught your eye and you have already decided to plan your adventure, it is good to know something about the city first. That's why we created our blog where you will find everything you need to know about this pilgrimage!
Also, if you're interested in exploring the British pilgrimage, go check out the interview with Peter Stanford who wrote a book called The New Geography which reflects on pilgrimage past and present, and compelling exploration of its relevance today!
Buen Camino!
The Camino is Open for 2024 Bookings!
Get in now to secure the best accommodation for your Camino!
Discover this empowering journey across Spain, Portugal and France for yourself.

Journeys from 3 to 90+ days available.
Flexible itineraries Luggage transfers Private rooms & bathrooms
Contact us