El Camino del Norte, Northern Way or Camino de la Costa is a route of the Camino de Santiago which starts in Irun, Northern Spain. The route leads to Santiago de Compostela after joining the Original Way (el Camino Primitivo) in Oviedo. Many people also choose to begin their Camino del Norte pilgrimage in the city of San Sebastián.
Known in Spanish as Ruta de la Costa, this Camino winds along the northern coast of Spain for almost 500 kilometres. The coastal route passes through the Basque Country, Cantabria, Asturias, and Galicia. It boasts beautiful views, wonderful beaches, fantastic food and plenty of vibrant Spanish fishing villages.
The History of El Camino del Norte
El Camino del Norte dates back to the discovery of the tomb of the Apostle Saint James the Great around 820 BC. Before the Spanish monarchs proclaimed the French Way to be the ideal route, the Camino del Norte was one of the safest and most walked routes. Pilgrims from across Europe would join the coastal Camino and walk along it to join with the Camino Primitivo in Oviedo, Asturias.
The route from Leon to Oviedo enjoyed even greater popularity from the late 11th century onwards, in spite of the French Way becoming more well known. Pilgrims walking the Northern way came by land from France. They also came by sea from countries such as Scotland, England, Wales, Germany, Ireland, and as far away as Scandinavia.
Pilgrims would then set out towards the sanctuary of San Salvador and onwards to the cathedral of Santiago de Compostela.
You can read a more detailed history of the Camino del Norte here.
Learn more: Download your FREE Camino e-book!
Discover the routes and sections of the famous Camino de Santiago pilgrimage.
Download
What to Expect on the Northern Way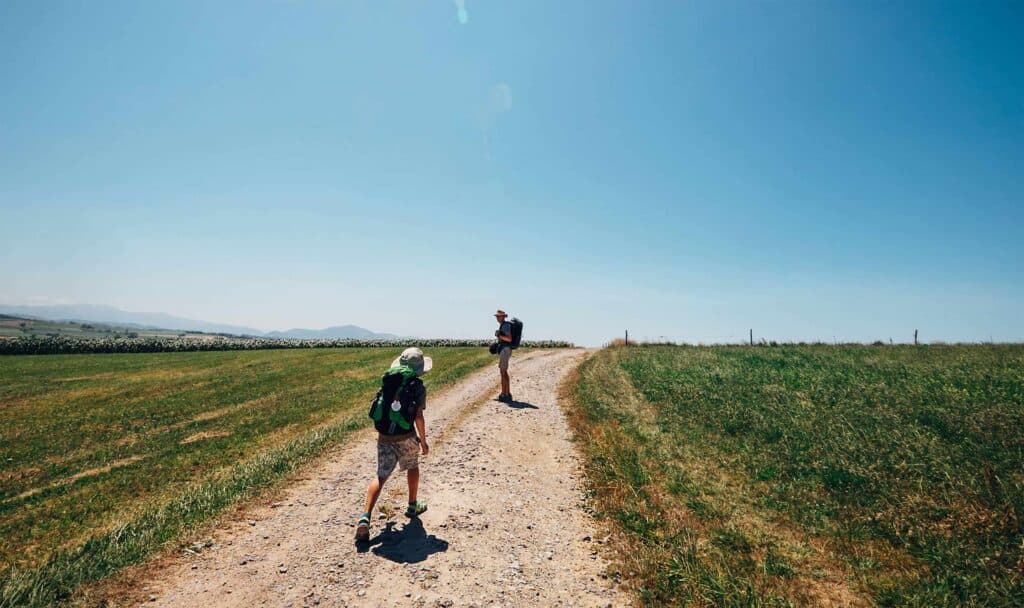 If you are looking for a less crowded and more adventurous Camino experience than the French Way, you will enjoy El Camino del Norte. While it is still a popular route you will see far fewer pilgrims walking this route. The paths are narrower and the hills are more rugged.
You will pass through delightful towns and villages such as Gernika, Portugalete, Laredo, and Santillana del Mar. Some of the towns and cities along the route are popular with Spanish holidaymakers, so there are plenty of services and restaurants to enjoy.
Northern Europeans tend to find this route more pleasant to walk in Summer than the Camino Frances, due to the cooler weather systems. Fresh coastal winds help to ensure you're kept cool and fresh during long summer days.
The food along this route is spectacular. Portions are generally large, food is hearty, and cider is a way of life! Expect a lot of seafood, comforting stews, and local ham.
The scenery is dramatic when you are out on the coast. Long sections run along cliff tops and beaches with blue seas stretched out to your right. Further inland, you should expect emerald greens that wouldn't seem out of place in lush Ireland!
The Terrain of the Camino Del Norte
El Ruta de la Costa is made up of a wide variety of terrains, but the majority of your walk will be moderately easy. A lot of the walk is on grassy hills along the coastline, with a few steep patches that reward you with magnificent views of the sea. If you do get tired along the way, you can take in the vistas while you rest!
Some of the way runs along small country roads and footpaths through farmland. You will also drop all the way down to the coast at several points – so make sure you pack your swimming clothes!
For a few days at a time you will walk inland and encounter more mountainous areas. This change is delightful and offers a different type of pilgrimage experience.
There are a few sections of the Camino del Norte that walk along busier roads, but they are perfectly safe and still run through stunning natural spaces. There are forests, small towns, and even flat sections to give your legs a break!
If all that isn't enough to convince you that the Camino del Norte is worth a visit – this wonderful pilgrimage route through Spain has even been added to the UNESCO World Heritage list!
If you're looking for some highlights of the Camino del Norte, we wrote down some of them that you will find along the Camino de la Costa in Asturias!
Also, it can be a romantic place as well! Trevor proposed to Fiona along the Camino del Norte and it will be in their hearts forever.
Take the first step towards your Camino and get a free quote for your journey! Ask us all your questions and let us make you a customised itinerary for your trip to northern Spain. Contact us at info@followthecamino.com for any questions about this route or our other Camino de Santiago tours.
The Camino is Open for 2023 Bookings!
Some of our top accommodation booked out in 2022, so get in now to secure the best accommodation for your Camino!
Discover this empowering journey across Spain, Portugal and France for yourself.

Journeys from 3 to 90+ days available.
Flexible itineraries Luggage transfers Private rooms & bathrooms
Contact us