Completing a journey on the Camino de Santiago is an incredibly rewarding experience that pilgrims from the UK get to enjoy each year. There is a great sense of achievement after tackling long-distance days, rolling hills, and potentially changeable weather. Thankfully, there is no need to add any extra difficulty to your trip with travel logistics if you are travelling to the Camino from the United Kingdom.
The important thing to mention is that since Brexit happened a few things have changed for UK pilgrims.
Below, we have outlined how to get to the Camino routes from the UK. Whether you choose to travel to your pilgrimage by air, land, or sea we have extra tips for you!
When it comes to booking your transport to the Camino from the UK there are plenty of options. We recommend that you check out apps and websites like Rome2Rio, Omio and Bus Bud. They can help you to compare and book the various bus and train schedules detailed below.
How to get to the Camino Frances from the UK
When travelling from the UK, there are several major airports that will connect you to the Camino Frances. Many of them have direct flights from across the United Kingdom. The airport you choose will be based on where you are starting and which section of the Camino you are walking.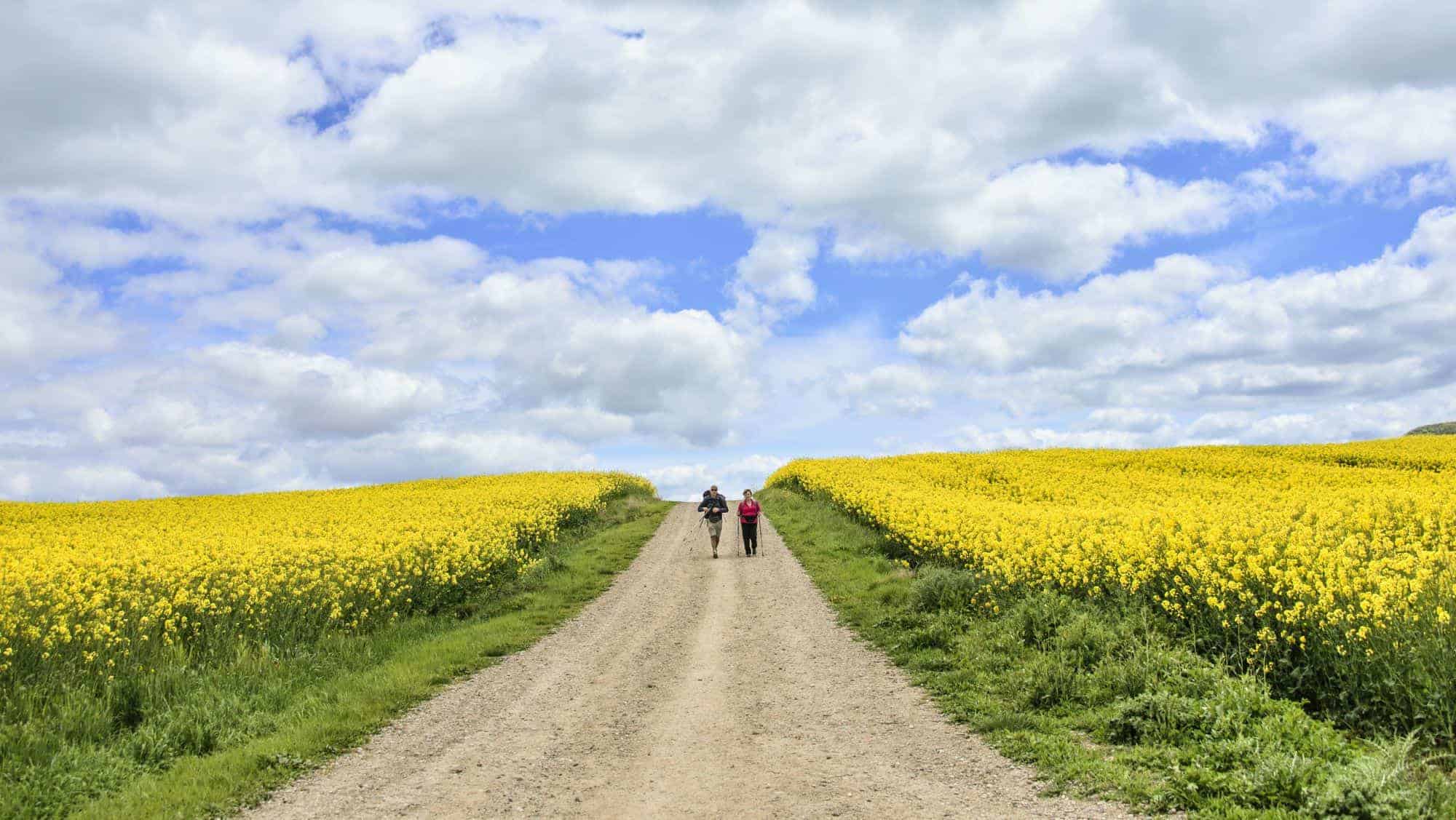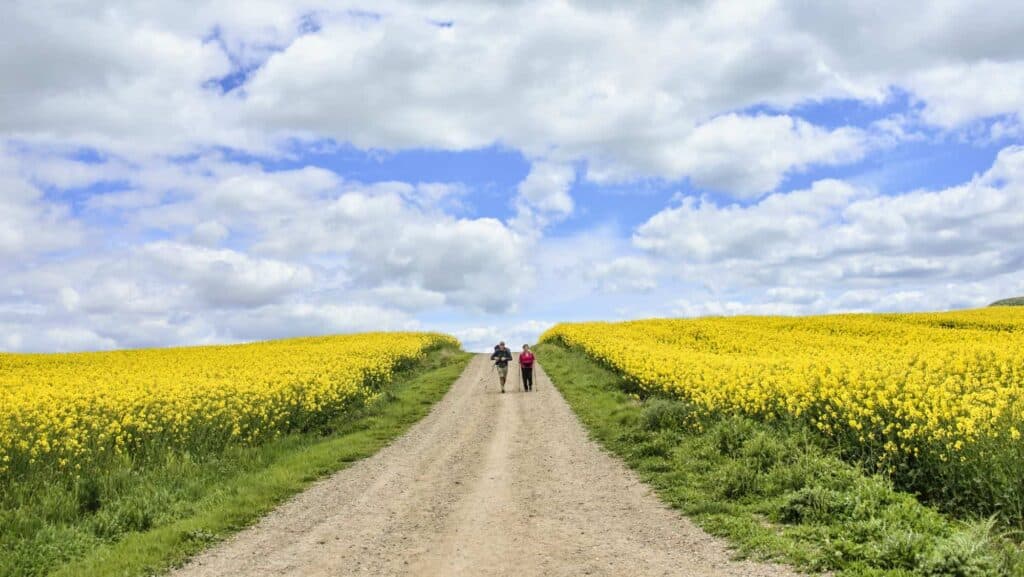 Sarria and Santiago de Compostela – Santiago Airport (SCQ)
For pilgrims completing the final 100km into Santiago de Compostela on the French Way, this is your most convenient airport. Both London Stansted and Longdon Gatwick airports offer direct, round-trip flights.
Santiago Airport is located just outside the city centre. From Santiago Airport, there are a few ways to travel to your starting point in Sarria. You can take the bus to Lugo (1hr 45min) where you'll connect to Sarria (1hr). From Lugo, it would also be possible to hop in a taxi for the 30-minute drive to Sarria. You can also take the train from Santiago de Compostela to Sarria!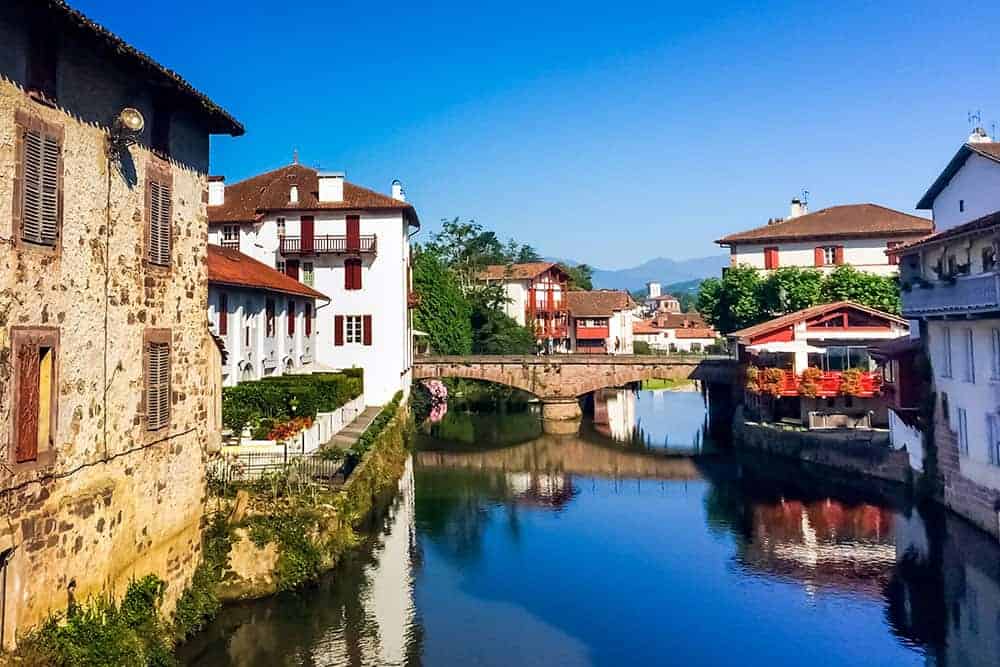 Alternatively, we can arrange a private transfer from Santiago Airport out to Sarria, a 1hr 30min drive. For a group of up to 4 passengers, this is €120, and is a convenient way to reach Sarria directly.
From Sarria, you will walk back to Santiago on the Camino and achieve your Compostela certificate! You can fly home again from Santiago Airport.
If you are looking to complete a longer pilgrimage on the Camino Frances, you can take the train from Santiago to Ponferrada. This is a two-week journey on foot to Santiago.
Saint Jean Pied de Port – Biarritz Airport (BIQ)
If beginning your Camino Frances at the start of the route, in Saint Jean Pied de Port, fly into Biarritz Airport. With direct flights from London Stansted, London Gatwick, and Bristol, you can reach Biarritz, France in no time.
From Biarritz Airport, it is a short taxi (4km) to Bayonne train station or there is a frequent bus. Once at Bayonne station, it is a 1hr journey by train to Saint Jean Pied de Port.
To make your trip easier and worry-free we can arrange a private airport transfer from Biarritz Airport. This costs €126 for up to 4 people.
Santiago de Compostela, Logrono, Burgos, and Leon – Madrid Airport (MAD)
The capital city of Madrid is a great hub airport to use when travelling to the Camino Frances from the United Kingdom. There are direct flights from London (Heathrow, Stansted, and Gatwick), Manchester, Bristol, and Edinburgh.
From Madrid, you can travel by bus or train to the major cities along the Camino Frances route such as Logrono, Burgos, or Leon. By bus, you'll want to use the bus service ALSA with routes right out of Madrid Airport's Terminal 4. By train, you'll link from the airport to Madrid-Chamartin station to travel with RENFE (Spanish Railways).
There are also domestic flights available from Madrid to many larger cities on the Camino Frances.
The train will be your best option to travel between the major cities along the route. If you are short on time, you might like to walk some sections of the route. You can then skip some by taking a train or bus before starting to walk again. For example, to see the highlights of the route, you can walk the first few sections from Saint Jean Pied de Port and then travel by train to Ponferrada or Sarria. You can then walk the final stages in Santiago.

How to get to the Camino del Norte from the UK
To get to the Camino del Norte from the UK, you can travel by plane, bus, train, or, more interestingly, by sea!
San Sebastian – Biarritz Airport (BIQ)
To begin El Camino del Norte adventure at the start of the route, in San Sebastian, fly to Biarritz Airport. With direct flights from London Stansted, London Gatwick, and Bristol you will reach Biarritz, France after a short journey. To continue on to San Sebastian, you can hop in a taxi (30 min) or a bus (1hr).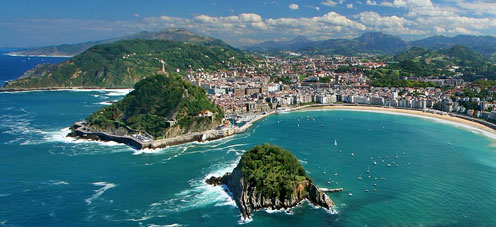 San Sebastian and Bilbao – Bilbao Airport (BIO)
The city of Bilbao in the Basque region can be reached by a direct flight from the UK. Flights leave from London Gatwick, London Heathrow, Manchester, and Bristol Airport. From Bilbao, walk along the coast to Santander or travel by bus back to San Sebastian to complete the full route.
Santander and Bilbao – By Ferry!
Looking to add even more adventure to your Camino? Consider arriving by sea! You can travel by ferry from the UK over to Spain, connecting you directly with the Camino del Norte route. This is how many of the original pilgrims from England, Scotland, Wales and the island of Ireland would have arrived in Spain.
Departing from Portsmouth and Plymouth, Brittany Ferries carries both cars and passengers to Santander and Bilbao. Taking the ferry is an experience in itself, with a choice of spending one or two nights on board. You will have access to a swimming pool, cinema, games room, and several choices of restaurants and shops.
With weekly sailings from both ports, and the ability to mix and match your route, you can book now for both 2021 and 2022 seasons. Find out more on the Britany Ferries website here.

How to get to the Camino Portuguese from the UK
If you want to walk El Camino Portuguese, Lisbon Airport or Porto Airport will be your best options. London airports (Heathrow, Stansted, and Gatwick), Manchester, Bristol, and Edinburgh all fly directly to both Lisbon and Porto.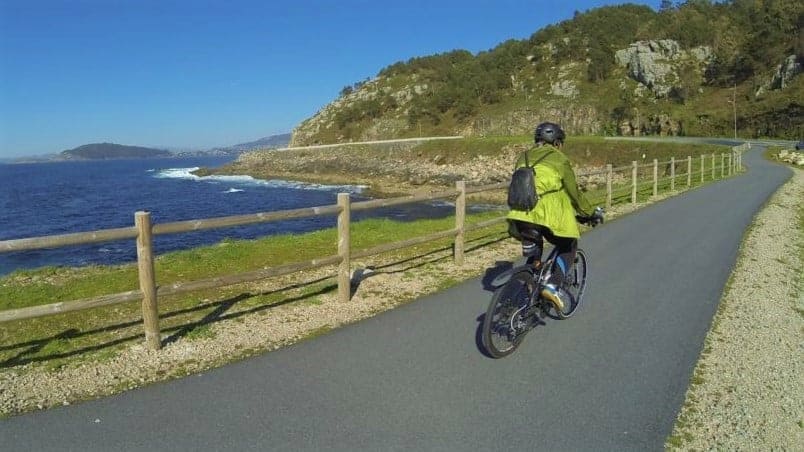 Lisbon – Lisbon Airport (LIS)
From Lisbon, the full Camino Portuguese awaits you. By flying into Lisbon, you can begin the Camino Portuguese right from the start. Alternatively, you can travel by train to Coimbra or Santarem to begin your pilgrimage from here.
You can find the train schedules for Portugal, operated by Comboios de Portugal, here.
Porto – Porto Airport (OPO)
If you planning a shorter Camino experience, flying into Porto opens up two great options. You can walk either the Portuguese Inland Way through Tui or the beautiful Coastal Way through the city of Vigo.
Porto is a lovely city to spend an extra night or two in. Make sure to sample some port wine in Porto at the start or end of your trip! You can travel back from Santiago to Porto by train with a connection in Vigo.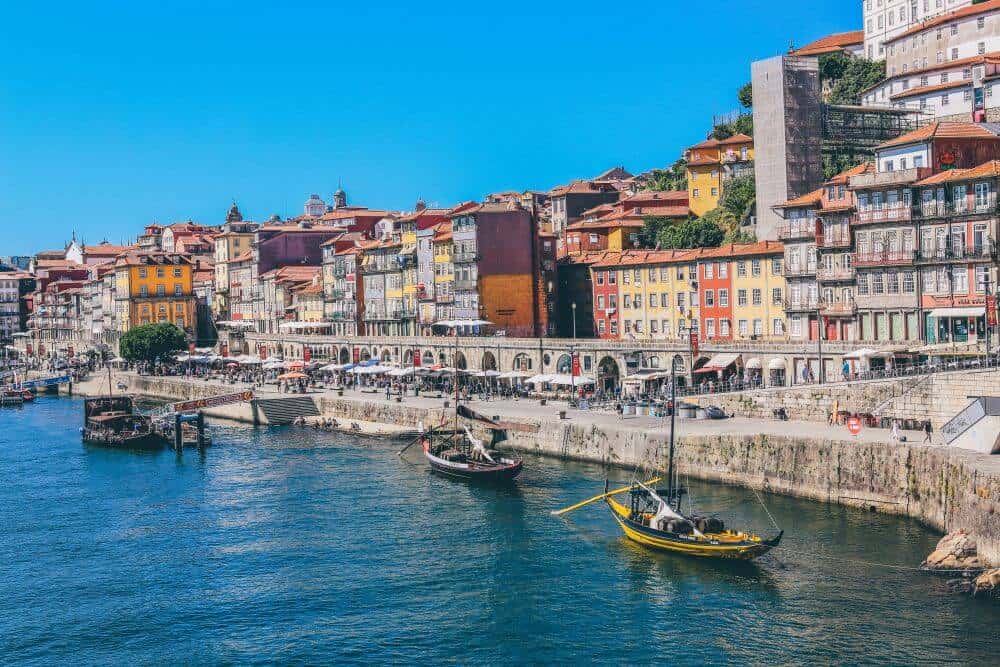 How to get to the Camino Primitivo from the UK
The Original Way to Santiago is a fantastic and challenging pilgrimage. It is also relatively easy for pilgrims to get to this Camino route from the UK.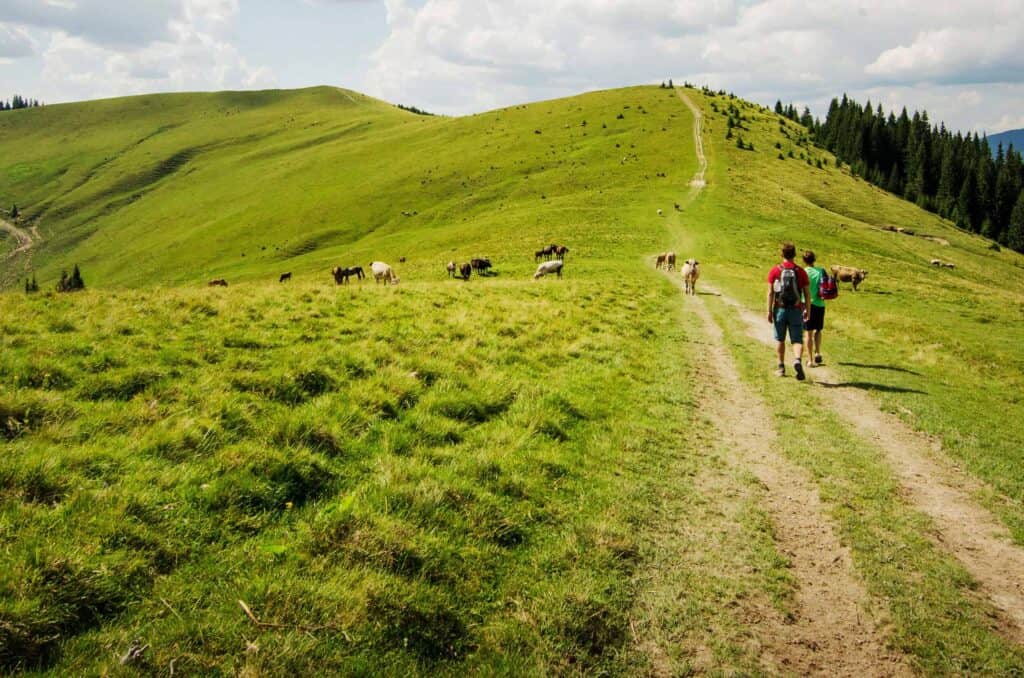 Oviedo – Asturias Airport (OVD)
While there are no direct flights from the UK to Oviedo, you can fly through Madrid Airport to reach this city on a domestic flight. Oviedo is the start of El Camino Primitivo, a two-week adventure through the mountains and countryside to Santiago.
Lugo – Santiago Airport (SCQ)
To complete the final 100km of the Camino Primitivo we recommend that you fly from the UK into Santiago Airport. You will be able to travel by direct bus (1hr 45min) from Santiago to Lugo. Lugo is the only city in the world surrounded by intact Roman walls!
How to get to the Camino Ingles
El Camino Ingles has connected the UK and Ireland to Santiago for centuries. Is the traditional route that British and Irish pilgrims would travel to the tomb of Saint James after arriving by sea. If you are looking to follow in their footsteps, a direct flight to Santiago Airport makes it easy.
Ferrol and A Coruna – Santiago Airport (SCQ)
It is a 2-hour train journey from Santiago to Ferrol and the beginning of your Camino Inglese. From Ferrol, it is about a 100km pilgrimage back to the Cathedral of Santiago.
If you have already completed your first 25km on a Celtic Camino route, you can start your Camino in A Coruña and still receive your Compostela certificate! The train stops in A Coruña too, at the 75km mark from Santiago.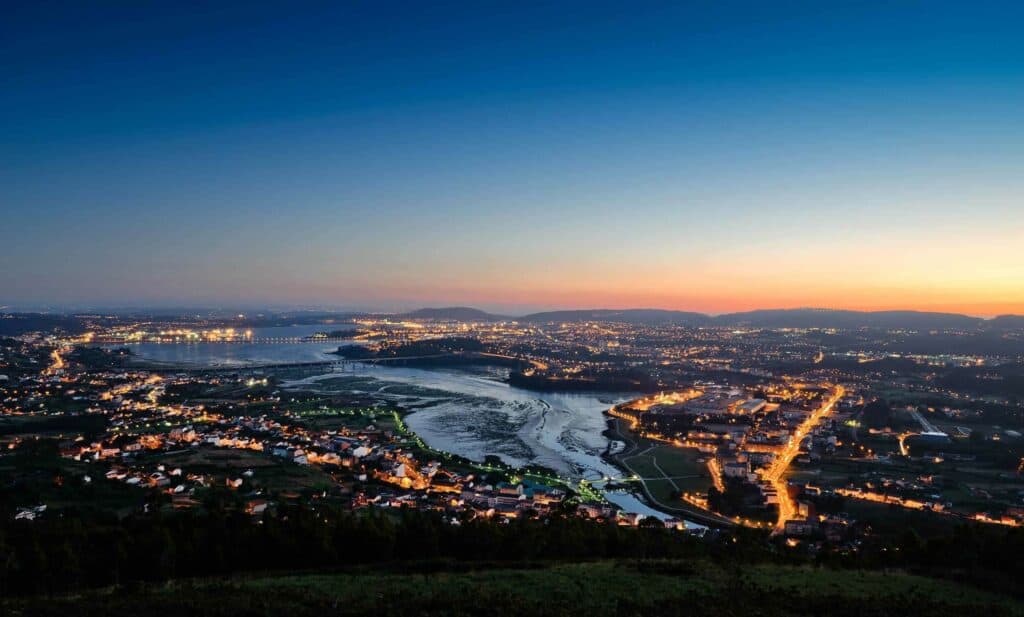 We hope that this blog has shown you some of the best ways to get to the Camino routes from the UK. If you have further questions about planning your Camino trip from the UK (Brexit and the Camino?), contact our experienced Camino Consultants. They are bursting with knowledge and can assist you with your specific journey.
We can work with you to choose the best route for you and create a custom itinerary. We look forward to sending you on your way!
The Camino is Open for 2023 Bookings!
Some of our top accommodation booked out in 2022, so get in now to secure the best accommodation for your Camino!
Discover this empowering journey across Spain, Portugal and France for yourself.

Journeys from 3 to 90+ days available.
Flexible itineraries Luggage transfers Private rooms & bathrooms
Contact us