How difficult is it to walk the Camino? Is the French Way easier or harder than the Portuguese Way? Is the last 100km of the Portuguese Coastal Way flat? These are some of the most frequently asked questions that we get at Follow the Camino! Everyone wants to know what they are getting themselves in for when they walk the Camino.
What is really important though is whether or not you can do it. The answer is YES! Tens of thousands of people of all shapes and sizes walk and cycle the Camino de Santiago each year. Each of them goes at their own pace and covers the distance that they are comfortable with. As long as you have the right advice, choose the right stage and route of the Camino, and do a little bit of preparation before you go, you absolutely can walk the Camino.
Choose the Best Camino de Santiago Route for You
The Camino de Santiago is a network of routes that all lead to the impressive and beautiful Santiago de Compostela (except for the Finisterre Way which starts in Santiago and ends in Cape Finisterre, 'the end of the world'). Each route covers different terrain and has different levels of difficulty and distances.
The most popular Camino routes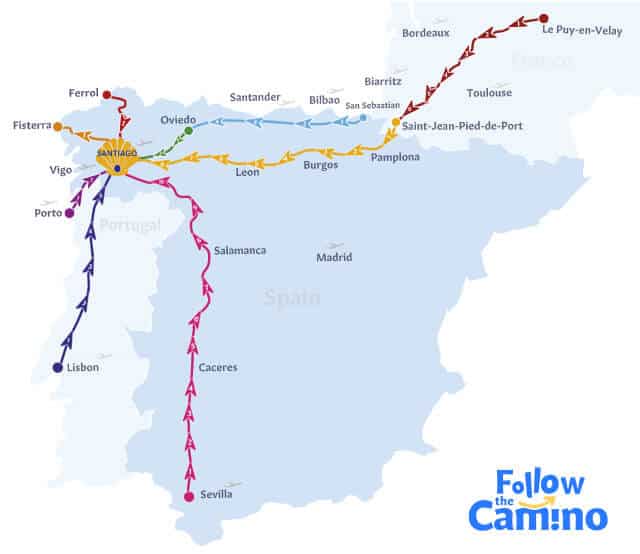 Explore The Most Popular Route
Discover the French Way, It's 800 KM of trail has inspired many artists, writers and filmmakers to document their profound journey.
Discover More
The different difficulty aspects of the Camino
We have been operating tours along each of the different Camino de Santiago routes since 2006, so we have a deep understanding of each Camino route. This includes the level of difficulty, type of terrain, distances, weather conditions and infrastructure available.
A lot of the level of difficulty is up to you. You will be walking for at least 5 to 6 days to complete your journey, particularly if you plan to walk the minimum 100 km needed to be eligible for your Compostela. However, these days don't need to be all done in a row, and we can add as many rest days as you need!
The terrain on the Camino
The type of path and the landscape will also increase or decrease the difficulty of your Camino. The typical types of Camino terrain that you'll experience are: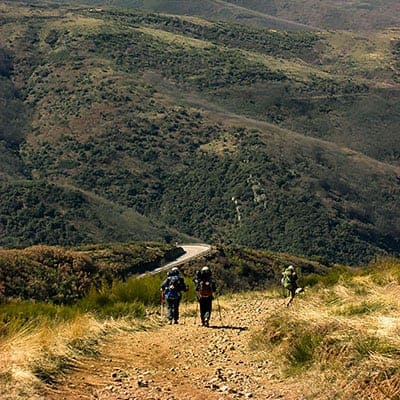 Dirt track:
This is the best terrain for hikers! On most Camino routes, you will have a minimum of 50% of dirt tracks. Some of them are between fields, some of them walk through small vineyards and some are in forests.
These are usually the most pleasant to walk. They bring you closer to nature and taking you away from traffic.
The downside is there are usually fewer spots to stop for coffee or toilet break, and they can be rockier. If you are worried about your ankles and knees on these sections then we recommend bringing walking poles to help keep you steady.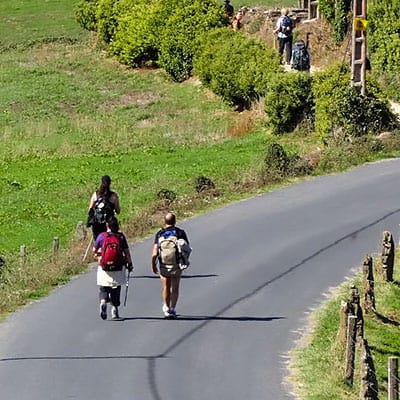 Country road:
As you walk on long-distance trails like the Camino, you will often find yourself on quiet country roads. These are the roads linking smaller towns and villages, rather than big highways.
They are usually quiet enough and have dedicated footpaths, although not 100% of the time. But nevertheless, on the Camino, these are extensively used by walkers so you will not feel alone joining the many people on their journey.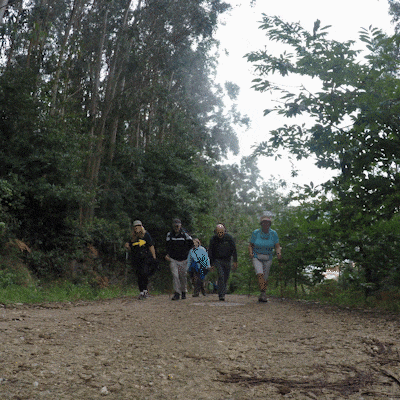 Mountain track:
As the ascent/descent gets steeper, you will come across some rougher terrain underfoot with stones and rocks. This usually comes with a greater amount of uphill/downhill walking and presents more of a challenge.
As long as you read your walking notes for the day and take them slow and steady, you will be absolutely fine on these more challenging sections. This is another spot that your walking poles will be great for keeping you steady.
On the plus side, these usually also have the best scenery and views! It's a great excuse to stop often for snacks.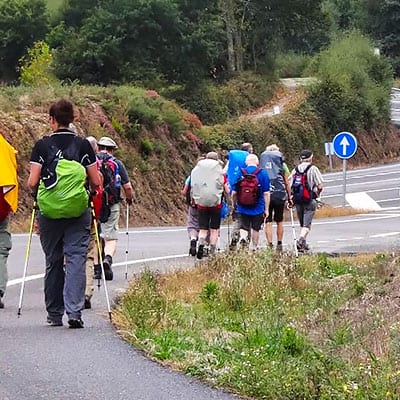 Large Roads:
Pilgrims over the centuries simply chose the easiest way to go from town to town. This means that the Camino follows some major trade and transport routes.
In the past 50-70 years, with the expansion of cars and trucks, roads have become greater in number and size.
Depending on which route and section you walk, about 3 to 10% of the Camino will be along bigger two-lane roads and highways.
These are more common as you get into big cities (Leon, Porto, etc) and usually only last for an hour or two here and there.
How much distance will you cover?
A normal Camino day includes walking 20-25 km on average, which is usually about 5 hours of walking. This doesn't include coffee and meal breaks, which you can take throughout the day.
Reaching Santiago de Compostela is something you want to appreciate, so as you start training, start to notice how you feel after 10km, or 20km. If you are comfortable enough then great! If you'd rather slow it down then that is great too.
I'd rather take it slow…
If you are concerned about walking for 5 hours or more in a day, it is usually possible to split longer days into two shorter ones. This can make the whole trip easier, and give you more time for resting and exploring. Check out our shorter walking day itineraries to get an idea of what this would look like, or get in touch to ask about short walking day options on the route you'd like to do.
I'd rather see more, faster!
What if you want to push it a bit during your trip? Every now and again, someone will contact us who wants to do 200 km in 1 week. Their motivation is usually that they want to see more during their week.
If you are super fit and regularly walk more than 25km in a day then this could be possible, but it may not be as enjoyable. We have supported trips for ultra runners and speed-walkers. The happiness rate is almost always lower than people who walk at a more normal pace.
You'll meet new potential friends every day and you'll want to walk with them! You'll also want to stop at some of the vineyards and cafes along the way, and leave yourself time to explore the towns and villages that you walk through.
We always recommend that people aim for an average stage length at least. It will help you to take advantage of the time you have and really immerse yourself in the Camino spirit.

Whatever option you choose there will be some days that are longer than others. That means that if there is no suitable accommodation at the comfortable 20 km mark then you might have to choose between stopping at km 17 for a shorter day or carrying on for a long day of up to 28km.
As a rule of thumb, 20-25km per day seems to work best for the majority of people, but we are always happy to talk to you about the most suitable options.
Weather
We have found that the nicest walking weather is when temperatures are mild, a little breezy, and sunny. Of course, we can't guarantee the weather at any time of year, but in general, the best weather for the Camino is in May, June and September. For more information about the weather along each Camino route at any time of year, check out our weather map.
Temperatures
For lower temperatures, you can layer up to stay warm. If you are walking before April or after October then temperatures can get quite low, especially at higher altitudes. From November to March, it can be less more challenging on the Camino, with some routes having substantial snow and rain.
In the middle of summer – July and August – temperatures in the middle of the day will regularly be above 30 degrees C. This puts strain your body and can make walking unpleasant. If you do want to walk in summer then you can start earlier in the day and aim to finish by midday. That way you'll be sipping a cool drink in the shade during the hottest part of the day!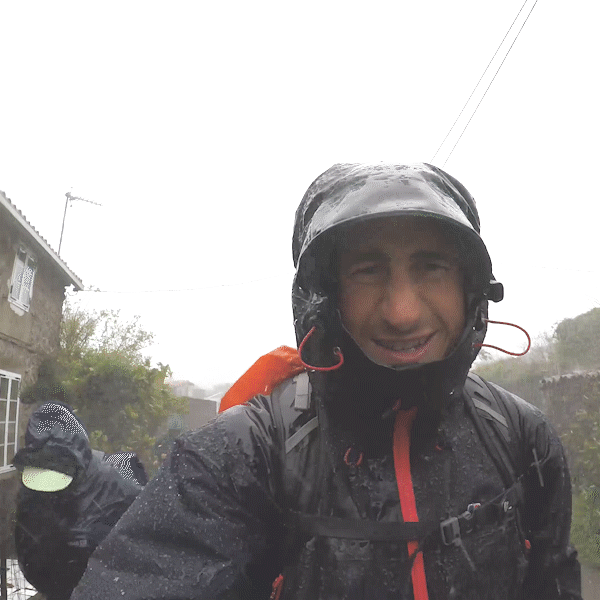 Rain
A bit of rain is to be expected, and sometimes welcomed!
The rain in Spain doesn't feel as wet as in other parts of the world. Spain is a Mediterranean country and so temperatures are generally higher and the humidity is lower.
That means that if it rains for an hour, you will dry out relatively quickly compared to countries such as the UK and Ireland.
Rain also helps keep the paths clean and the grass green!
If you do choose to walk in February, March, or the beginning of April, expect a bit more rain. It will impact the difficulty of your trip slightly as walking through the rain all day long is more tiring physically and mentally.
Wind
Wind rarely has a massive impact on the walking itself and comes usually with changes in weather. The greatest impact on wind is the multiplicator effect it has on cold (wind chill) and that it can get tiring when you have a front wind all day long.
While all these factors can impact your days, they are all part of the journey. If weather conditions are too bad either way (heat, cold, rain etc), you can always shorten your day with public transport, or work around the weather by starting earlier or later.
Having the right gear will help you overcome these, so check our packing list here.
Altitude gain and loss
Some of the difficulty of walking the Camino comes from climbing up and down hills. On the Camino, you will have an altitude gain of between 300 and 500m each day. Specifically, on the French Way there is an average altitude gain of 321, and on the Portuguese Way there is an average altitude gain of 278m.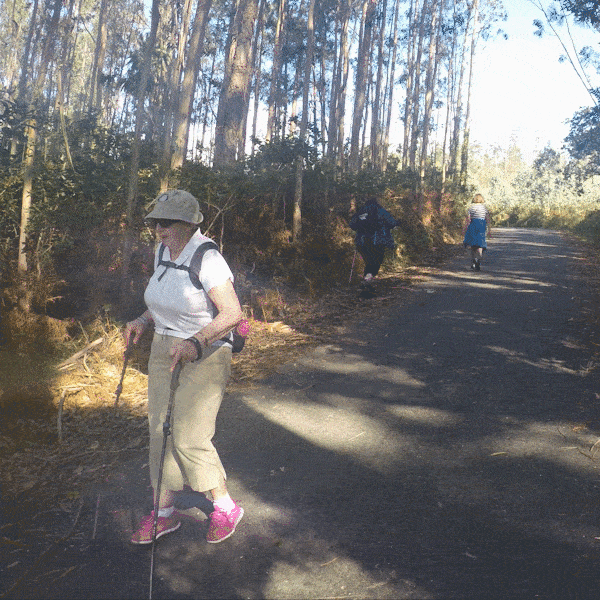 On first section of the French Way from St Jean Pied de Port to Roncesvalles, this gain comes mostly at the beginning, where you gain 1000m in one day. These days are longer and more challenging for sure. But they are still achievable to anyone who has done a bit of training.
One trick we have seen for steeper hills is walking them backwards. Otherwise, you can zigzag a bit if need be or just get on with it and take lots of breaks. It is temporary, and remember that what goes up has to go down!
For some people, the downhill may be more challenging. Walking down hill is harder on your quad muscles, knees and ankles.
If you start getting tired, take a break. It's not a race, and your bed is safely waiting for you at the end.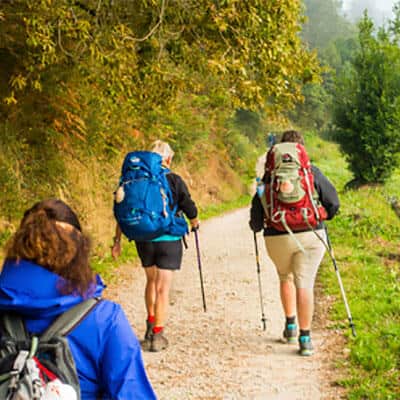 Walking poles
As with more rocky ground, one way to ease the uphill and downhill on the Camino is to use walking poles. These reduce the load on your feet by 10-15% and offer a more stable platform. Before you go to the shop and get your pair of poles, go on a practice walk near home with friends and borrow a pair of walking sticks to see if you like it or not.
This is a great way to train for your Camino, to try new walking techniques and to meet up with old friends or new friends.
Who is the Camino for?
I have walked with my children (cheating a few stages as granny had a car!) and they both walked up to 21 km with temperatures of 30C (we were well hydrated and finished by 13h00).
I have walked with students and the only ones who struggled were the ones who showed up with the wrong shoes.
I have walked with 70+-year-olds who might not have wasted as much energy chatting and sipping on a beer as we middle-aged folks, but went through days without a bother.

There are many people I met along the Camino that had various issues themselves such as arthritis, visual impairments, heart conditions, pacemakers, you name it.
They all got on ok.
Some of them were slower than others but in the end, we were together and that is part of the reason why the Camino is so great. We all go through it the same.
Conclusion
Walking the Camino is not difficult. It is a state of mind and proper planning. Know that you will be ok. Whether it is warmer, or colder, a rainy week or hopefully a perfect week. It does not matter, you will be fine. Use these points simply to help you better prepare for your trip and increase your enjoyment once there.
If you have specific questions about the different stages of the Camino, get in touch with us! We can help you plan a Camino walking holiday that suits you and your fitness level.
The Camino is Open for 2024 Bookings!
Get in now to secure the best accommodation for your Camino!
Discover this empowering journey across Spain, Portugal and France for yourself.

Journeys from 3 to 90+ days available.
Flexible itineraries Luggage transfers Private rooms & bathrooms
Contact us