The Portuguese Coastal (Caminho da Costa) is a stunning alternative walk to the traditional Camino Portugues. Sometimes referred to as the Surf and turf route, here are some of our favourite reasons that you should do the Portuguese Coastal Camino!
Take a look at the suggested itinerary and map of the Camino Portuguese Coastal route –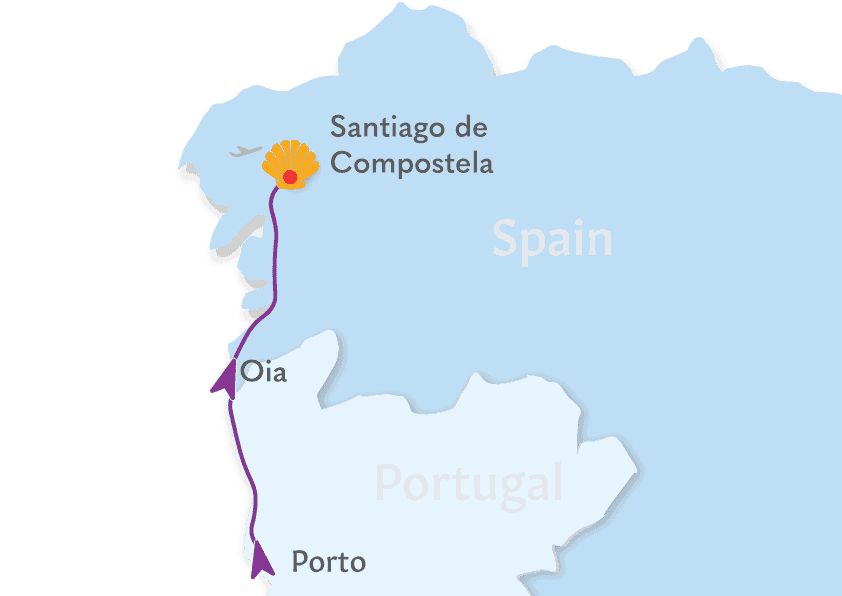 1. Stunning Coastal Views
The Portuguese Coastal route takes in some of the most breathtaking and relaxing views of the Atlantic ocean! As you walk you can hear the wash of the ocean as the waves break along the shore. It is relaxing and invigorating at the same time!
Starting from the vibrant city of Porto, you will pass through the historic Portuguese seaside towns of Povoa de Varzim, Viana do Castelo, and Caminha. At Caminha you can take a ferry to cross the Rio Minho river and border to the beautiful Spanish seaside village of Oia. Amazing coastal views continue along the route as it heads north through Oia, Baiona, and Vigo.
Then the route heads inland to join the traditional Camino Portugues at Redondela, and on to Santiago!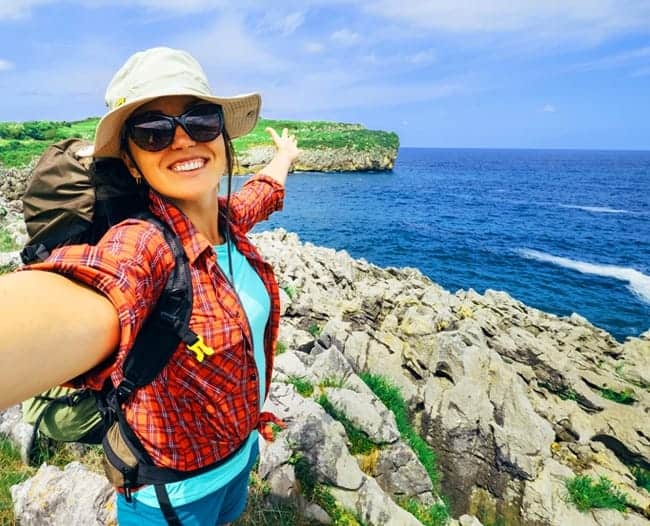 2. Enjoy a Quiet and Peaceful Route
If you want some peace and quiet when walking your Camino to contemplate life or enjoy the scenery without the crowds then the Portuguese Coastal route may be for you. You can walk for miles without seeing many other pilgrims. As this route is not as well known as the French way.
The tranquillity allows you to fully immerse yourself in this scenic and magical pilgrimage with the Atlantic Ocean providing the soundtrack. Take a deep breath and enjoy the solitude!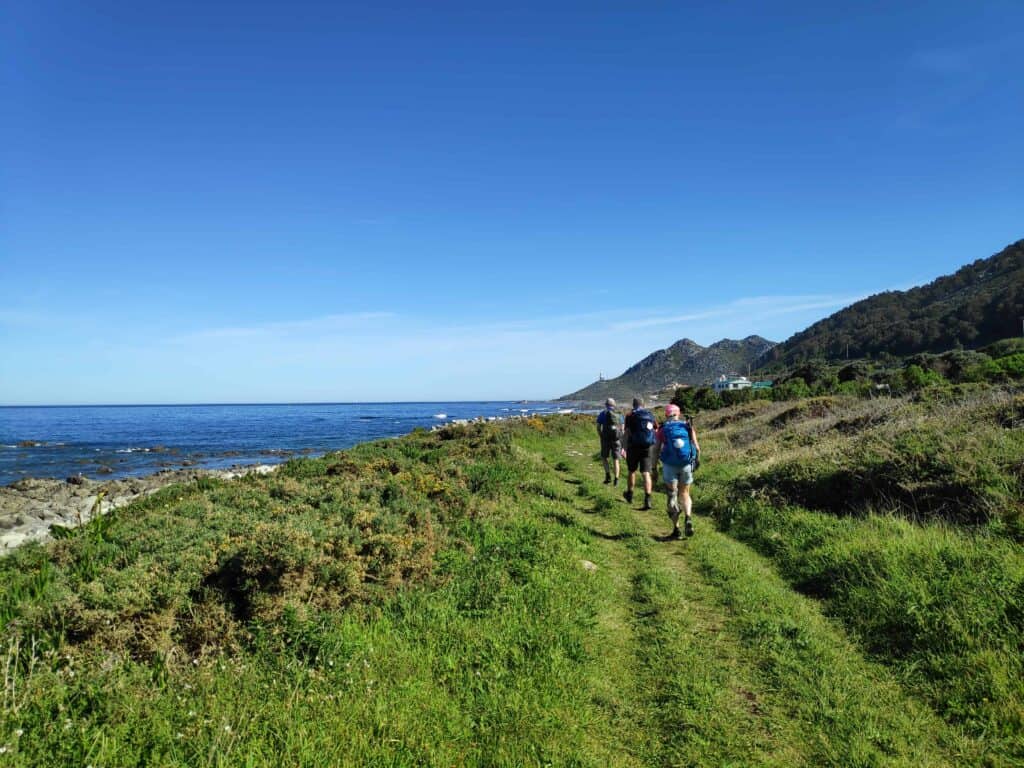 3. Take a Dip in the Atlantic Ocean
With the abundance of white sandy beaches, you will get plenty of opportunities to have a swim in the Atlantic or dip your toes to cool off after a busy walking day.
The white sandy beaches have uncrowded reef breaks and great waves for surfing. The beaches of Northern Portugal are an undiscovered gem with quite a few to choose from. One to check out is the Praia de Moledo in Caminha, it is a beautiful band of golden sand at the mouth of the Minho river. You can even swim from Portugal across to Spain!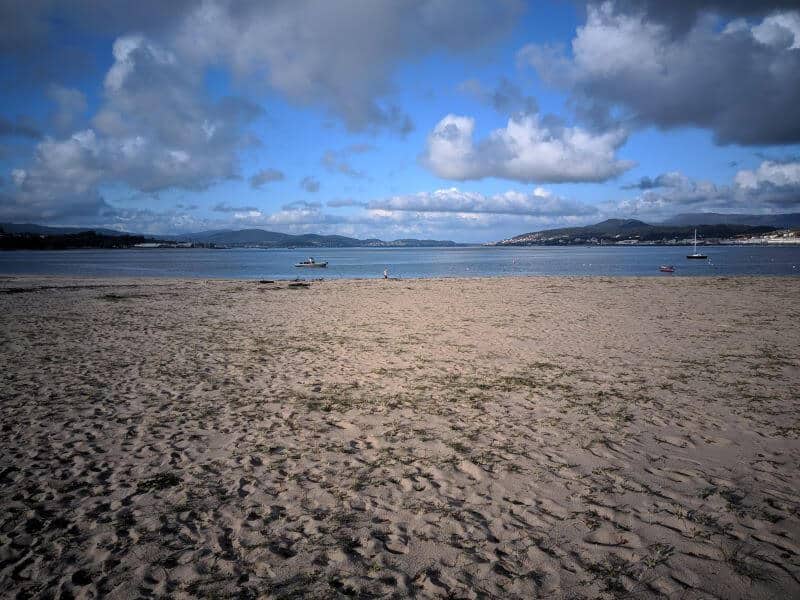 4. Savour Tasty Seafood and Delicious Wine
The food and wine are a real highlight along the Portuguese coastal route! You will have plenty to choose from, with incredible vineyards and farms around this area.
Try the traditional Albarino white wine which is sourced from vineyards in Galicia, Spain, and Minho, Portugal. The Portuguese Albarino wine is lightly sparkled and has an interesting and unique smell, similar to peach and apricot.
It is a great accompaniment to the many delicious seafood options along the way. Some signature and popular Portuguese dishes to try are Caldo Verde soup, Bacalhau or Portuguese codfish, grilled Portuguese sardines or sardinhas asadas and Bifanas – the national Portuguese sandwich! Yum!
5. Spend time in Historic Baiona
Slow things down after the Portuguese Coastal leg of your Camino in Baiona, Spain. Baiona is an absolute delight. Located in the Galicia region and the province of Pontevedra, this charming town is a fantastic location to take a rest day (or two!).
Amble along the cobbled streets of the old area sampling the local Portuguese tascas or restaurants. There are many sites of historic significance in Baiona. In the port area, you can see a replica of Christopher Columbus's ship La Pinta on display which arrived in Baiona in 1493 after "discovering" the "New World".
Then again, you could just sit back, collect your thoughts and watch the sunset from Monterreal Fortress.
These are just a few of our top reasons to walk the Camino Portugues Coastal route! You can also jump on your bike and cycle the coastal route to Santiago if you are short of time or just love a good bike ride.
See what the Camino Portuguese Coastal Way is really like! Kenneth Strange, Ippy Award-winning author, private investigator, and former FBI agent, walked the Camino Portugues Coastal and shared his travel journal about his adventure with us!
If you would like to walk or cycle this coastal Camino connection to Santiago de Compostela, get in contact with us! We would love to help make your next trip to Portugal one to remember.
Bom Camhino!
The Camino is Open for 2023 Bookings!
Some of our top accommodation booked out in 2022, so get in now to secure the best accommodation for your Camino!
Discover this empowering journey across Spain, Portugal and France for yourself.

Journeys from 3 to 90+ days available.
Flexible itineraries Luggage transfers Private rooms & bathrooms
Contact us
Originally published on 24th August 2021
Don't forget to share this post!